President Jackson Named a Member of White House's Advanced Manufacturing Partnership Steering Committee 2.0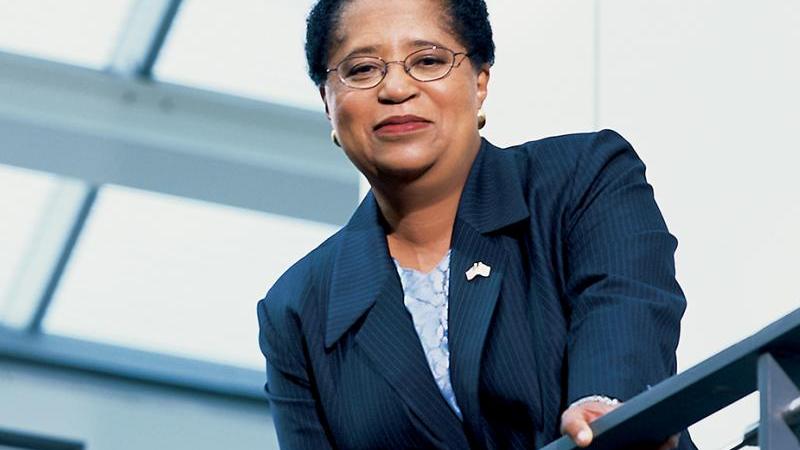 President Barack Obama on Thursday appointed Rensselaer Polytechnic Institute President Shirley Ann Jackson as a member of the Advanced Manufacturing Partnership Steering Committee 2.0.
Comprised of leaders from industry, academia, and labor, the committee is charged with developing and enacting strategies to help revitalize the national manufacturing sector, create high-quality manufacturing jobs, and enhance America's global competitiveness.
"The manufacturing economy is a critical facet of the national innovation ecosystem, and at Rensselaer we are committed to leading a manufacturing renaissance—in particular, for advanced manufacturing," said Dr. Jackson. "I am honored to be among those assembled by President Obama to help guide the efforts of this nation as we seek to leverage our unparalleled strength in innovation and education into new jobs, new opportunities, and a strengthened economy."
In 2011, President Obama created the Advanced Manufacturing Partnership (AMP). The new Steering Committee will build upon progress made by the AMP's inaugural Steering Committee. As outlined in its report released last year, Capturing Domestic Competitive Advantage in Advanced Manufacturing, that group called for a national effort to strengthen the U.S. advanced manufacturing sector.
Among the recommendations called for in the report are: sustaining U.S. investments in science, technology, and innovation; establishing a National Network of Manufacturing Innovation Institutes—a set of public-private partnerships to build shared high-tech facilities and advance U.S. leadership in emerging technologies; upgrading community-college workforce training programs and deploying the talent of returning veterans to meet critical manufacturing skills needs; and improving the business climate for manufacturing investment through tax, regulatory, energy, and trade reform.
The AMP Steering Committee 2.0 will function as a working group of the President's Council of Advisors on Science and Technology (PCAST), of which Dr. Jackson is a member. In addition to being a member of PCAST, she co-chairs the President's Innovation and Technology Advisory Committee (PITAC).  As co-chair of PITAC, Dr. Jackson helped to lead the 2011 Report to the President on Ensuring American Leadership in Advanced Manufacturing.  This report provided recommendations for revitalizing the nation's leadership in advanced manufacturing.  In response to this report, President Obama created the AMP.
The new AMP Steering Committee will work closely with the White House's National Economic Council, the Office of Science and Technology Policy, and the Department of Commerce to fully implement the initial Steering Committee's previous recommendations and identify new strategies for securing the nation's competitive advantage in transformative early-stage technologies. In addition, the AMP Steering Committee 2.0 will engage the broader manufacturing community through regional working sessions and forums designed to identify examples of innovative strategies to build U.S. manufacturing competitiveness.
A theoretical physicist, Dr. Jackson has held senior leadership positions in government, industry, research, and academe. Her research and policy focus includes global energy security and the national capacity for innovation, including addressing what she has dubbed the "Quiet Crisis" of looming gaps in the science, technology, and engineering workforce and reduced support for basic research.
Dr. Jackson was chairman of the U.S. Nuclear Regulatory Commission from 1995 to 1999.  She is a member of the U.S. Department of State International Security Advisory Board (ISAB) and a member of the Secretary of Energy Advisory Board (SEAB). In addition, she is a member of the British Royal Academy of Engineering, the U.S. National Academy of Engineering, the American Philosophical Society, and a fellow of the American Academy of Arts and Sciences, the American Physical Society, and the American Association for the Advancement of Science (AAAS).
Along with Dr. Jackson, members of the Advanced Manufacturing Partnership Steering Committee 2.0 include:
·      Wes Bush, Chairman, CEO and President, Northrop Grumman Corp.
·      Mary Sue Coleman President, The University of Michigan
·      David Cote, Chairman and CEO, Honeywell
·      Nicholas Dirks, Chancellor, University of California, Berkeley
·      Kenneth Ender, President, Harper College
·      Leo Gerard, International President, United Steelworkers
·      Eric Kelly, President and CEO, Overland Storage
·      Klaus Kleinfeld, Chairman and CEO, Alcoa Inc.
·      Andrew Liveris, President, Chairman, and CEO, The Dow Chemical Company
·      Ajit Manocha, CEO, GLOBALFOUNDRIES
·      Douglas Oberhelman, Chairman and CEO, Caterpillar Inc.
·      Annette Parker, President, South Central College
·      G.P. "Bud" Peterson, President, Georgia Tech
·      Luis Proenza, President, The University of Akron
·      Rafael Reif, President, Massachusetts Institute of Technology
·      Eric Spiegel, President and CEO, Siemens Corp.
·      Mike Splinter, Executive Chairman of the Board, Applied Materials Inc.
·      Christie Wong Barrett, CEO, Mac Arthur Corp.
Press Contact Michael Mullaney