Receives the prestigious NJIHoF Trustees Award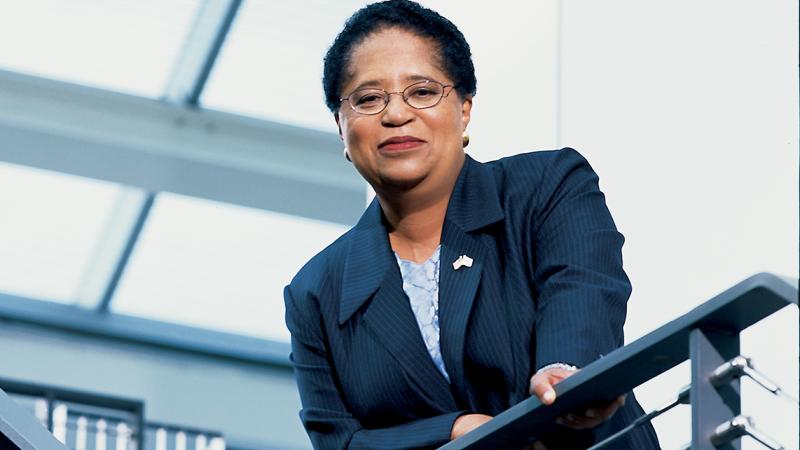 Rensselaer Polytechnic Institute President Shirley Ann Jackson has been inducted into the New Jersey Inventors Hall of Fame (NJIHoF), honored for a lifetime of leadership and achievement in science, technology, engineering, and mathematics (STEM) policy and research.
She received the NJIHoF's highest honor, its Trustees Award, bestowed for being "An exemplary model for inventors, innovators, and entrepreneurs throughout a successful career as a theoretical physicist at Bell Laboratories, a physics professor at Rutgers University, the Chairwoman of the U.S. Nuclear Regulatory Commission, and as the President of Rensselaer Polytechnic Institute."
According to the NJIHoF, the Trustees Award is given to someone who truly values and stimulates the inventive and innovative processes; who strives to ensure that all Americans, including students, are inspired and prepared to meet many of the challenges of tomorrow; and whose actions over many years have demonstrated that commitment.
She was honored, along with Nobel Laureate inductee physicist Philip Anderson, Ph.D., and four other inductees into the Hall of Fame, at a ceremony on October 17, 2013, at the W-Hotel in Hoboken, New Jersey. Also honored were Inventors of the Year, Advancement of Invention awardees, and graduate student awardees.
"Tonight, we are recognizing a particularly rich ecosystem for discovery and innovation that developed here in New Jersey, where expediting serendipity became a way of life. That ecosystem included distinguished research universities such as Princeton, Rutgers, and the Stevens Institute of Technology. It included the great Bell Labs, as well as a bounty of other corporate R&D operations, including in pharmaceuticals. And it included support for this innovation endeavor from both the state and the federal government," Jackson said in accepting the Trustees Award.
"Nationwide, this same recipe—a vigorous three-way partnership between government, industry, and academe—drove much of America's prosperity after World War II," she said.  "As we strive to understand the universe and our world, and as we face the grand global challenges of today—in food, water, and energy security; in national and global security; in human health, climate impacts, and the allocation of scarce natural resources—that partnership is still essential. We do not want to lose our remarkable discovery and innovation ecosystem, so it is wonderful that we have the New Jersey Inventors Hall of Fame—to remind our leaders, in all sectors, of the central role that discovery and innovation play in our national life, and in the lives of people everywhere."
Though a native of Washington, D.C., the former Chairman of the U.S. Nuclear Regulatory Commission (1995-1999) has deep roots in New Jersey. After graduating from the Massachusetts Institute of Technology with a Ph.D. in theoretical elementary particle physics (1973), and completing post-doctoral work at the Fermi National Accelerator Lab in Illinois, and at the European Organization for Nuclear Research (CERN) in Switzerland, she worked on theoretical condensed matter physics at AT&T Bell Laboratories in Murray Hill, N.J., for 15 years (1976-1991).
While at Bell Labs, President Jackson developed models for predicting the effect of surface excitations and strain in the layering of materials such as silicon germanium, magnetic semiconductors, and liquid helium films. Her basic research helped enable the understanding of the electronic and opto-electronic materials used in semiconductor lasers that are now in many devices. In recognition of this breakthrough research, and of her work in the nuclear power arena, she was elected as a member of the U.S. National Academy of Engineering in 2001.
From 1991 to 1995, she was professor of physics at Rutgers University, in New Brunswick, N.J., where she taught undergraduate and graduate students, conducted research on the electronic and optical properties of two-dimensional systems, and supervised Ph.D. candidates. She concurrently served as a consultant in semiconductor theory to AT&T Bell Laboratories. She served as a member of the Rutgers University Board of Trustees (1986-1991).
The roots of President Jackson's public policy work are also in New Jersey. In 1985, then Governor Thomas Kean appointed her as a founding member of the New Jersey Commission on Science and Technology, tasked with enhancing the policies and processes required to more rapidly move innovations from the lab into the marketplace. Jackson served on the Commission for 10 years under three governors, which is where she says she "became keenly attuned to the economic value of translational pathways for promising scientific and technological ideas."
In addition, Jackson served on the Board of the Liberty Science Center in Jersey City, N.J., from 2000 to 2003. She serves on the Board of the Newark, NJ-based, Public Service Enterprise Group (PSE&G) (1987-1995, 2001-present), and served on the Board of Elmwood Park, NJ- based Sealed Air Corp (1992-1995, 1999-2003).
The NJIHoF is cosponsored by Stevens Institute of Technology and Greenberg Traurig, LLP. Go to www.njinvent.org. For President Jackson's remarks, go to: http://www.rpi.edu/president/speeches/ps101713-njhalloffame.html
Additional Background on President Jackson
Jackson, the 18th president of Rensselaer, has held senior leadership positions in government, industry, research, and academe. Described in Time Magazine as "perhaps the ultimate role model for women in science," her research and policy focus includes energy security and the national capacity for innovation, including addressing the "Quiet Crisis" of looming gaps in the science, technology, and engineering workforce and reduced support for basic research.
Since her arrival in 1999, Jackson has fostered an extraordinary renaissance at Rensselaer. This institutional transformation has included expanding the faculty, new construction and renovation of facilities, innovations in curriculum, and more than doubling of research awards.
She is a member of the President's Council of Advisors on Science and Technology (PCAST), appointed by President Obama in 2009. A theoretical physicist, she was chairman of the U.S. Nuclear Regulatory Commission (1995-1999). She is a member of the British Royal Academy of Engineering, the U.S. National Academy of Engineering, the American Philosophical Society, and a Fellow of the American Academy of Arts and Sciences, the American Physical Society, and the American Association for the Advancement of Science (AAAS). She is past President (2004) and Chairman of the Board (2005) of the AAAS. She co-chaired the U.S. Council on Competitiveness Energy Security, Innovation and Sustainability initiative, and was on the U.S. Council on Foreign Relations Climate Change Task Force. She serves on the Board of Regents of the Smithsonian Institution, and the Boards of the Council on Foreign Relations, Brookings Institution, and the World Economic Forum USA. She is a member of the Board of Directors of, PSEG, IBM, FedEx, Medtronic, and Marathon Oil. In addition to her Ph.D. in theoretical elementary particle physics, Dr. Jackson holds a S.B. in physics from M.I.T., and has been awarded 52 honorary doctoral degrees. Calling her a "national treasure," the U.S. National Science Board selected her as its 2007 Vannevar Bush Award recipient for "a lifetime of achievements in scientific research, education, and senior statesman-like contributions to public policy." 
About Rensselaer
Founded in 1824, Rensselaer is the nation's oldest technological research university. The university, which has undergone an extraordinary transformation during the last decade, offers bachelor's, master's, and doctoral degrees in engineering, the sciences, information technology and web science, architecture, management, and the humanities, arts, and social sciences. Institute programs serve undergraduates, graduate students, and working professionals around the world. Rensselaer faculty are known for pre-eminence in research conducted in a wide range of fields, with particular emphasis in interdisciplinary research in the areas of  biotechnology and the life sciences, energy, the environment, and smart systems,  nanotechnology and advanced materials, computational science and engineering, and media and the arts. The Institute is noted for its success transferring technology from the lab to the marketplace so that new discoveries and inventions benefit human life, protect the environment, and strengthen economic development.
Press Contact Theresa Bourgeois