Registration Still Open for Second Annual Deep Listening Conference at EMPAC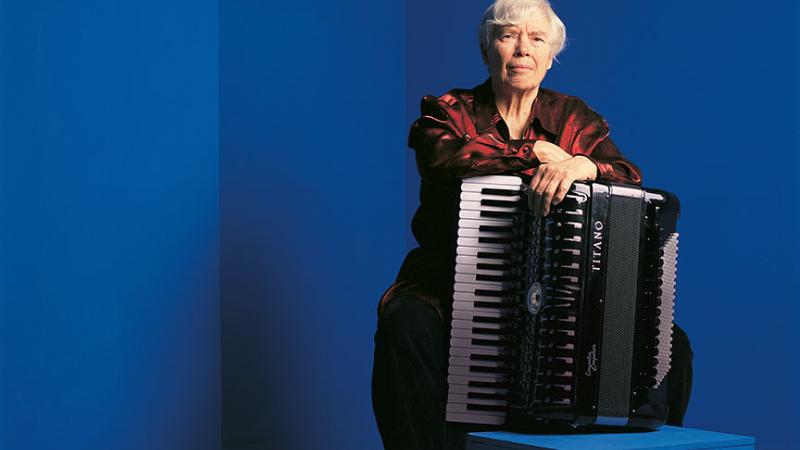 Troy, N.Y. – Artists, scientists, educators, and researchers will gather at Rensselaer Polytechnic Institute's Curtis R. Priem Experimental Media and Performing Arts Center (EMPAC) this July to share ideas on the art and science behind the practice of deep listening at the second annual international Deep Listening Conference.
Deep Listening is both a theory and a practice developed by composer and Rensselaer professor Pauline Oliveros decades ago. For more than 40 years, Oliveros has studied and taught the theory and practice of deep listening to people around the world. The theory of deep listening describes the world of sound; the practice of deep listening cultivates a focused awareness of those sounds and their meanings.
The conference is an opportunity for people well-acquainted with deep listening to share the ways they use the theory and practice to create art, communicate, teach, improvise, and perform. They will also discuss new scientific and philosophical theories and applications for deep listening.
The conference also presents an opportunity for those new to deep listening to explore the varied possibilities it has for their lives and work.  
"The Deep Listening: Art/Science conference promises to be an intellectually stimulating and culturally enriching experience," Oliveros said. "The conference brings together a wonderful global constituency that has shared deep listening in many different ways throughout the years and eagerly welcomes those new to the practice to explore the creative possibilities deep listening can open in their lives."
The Deep Listening: Art/Science conference will be held from July 10 to 12. Pre-conference workshops will be held at EMPAC July 7-9 and a post-conference festival, First Festival: A Festival of Premiere Performances, will be held during the evening of July 12 and all day July 13.
Registration is still open for all aspects of the event.
"This conference is a unique opportunity for the community from Rensselaer and beyond to learn from international experts how the theory and practice of deep listening can be applied to a wide variety of fields: the sonic arts, visual arts, environmental studies, and to the sciences of the brain," said Mary Simoni, dean of the School of Humanities, Arts, and Social Sciences (HASS) at Rensselaer. "The community that my distinguished colleague Pauline Oliveros has built around the practice of deep listening is a treasure and we are honored to host the conference at Rensselaer again this year."
There will be three keynote addresses: one on the science of deep listening and two on the ways deep listening intersects with art.
Peter Cariani, a senior research scientist at the Hearing Research Center at Boston University and a clinical instructor in otology and laryngology at Harvard Medical School, will present a talk titled "Music, Brain, and Time." His talk will explore what we hear when we listen to music from the perspective of neural circuits and then ask how that impacts the understanding of how brains work.
Stuart Dempster, a professor at the University of Washington, musician, and composer, will present a talk titled "StuArt of Listening: A Planetary Pleanote." His talk will draw on his childhood experience of becoming aware of environmental degradation and consider how the practice of deep listening can be used to develop plans for environmental action.
Suiren (also known as Renko Ishida Dempster) will give the final keynote, titled "Listening through the brush," in which she will discuss how her creative self is awakened through the practice of deep listening.
Other highlights of the conference program include a roundtable and intensive workshop about listening in dreams, daily Tai Chi/creative movement breaks, and morning listening walks.
The conference celebrates the newly founded Center for Deep Listening based in HASS. The new center is assuming stewardship of the Deep Listening Institute Oliveros founded in 1985 and expanding its educational and research mission on the Rensselaer campus.
Visit the Rensselaer research and discovery blog: http://approach.rpi.edu
Follow us on Twitter: www.twitter.com/RPInews
Written By Emily Donohue
Press Contact Emily Donohue