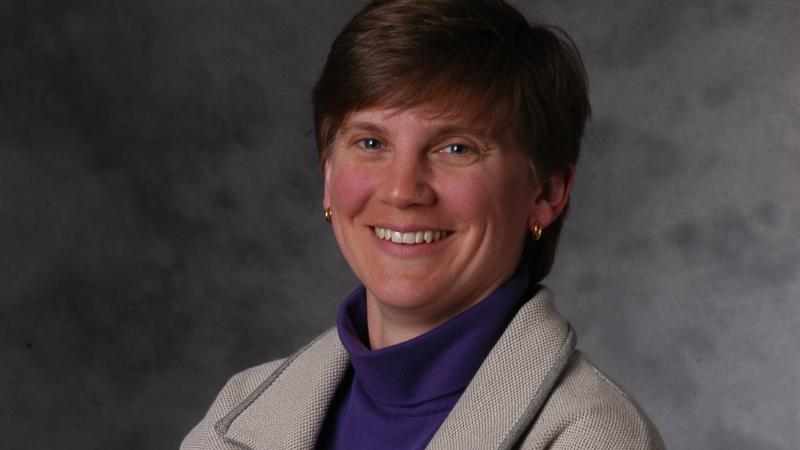 Troy, N.Y. – Linda Schadler, the Russell Sage Professor and associate dean for academic affairs for the School of Engineering at Rensselaer Polytechnic Institute, has been named vice provost and dean for undergraduate education. The appointment, effective Oct. 13, 2014, was announced this week by Rensselaer President Shirley Ann Jackson.
In this position, Schadler will be responsible for overseeing the Institute's undergraduate degree programs. Along with enhancing the core curriculum and growing opportunities for undergraduate research and international experiences, Schadler will strengthen Institute programs focused on student advising, retention, graduation, and other student support services. She also will play an important role in the implementation of Clustered Learning, Advocacy, and Support for Students (CLASS), which provides support and co-curricular opportunities for Rensselaer students throughout their undergraduate years. Additionally, Schadler will continue to advance Institute-wide initiatives in teaching and learning, such as the Mandarin Project and Art Across the Curriculum.
"Undergraduate programs at Rensselaer are world-renowned for their intellectual rigor and innovative pedagogies. This reputation, along with CLASS and our signature programs, provides an undergraduate experience that prepares our students to be the leaders of tomorrow," said President Jackson. "Dr. Schadler is a world-class researcher and a gifted academic administrator. Her passion for education is proven and palpable. As vice provost and dean for undergraduate education, Dr. Schadler's contributions are critical to Rensselaer as we continue toward our bicentennial in 2024."
"Rensselaer is deeply committed to its undergraduate programs, and we are very pleased to announce Dr. Schadler as our next vice provost and dean for undergraduate education," said Rensselaer Provost Prabhat Hajela. "Since its founding, Rensselaer has been at the forefront of advancing the frontier of teaching and learning. Exciting and innovative pedagogical paradigms are being pursued in a new technology-enabled immersive learning environment. We are also focused on developing an undergraduate curriculum that widens the intellectual aperture for our students beyond just their chosen field of study. These efforts will flourish under Linda's leadership."
Schadler started her academic career as a faculty member at Drexel University in Philadelphia before joining Rensselaer in 1996. She was named associate professor in 1999 and full professor in 2003. In 2009 she was appointed associate dean for academic affairs for the School of Engineering, and in 2012 was named the Russell Sage Professor.
As associate dean in the School of Engineering, Schadler led the implementation of two important new programs. In 2013, the school introduced a new "Code of Honor" to reflect and showcase its expectations for students to demonstrate the highest standards of honesty and integrity. Also in 2013, the school established a new Student Service Hub, a place for students to get answers to their academic services questions.
Active in materials research for over 23 years, Schadler is an experimentalist and her research has focused on the mechanical, electrical, and optical properties of two-phase systems, primarily polymer composites. She is the author or co-author of more than 140 journal publications, several book chapters, and one book.
Additionally, Schadler is one of three leaders of the Molecularium Project. Supported by the National Science Foundation and private funding, the Molecularium team has created two animated movies to teach young children about the world of atoms and molecules. The movies, Riding Snowflakes and Molecules to the MAX!, have won numerous awards and are currently playing in educational theaters around the world and have been translated into several languages. The project's NanoSpace website, an online science "theme park" featuring games, videos, and educational resources, won a "2013 Best of the Web" award from the Center for Digital Education.
Schadler received an NSF Young Investigator award in 1994 and the Bradley Stoughton Award for Teaching from ASM International in 1997. Among her many other awards are the Dow Outstanding New Faculty award from the American Society of Engineering Education in 1998 and the 2008 Outstanding Professor Award from the Rensselaer School of Engineering. Schadler is a fellow of ASM International and a former member of the National Materials Advisory Board of the National Research Council. In 2011, she was named as one of the "Top 100 Materials Scientists" of 2000-10 by Thompson Reuters. She currently serves as a member of ASM International's Board of Trustees.
Schadler received her bachelor's degree in materials science and engineering from Cornell University, and her doctoral degree in materials science and engineering from the University of Pennsylvania. She worked at IBM Yorktown Heights for two years as a post-doctoral researcher.
Written By Michael Mullaney
Press Contact Michael Mullaney