To the Moon and Back: Honoring an Exhibit Dedicated to Space Exploration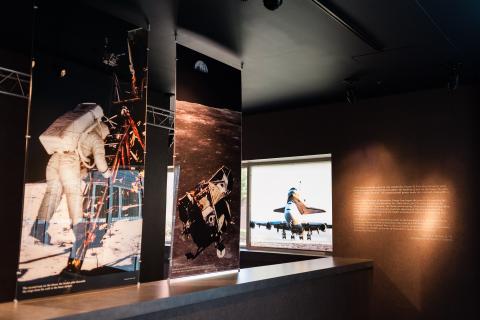 August 26, 2014
To the Moon and Back: Honoring an Exhibit Dedicated to Space Exploration
Rensselaer Polytechnic Institute Delta Phi Fraternity Alumni Rally To Renovate the George M. Low Gallery
Troy, N.Y. – Nestled in the heart of the Rensselaer Polytechnic Institute campus is a permanent exhibit of National Aeronautics and Space Administration (NASA) memorabilia and other materials that honor the life of former Rensselaer President George M. Low '48. The George M. Low Gallery, open daily to the public, is located on the fourth floor of the Low Center for Industrial Innovation.
Low earned bachelor's and master's degrees in aeronautical engineering from Rensselaer in 1948 and 1950 and was a Delta Phi fraternity member. Low led the Apollo Spacecraft Program that successfully landed Americans on the moon in 1969. He became the university's 14th president in 1976, and served as president until his death in 1984.
A gift from the Class of 1985 furnished the George M. Low Lounge. In 2002, the lounge was converted into the George M. Low Gallery with the addition of exhibits honoring Low's life and work. Rensselaer celebrated the grand opening of the gallery on Sept. 27, 2002. Low's family—including his widow and five children—toured the facility before a formal dedication ceremony for the campus community.
Last summer, during a visit to the gallery, Roger Mike '70, Delta Phi chapter adviser, noticed worn areas of the gallery in need of attention. At the same time, as the fraternity looked forward to celebrating its 150th anniversary, the alumni brothers of Delta Phi were in search of a long-term campus project they could support as a way of giving back to Rensselaer. The George M. Low Gallery was the perfect fit.
Over the course of a year, fraternity members raised more than $45,000 to cover the cost of the renovation project, which included new lighting fixtures for the space and for the enclosed displays, new carpet, paint work, replacement of existing graphics, and a new monitor to show a video introduction to the gallery.
On June 28, in honor of the fraternity's founding date, more than 180 Delta Phi members and their families returned to campus for a series of anniversary events and to participate in the gallery rededication ceremony. In addition to Mike, program speakers included Lester Gerhardt, professor of electrical, computer, and systems engineering; Michael Wacholder, former director of the Rensselaer Technology Park; David Haviland '64, former vice president of Institute Advancement; Samuel Heffner Jr. '56, former chairman of the Rensselaer Board of Trustees; and Jeffrey Schanz, assistant vice president for alumni relations.
Walking into the gallery, visitors are easily taken back in time. The Low Gallery, which is reminiscent of the inside of a space shuttle, includes items of personal and professional significance, such as historic NASA memorabilia, autographed pictures of astronauts, Low's Presidential Medal of Freedom. The collection of space memorabilia was donated to Rensselaer by the Low family.
There are many tributes to Low in the gallery. "[Low]" challenged our country to seek out the ultimate reaches of unknown," said former Governor of New York Hugh L. Carey, as quoted in a gallery display. "Like Magellan, Columbus, and Henry Hudson, he sought through discovery to teach us the wonders of our own planet."
The fraternity has adopted the George M. Low Gallery as its own, and its members plan to continue to raise funds to support its maintenance. "I remember the first time that I met George Low. We had invited him to an alumni weekend event," said Mike. "The invitation read '2 p.m.', and as he arrived, I happened to look up at the grandfather clock in the room – it was precisely 2 p.m., and that told me volumes about the man I was about to meet. Later, as I was sitting with him at dinner, he took out a pen to draw diagrams on the paper tablecloth of the space shuttle, explaining its operation. This was before the first shuttle had launched, and thinking back to that moment still sends chills up my spine. He was such a fascinating person," Mike said. "We are proud to do this for a fraternity brother."
About Rensselaer Polytechnic Institute
Founded in 1824, Rensselaer Polytechnic Institute is America's first technological research university. Rensselaer encompasses five schools, over 30 research centers, more than 140 academic programs including 25 new programs, and a dynamic community made up of over 6,800 students and 104,000 living alumni. Rensselaer faculty and alumni include upwards of 155 National Academy members, six members of the National Inventors Hall of Fame, six National Medal of Technology winners, five National Medal of Science winners, and a Nobel Prize winner in Physics. With nearly 200 years of experience advancing scientific and technological knowledge, Rensselaer remains focused on addressing global challenges with a spirit of ingenuity and collaboration. To learn more, please visit www.rpi.edu.