Dean Evan Douglis Named Among 30 Most Admired Educators in Architecture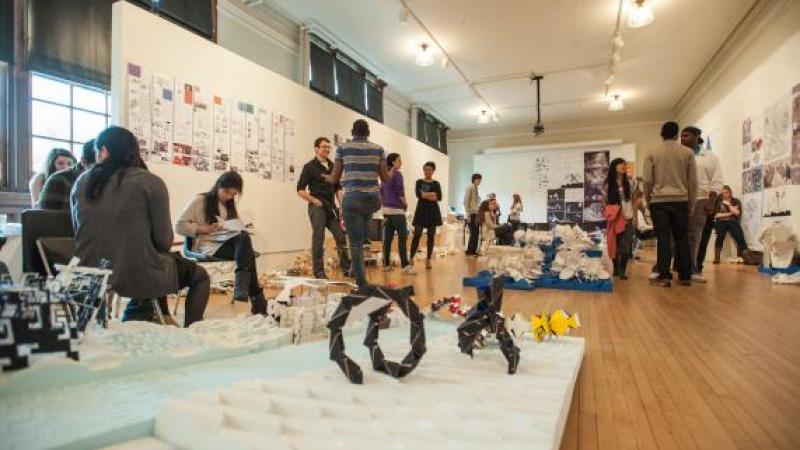 The School of Architecture at Rensselaer Polytechnic Institute has been ranked the 14th best undergraduate program in the nation by the journal DesignIntelligence. In addition, Rensselaer Dean of Architecture Evan Douglis was named among the 30 most admired educators in the field of architecture education.
Rankings for DesignIntelligence's "America's Best Architecture & Design Schools 2015" list were based on surveys of architecture and design professionals, which asked several questions including: "In your firm's hiring experience in the past five years, which schools are best preparing students for success in the profession?"
"At Rensselaer, we take pride in preparing our architecture students to become future leaders in the profession. Our graduates, who leave our school as seasoned thinkers practiced in innovative design, building technology, sustainability, and architecture as a social project, continue to prove and grow this reputation," Douglis said. "Being ranked by DesignIntelligence as among the top programs in the nation is another recognition that Rensselaer-educated architects are advancing their field, transforming their profession, and answering our university's call of 'Why not change the world?'"
DesignIntelligence also ranked the School of Architecture at Rensselaer as the 9th best undergraduate program nationwide for educating students about Construction Methods and Materials.
Additionally, DesignIntelligence named Douglis as among the 30 most admired educators in the field of architecture education. The journal praised Douglis for his simultaneous focus on advancing students' careers and studies. "A personable, design-oriented dean, Evan Douglis is an inspirational leader, pushing for the advancement of the school," DesignIntelligence wrote.
Founded in 1824, Rensselaer Polytechnic Institute is the oldest technological research university in the United States. As it approaches its bicentennial anniversary, the Institute continues to define The New Polytechnic, a new paradigm for teaching, learning, and research that uses advanced technologies to enable fresh collaborations across disciplines, sectors, and regions, in order to answer the global challenges of our day.
The School of Architecture at Rensselaer offers two undergraduate programs, the five-year Bachelor of Architecture degree and the four-year Bachelor of Science in Building Sciences degree. The school also offers several graduate degrees in architecture including: a three–and-a-half-year Master of Architecture (professional) degree, and a one-year Master in Architecture II (post-professional) degree.
Additionally, the following internationally renowned graduate research programs reside within the school, providing an outstanding interdisciplinary environment within which to study next-generation architectural buildings: the Center for Architecture Science and Ecology (CASE); the Lighting Research Center (LRC); and Architectural Acoustics.
Last year, the School of Architecture awarded 46 bachelor's degrees, 38 master's degrees, and one doctoral degree. With an interdisciplinary nature that brings together architecture, engineering, and science, the school is uniquely positioned to address its three primary research thrusts: architectural acoustics, lighting, and built ecologies.
The School of Architecture is one of five schools at Rensselaer, through which students at all levels are engaged in and researching a wide array of critical 21st-century challenges. In addition to Architecture, the university offers more than 145 programs at the bachelor's, master's, and doctoral levels in the schools of Engineering; Science; Humanities, Arts, and Social Sciences; and the Lally School of Management; as well as an interdisciplinary degree in Information Technology and Web Science.
Douglis is the principal of Evan Douglis Studio, an internationally renowned architecture and interdisciplinary design firm committed to the practice of digital alchemy. His leading-edge research into computer-aided digital design and fabrication technology, new materials and multi-media installations as applied to a range of diverse gallery installations, commercial projects, and more recently a series of prefabricated modular building assembly systems has elicited international acclaim.
Prior to joining Rensselaer in 2009, Douglis was the chair of the undergraduate department at Pratt institute, an associate assistant professor and the director of the architecture galleries at Columbia University, and a visiting instructor at The Irwin S. Chanin School of Architecture at the Cooper Union.
Douglis' accomplishments have been recognized with a number of awards, including  a New York Foundation for the Arts fellowship, a Design Vanguard profile by Architectural Record, an I.D. Magazine Honorable Mention, a People's Restaurant Choice Award from the American Institute of Architects Los Angeles, and many others. His work has been exhibited at the SAM Swiss Architecture Museum, ARCHILAB in Orléans, France, the MOCA Museum at the Pacific Design Center in Los Angeles, Artist Space in New York, and the Rotterdam and London Biennales. His Helioscope project is in the permanent architecture collection at the FRAC Centre in Orleans, France.
As a result of his leadership, excellence, and impact, Douglis was recently reappointed as Dean of the School of Architecture at Rensselaer.
Written By Michael Mullaney
Press Contact Michael Mullaney