Community is Invited to Free Concert on December 14 at EMPAC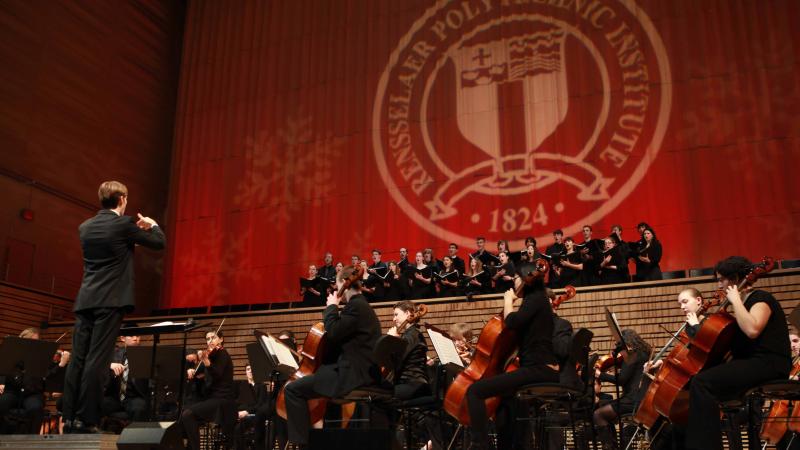 Troy, N.Y. — Local residents are invited to join Rensselaer Polytechnic Institute students, faculty, and staff for the Institute's annual holiday concert at 3 p.m. Sunday, Dec. 14. This year's performance, which will be led by Institute conductor Nicholas DeMaison, is an invitation for people in the campus community and the greater Capital Region community to celebrate the season with a selection of festive music. "Celestial Songs, Earthly Dances … and Some Fireworks" will be held in the world-class performance venue at the Curtis R. Priem Experimental Media and Performing Arts Center (EMPAC) at Rensselaer, offering the local community an opportunity to enjoy a variety of festive music in an extraordinary setting.
The 90-minute concert is free and open to the public. Tickets are not required and seating will be on a first-come, first-served basis. Attendees are asked to register online at https://webforms.rpi.edu/2014-holiday-concert. There will be a 10-minute intermission in the program.
The Rensselaer Orchestra and Rensselaer Concert Choir will be joined by members of the Albany Symphony for this year's event in a first-time collaboration between the Albany Symphony and student performers at Rensselaer.
Among the selections performed by the Rensselaer Concert Choir will be Victoria's "O Magnum Mysterium," Sigurbjörnsson's "Heyr himna smiður," and a new work by Nicholas DeMaison, written specifically for the occasion. These three works, all based on ancient texts, celebrate the mysteries of the universe in song.
Members of the Rensselaer Orchestra and Albany Symphony will join forces to perform Aaron Copland's "Suite from Appalachian Spring" in its original 13-player orchestration, followed by the full ensemble performing selections by Mozart, Dvořák, and Handel.
The full program is as follows:
First half:
Performed by the Rensselaer Concert Choir:
Sigubjornsson – Heyr himna smithur
Victoria – O magnum mysterium
DeMaison – O Virtus sapientie
Performed by members of the Rensselaer Orchestra with member of the Albany Symphony:
Copland – Suite from Appalachian Spring
Second half:
Performed by the Rensselaer Orchestra with members of the Albany Symphony
Mozart – Overture to the Marriage of Figaro
Dvořák – Slavonic DancesHandel – Music for the Royal Fireworks
Written By Mary L. Martialay
Press Contact Mary L. Martialay