Immersive Learning Allows Engineering Students to Inspect, Design, and Test Flood Protection Systems Virtually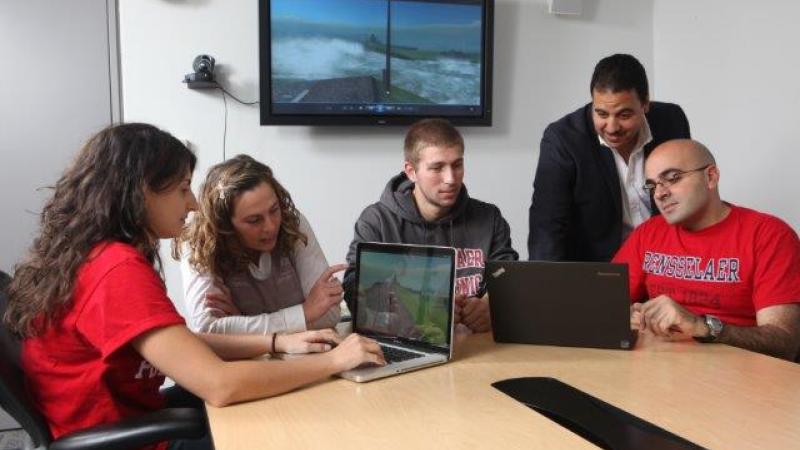 Troy, N.Y. —The National Science Foundation has awarded a three-year $650,000 grant to two Rensselaer Polytechnic Institute professors to develop Geo Explorer, a game that will allow engineering students to inspect, design, and test flood protection systems virtually.
The education grant was awarded to Tarek Abdoun, the Thomas Iovino chaired professor in civil and environmental engineering, and Victoria Bennett, assistant professor of civil and environmental engineering.
Abdoun and Bennett are developing Geo Explorer, a mixed-reality and mobile game, to "bring" students into the field virtually to conduct geotechnical site investigations and evaluations. Playing Geo Explorer will enable students to participate in field testing (e.g., cone penetration tests), inspect levees during and after extreme storms, assess stability, and make decisions about future actions related to flood control infrastructure. Geo Explorer also includes a bridge to the actual laboratory. Players will not only use mobile devices, downloading field data, receiving messages from characters and collaborating with classmates, but they will test actual soil samples in the lab and can upload results to the game.
Abdoun and Bennett note that natural disasters such as Hurricane Katrina illustrate the serious consequences of a deteriorating infrastructure and a public ill-equipped to respond to weather extremes. Such challenges cannot be adequately met in the traditional classroom. Games like Geo Explorer can address the gaps in geotechnical engineering education by providing realistic virtual experience with the unfamiliar, allowing participants to weigh choices and experience their consequences. 
"Geo Explorer has a tremendous potential to teach students about the deadly consequences of deteriorating infrastructure," said Bennett. "Games enable people to experience the unknown and unfamiliar in a virtual world, and they have the power to engage their users."
Geo Explorer is an outgrowth of Rensselaer's commitment to effectively educate the workforce in science, technology, engineering, and math. Abdoun and Bennett say the project perfectly aligns with the goals of The Rensselaer Plan 2024, which include developing and integrating games into modern engineering curricula, expanding mixed-reality classroom experiences, and interacting with artificially synthetic characters.
Shekhar Garde, dean of the School of Engineering, praised Bennett and Abdoun for their work on solving grand-challenge problems using modern research and educational tools.
"This project is an excellent example of pedagogical innovations that define the modern Rensselaer education," said Garde. "Geo Explorer has a great potential to educate students about grand challenges in infrastructure resilience, sustainability, and stewardship. It also opens up possibilities for developing games in other areas of science and technology for a range of applications in human health to chemical and biological safety."
The NSF grant will support a multi-university collaboration. It will be used to develop a geotechnical course that integrates Geo Explorer. The project builds on game modules developed by Deltares, an institute for applied research in water, subsurface, and infrastructure based in The Netherlands.
Geo Explorer is being designed in collaboration with Casper Harteveld, an assistant professor at Northeastern University. With their partners, Usama El Shamy (Southern Methodist University), Flora McMartin (Broad-based Knowledge, LLC), and Joseph Tront (Virginia Tech), Abdoun, Bennett, and Harteveld will test Geo Explorer in courses at Rensselaer, Southern Methodist University, Manhattan College, and California State University Fullerton.
"Ultimately, Geo Explorer will be available for free and can be scaled for use by students from kindergarten through high school, particularly in districts with a high percentage of minorities who are underrepresented in technical fields," said Abdoun.
See a short video interview and clip of Tarek Abdoun talking about Geo Explorer: http://youtu.be/SCWIp8fFd_M
Written By Jessica Otitigbe
Press Contact Jessica Otitigbe