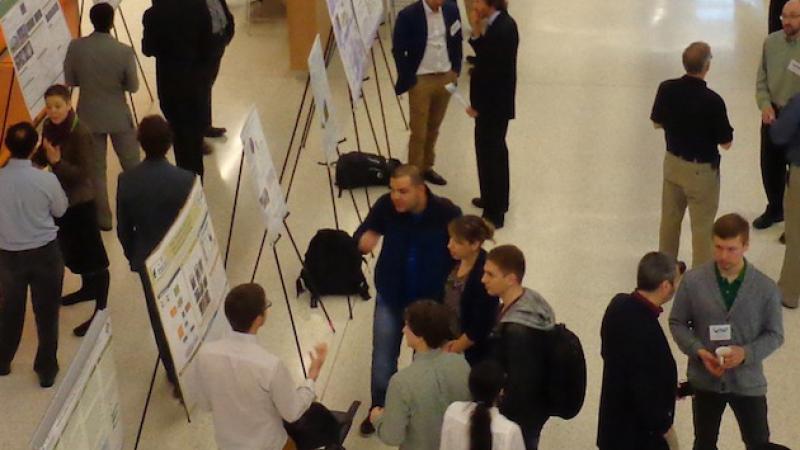 Twelve student teams from eight colleges and universities across New York state will present their solution to an environmental problem within their community at the fourth annual New York State Pollution Prevention Institute Research and Development Student Competition on April 22 at Rensselaer Polytechnic Institute.
The competition, to be held in the Center for Biotechnology and Interdisciplinary Studies (CBIS), begins at 9 a.m. with a welcome that includes remarks from Joseph Martens, Commissioner of the New York State Department of Environmental Conservation. An exhibition, to be held from 9:15 a.m. to 12:30 p.m., will feature the competing teams, as well as posters from more than 100 K-12 students, on display in the first and second-floor atrium of the CBIS.
A panel of judges, including Rensselaer graduates Gavin McIntyre, co-founder and chief scientist of Ecovative Design, and Anasha Cummings, initiator at Transition Troy, will announce winners by 1 p.m. The competition is sponsored by the New York State Pollution Prevention Institute (NYSP2I) at Rochester Institute of Technology.
As part of its Research and Development Program, NYSP2I challenged teams of full-time students enrolled at any institute of higher education in New York state to identify a specific activity at their university or in their community with a large environmental footprint. Teams were then required to propose innovative solutions to reduce its impact. Schools are competing under the theme "Greenovate NYS" by undergraduate or graduate level.
Competing teams were announced in January, with each team receiving up to $1,000 for materials to develop their idea. The teams come from Rochester Institute of Technology, Rensselaer, the State University of New York College at Brockport, Clarkson University, Siena College, Syracuse University, St. Lawrence University, and the University at Buffalo. To learn more about the proposal that will be on exhibit, visit the January news release which announced the competitors.
Each first-place team will receive $1,500 to share among team members; the second-place school will receive $750; and third place $250, as well as a trophy commemorating the award. Prizes are made possible through donations by sponsors, including Baldwin Richardson Foods, New Pig Corporation, Golisano Institute for Sustainability (RIT), Markin Tubing, NOCO Energy Corporation, Counterparts Chemistry Consulting, International Paper, Risch, Rochester Midland Corporation and Full Circle Feed. Additional funding for the competition was provided by the New York state DEC. Wegmans provided prizes for the K-12 student poster competition.
The New York State Pollution Prevention Institute is a partnership between the New York State Department of Environmental Conservation (DEC), Rochester Institute of Technology and its Golisano Institute for Sustainability, Rensselaer Polytechnic Institute, University at Buffalo, and Clarkson University, with a statewide reach. NYSP2I's goal is to make the state more sustainable for workers, the public, the environment, and the economy through pollution prevention. Pollution prevention is reducing or eliminating waste at the source by modifying production processes, promoting the use of non-toxic or less-toxic substances, implementing conservation techniques, and reusing materials rather than putting them into the waste stream.
Written By Mary L. Martialay
Press Contact Mary L. Martialay