Conversation with President Jackson discussed "Technological Change and National Security"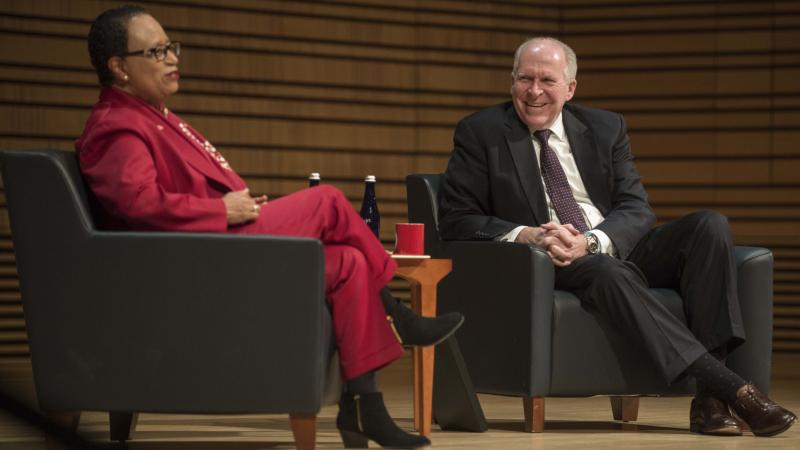 Rensselaer Polytechnic Institute hosted John O. Brennan, director of the United States Central Intelligence Agency (CIA), for a conversation on "Technological Change and National Security" with Rensselaer President Shirley Ann Jackson on Friday, November 4.
Essential networks at risk of cyber-attack, terrorists' use of social media to recruit and direct followers, biotechnology techniques for rapid gene editing — the wide-ranging conversation touched on threats and opportunities technology has enabled.
Brennan offered a perspective informed by a career in intelligence. Brennan was sworn in as director of the CIA in 2013, but his career with the agency began in 1980. Much of his early career was devoted to the Directorate of Analysis, specializing in the Near East and South Asia. He directed counterterrorism analysis in the early 1990s, served as the Agency's intelligence briefer to President Bill Clinton in 1994 and 1995, and served as chief of staff to CIA Director George Tenet from 1999 to 2001, deputy executive director from 2001 to 2003 (helping to launch the National Counterterrorism Center), and interim director from 2004 to his retirement in 2005. He rejoined the agency as its director.
In answering questions, Brennan addressed current threats: the frustration of a newly aggressive Russia, terrorist platforms based on a perversion of religion, a rise in nationalism in the developed world, and a pervasive dissatisfaction with the status quo.
Climate change, and the wide-scale disruption of the environment, is likely to increase tensions within and among nations. And cyber revolution is creating vulnerability for the United States and our allies, at the same time that the country grapples with the role of government in the digital domain, Brennan said.
In his own work, Brennan said he has worked to ensure that digital innovation empowers the agency and fosters interactions.
Given security requirements, invitations to the event were restricted to Rensselaer faculty, students, and staff. Following the conversation, Brennan met with a cross-section of students from the schools of Engineering and Science and from the Reserve Office Training Corps at Rensselaer.
The conversation fulfill the vision of The New Polytechnic, an emerging paradigm for higher education, which recognizes that global challenges and opportunities are so complex, they cannot be addressed by even the most talented person working alone. Rensselaer serves as a crossroads for collaboration — working with partners across disciplines, sectors, and geographic regions, to address global challenges — and addresses some of the world's most pressing technological challenges, from energy security and sustainable development to biotechnology and human health. The New Polytechnic is transformative in the global impact of research, in its innovative pedagogy, and in the lives of students at Rensselaer.
About Rensselaer Polytechnic Institute
Rensselaer Polytechnic Institute, founded in 1824, is America's first technological research university. The university offers bachelor's, master's, and doctoral degrees in engineering; the sciences; information technology and web sciences; architecture; management; and the arts, humanities, and social sciences. Rensselaer faculty advance research in a wide range of fields, with an emphasis on biotechnology, nanotechnology, computational science and engineering, data science, and the media arts and technology. The Institute has an established record of success in the transfer of technology from the laboratory to the marketplace, fulfilling its founding mission of applying science "to the common purposes of life." For more information, please visit http://www.rpi.edu.
Written By Mary L. Martialay
Press Contact Mary L. Martialay