Focus on multichannel systems Including wave field synthesis and higher-order ambisonics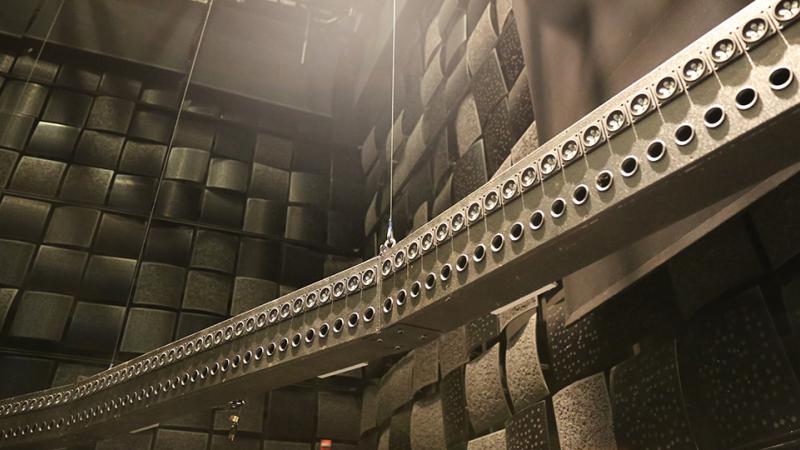 Recent advances in multichannel audio technology have created exciting new possibilities for the spatialization of sound. With Wave Field Synthesis and Higher-Order Ambisonics, electronic composers now have the ability to place and move sounds through the listening space with an extraordinary degree of precision.
This summer, the Curtis R. Priem Experimental Media and Performing Arts Center (EMPAC) at Rensselaer Polytechnic Institute partners with Institut de Recherche et Coordination Acoustique/Musique (IRCAM), the world's leading audio research institute based in Paris, and the Harvard University Studio for Electroacoustic Composition (HUSEAC) to offer an intensive workshop for composers, audio engineers, and programmers interested in learning to use these emerging spatial audio platforms. From July 10-July 14, the Spatial Audio Summer Workshop will offer participants hand-on experience with over 700 channels of audio, throughout EMPAC's five pristine acoustical environments.
Researcher Markus Noisternig (IRCAM) and professor Hans Tutschku (Harvard) will join EMPAC's audio staff in dissecting the technical and artistic concerns in the creation and presentation of high-count multichannel audio projection. Each day will consist of seminar-style workshops and lectures, along with time for hands-on experience with the over 700 channels of audio, including EMPAC's new Wave Field Synthesis array.
Completed in 2016, EMPAC's Wave Field array is a system of 558 independently controllable speakers spread across 18 portable and reconfigurable modules. When operated with IRCAM's SPAT software, the system is capable of generating an immersive wave field that may be physically explored within the listening space. For this workshop, each of EMPAC's venues will be equipped with either a Wave Field or Ambisonic (360-degree, domed) speaker array, an unprecedented opportunity for participants to train with this technology.
Participants should be composers, audio engineers, or programmers with interest in multichannel composition. Experience with MAX is recommended. Registration, including all seminars, performances, lunch and coffee each day, is $590. Lodging on the Rensselaer campus is also available for an additional $210. Attendance will be limited to 25 participants, so early registration is suggested. Register online here.
Markus Noisternig is Researcher at IRCAM, CNRS, Sorbonne Universities—UPMC in Paris, Senior Lecturer at the Institute of Electronic Music in Graz, and also lecturer at the Karlsruhe College of Arts and Design. As an undergraduate and postgraduate, he studied electrical engineering and audio engineering as well as computer music composition at the University of Technology and the University of Music and Performing Arts in Graz. As an artist, Noisternig has participated in numerous collaborative projects with well-known composers and ensembles of New Music, which have performed in key European festivals.
Hans Tutschku is the Fanny P. Mason Professor of Music at Harvard University, where he is the Director of the Harvard University Studio for Electroacoustic Composition. He studied composition in Birmingham, Dresden, The Hague, and Paris and has been a member since 1982 of Ensemble für Intuitive Musik Weimar, with whom he has toured more than 30 countries. Aside from composing instrumental and electronic music, he has realized several multimedia productions, conceiving video and choreography.
For further information, please visit empac.rpi.edu. For all inquiries, please contact Josh Potter at pottej2@rpi.edu.
The Curtis R. Priem Experimental Media and Performing Arts Center (EMPAC) at Rensselaer Polytechnic Institute is where the arts, sciences, and technology interact with and influence each other by using the same facilities and technologies, and by breathing the same air. EMPAC hosts artists and researchers to produce and present new work in a building designed with sophisticated architectural and technical infrastructure. Four exceptional venues and studios enable audiences, artists, and researchers to inquire, experiment, develop, and experience the ever-changing relationship between ourselves, technology, and the worlds we create around us. EMPAC is an icon of the New Polytechnic, a new paradigm for cross-disciplinary research and learning at Rensselaer, the nation's oldest technological research university.