Moniz to be joined by Roger W. Ferguson, President and CEO of TIAA, and Andrew N. Liveris, Chairman and CEO of the Dow Chemical Company, for the President's Commencement Colloquy May 19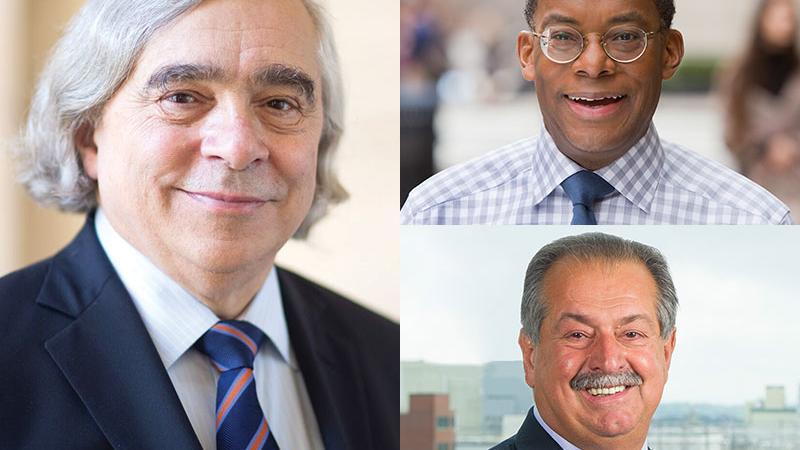 Rensselaer Polytechnic Institute President Shirley Ann Jackson has announced that the Honorable Ernest J. Moniz, former Secretary of Energy and the Cecil and Ida Green Professor of Physics and Engineering Systems emeritus and Special Advisor to the President at MIT, as well as co-Chair and CEO of the Nuclear Threat Initiative, will address Rensselaer graduates on May 20, 2017, during the 211th Commencement Ceremony. Moniz will receive an Honorary Doctorate of Science at the ceremony.
"At Rensselaer, we prepare our students to lead collaborations across disciplines, sectors, and geographies to address great global challenges," said President Jackson. "We are so pleased that the Rensselaer community will benefit from the insights and experiences of Secretary Moniz, whose scientific expertise and great diplomacy contributed to landmark international accords on climate change and the Iran nuclear program."
In addition to serving as Commencement speaker, Moniz will join Roger W. Ferguson Jr., President and CEO of TIAA, and Andrew N. Liveris, Chairman and CEO of the Dow Chemical Company, for the President's Commencement Colloquy on May 19. The discussion, titled "Criticality, Incisiveness, Creativity," will be moderated by President Jackson.
"Rensselaer is establishing a new paradigm for the technological research university that we term 'The New Polytechnic,' in which we serve as a great crossroads for the exchange of ideas," said President Jackson. "Secretary Moniz, Mr. Liveris, and Dr. Ferguson are leaders in very different realms, who all have successfully defused crises, as well as helped our nation and the world to address perennial social, economic, environmental, and security challenges."
For the past 14 years, the Commencement Colloquy has served as a forum for discussion between leaders and influencers with diverse perspectives on global challenges. Past Colloquy participants have included Ertharin Cousin, Executive Director of the United Nations World Food Programme, Secretary of the Smithsonian Institution David Skorton, U.S. Supreme Court Justice Antonin Scalia, co-founder and co-CEO of the Carlyle Group David M. Rubenstein, Harvard University professor Henry Louis Gates Jr., and Congressman John R. Lewis.
The Colloquy will take place in the concert hall of the Curtis R. Priem Experimental Media and Performing Arts Center beginning at 3:30 p.m. 
Ernest J. Moniz served as United States Secretary of Energy from May 21, 2013 to January 19, 2017. As Secretary of Energy, he was tasked with implementing critical Department of Energy missions in support of President Obama's goals of growing the economy, enhancing security, and protecting the environment. This encompassed advancing the President's all-of-the-above energy strategy, maintaining the nuclear deterrent and reducing the nuclear danger, promoting American leadership in science and clean energy technology innovation, cleaning up the legacy of the cold war, and strengthening management and performance.
Prior to his appointment, Moniz was the Cecil and Ida Green Professor of Physics and Engineering Systems at the Massachusetts Institute of Technology (MIT), where he was a faculty member since 1973. At MIT, he headed the Department of Physics and the Bates Linear Accelerator Center. Most recently, Moniz served as the founding Director of the MIT Energy Initiative and as Director of the MIT Laboratory for Energy and the Environment where he was a leader of multidisciplinary technology and policy studies on the future of nuclear power, coal, nuclear fuel cycles, natural gas and solar energy in a low-carbon world.
From 1997 until January 2001, Moniz served as Under Secretary of the Department of Energy. He was responsible for overseeing the Department's science and energy programs, leading a comprehensive review of nuclear weapons stockpile stewardship, and serving as the Secretary's special negotiator for the disposition of Russian nuclear materials. From 1995 to 1997, he served as Associate Director for Science in the Office of Science and Technology Policy in the Executive Office of the President.
Roger Ferguson is president and chief executive officer of TIAA. He is the former vice chairman of the Board of Governors of the U.S. Federal Reserve System. He will receive an Honorary Doctorate of Humane Letters at the Commencement ceremony.
He represented the Federal Reserve on several international policy groups and served on key Federal Reserve System committees, including Payment System Oversight, Reserve Bank Operations, and Supervision and Regulation. As the only Governor in Washington, D.C., on 9/11, he led the Fed's initial response to the terrorist attacks, taking actions that kept the U.S. financial system functioning while reassuring the global financial community that the U.S. economy would not be paralyzed.
Prior to joining TIAA in April 2008, Ferguson was head of financial services for Swiss Re, Chairman of Swiss Re America Holding Corporation, and a member of the company's executive committee. From 1984 to 1997, he was an associate and partner at McKinsey & Company. He began his career as an attorney at the New York City office of Davis Polk & Wardwell.
Ferguson is a fellow of the American Philosophical Society and the American Academy of Arts & Sciences and co-chairs its Commission on the Future of Undergraduate Education. He serves on the boards of Alphabet Inc., General Mills Inc., and International Flavors & Fragrances Inc.
Andrew N. Liveris is chairman and chief executive officer of the Dow Chemical Company, a materials, polymers, chemicals, and biological sciences enterprise, with 2016 annual sales of $48 billion. He will receive an Honorary Doctorate of Engineering at the Commencement ceremony.
Liveris ia a 40-year veteran of Dow and recognized global business leader whose career has spanned roles in manufacturing, engineering, sales, marketing, and business and general management around the world. During more than a decade as Dow's CEO, Liveris has led the company's transformation from a cyclical chemicals manufacturing company into a novel enterprise – one powered by science, driven by innovation and delivering solutions to the world.
An international advocate for the criticality of manufacturing to the long-term health of national economies, Liveris is the author of Make It in America, a book that presents a comprehensive set of practical policy solutions and business strategies to achieve the company's vision of an "Advanced Manufacturing" economy. He has been tapped to lead President Donald J. Trump's Manufacturing Jobs Initiative, which will identify new ways to spur innovation, revitalize the U.S. manufacturing sector, and drive economic growth and prosperity. Previously he served as Co-Chair of U.S. President Obama's Advanced Manufacturing Partnership steering committee and a member of the U.S. President's Export Council. To this end, he has led Dow to collaborate with governments on Advanced Manufacturing Plans for the U.S., Australia, Europe, and Kenya, while simultaneously driving the company's world-class investment and industry leadership in fast-growing regions around the globe.
The President's Commencement Colloquy embodies the vision of The New Polytechnic, an emerging paradigm for higher education which recognizes that global challenges and opportunities are so great they cannot be adequately addressed by even the most talented person working alone. Rensselaer serves as a crossroads for collaboration — working with partners across disciplines, sectors, and geographic regions — to address complex global challenges, using the most advanced tools and technologies, many of which are developed at Rensselaer.
About Rensselaer Polytechnic Institute
Rensselaer Polytechnic Institute, founded in 1824, is America's first technological research university. For nearly 200 years, Rensselaer has been defining the scientific and technological advances of our world. Rensselaer faculty and alumni represent 85 members of the National Academy of Engineering, 17 members of the National Academy of Sciences, 25 members of the American Academy of Arts and Sciences, 8 members of the National Academy of Medicine, 8 members of the National Academy of Inventors, and 5 members of the National Inventors Hall of Fame, as well as 6 National Medal of Technology winners, 5 National Medal of Science winners, and a Nobel Prize winner in Physics. With 7,000 students and nearly 100,000 living alumni, Rensselaer is addressing the global challenges facing the 21st century—to change lives, to advance society, and to change the world. To learn more, go to www.rpi.edu.
Written By SCER Staff