Area high school students to visit Rensselaer Polytechnic Institute to celebrate National Manufacturing Day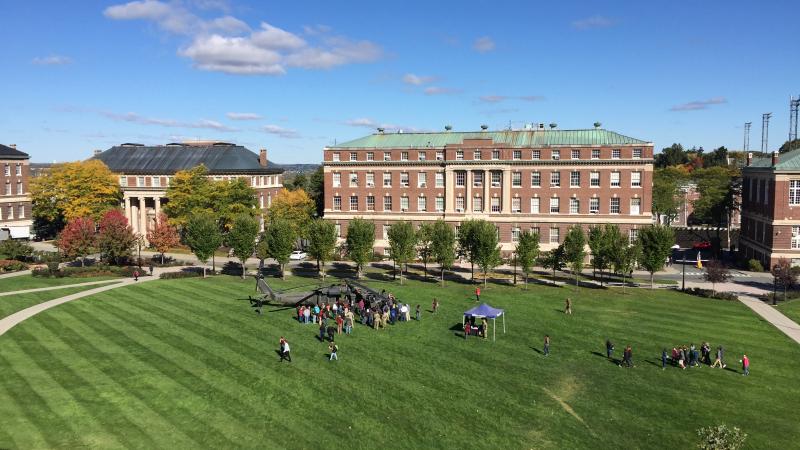 Troy, N.Y. – On Friday, Oct. 6, in celebration of Manufacturing Day, the School of Engineering at Rensselaer Polytechnic Institute will open doors to students, educators, businesspeople, media, politicians, and regional manufacturers to share Rensselaer's vision and expertise in innovative education and research in manufacturing, showcase facilities, and highlight career opportunities in field. Prior to the start of the program, members of the campus and local community are invited to view the 7:30 a.m. arrival of the New York Air National Guard Sikorsky UH-60 Blackhawk helicopter.
The School of Engineering will kick off the annual National Manufacturing Day activities during the Manufacturing Innovation Learning Laboratory (MILL) open house, on Wednesday, Oct. 4 from 3:30 to 6 p.m. in the MILL located in the George M. Low Center for Industrial Innovation (CII). Shekhar Garde, dean of the School of Engineering, and Troy Mayor Patrick Madden will deliver brief remarks, as Rensselaer joins hands with the city of Troy to also celebrate the city's heritage in manufacturing.
"Each year, we look forward to celebrating the National Manufacturing Day with our students and the community," said Garde. "Rensselaer's School of Engineering is defining and leading 21st-century technological education. There is a great tradition of manufacturing education and research at Rensselaer. Over the past 20 years, we have built new research platforms and recruited outstanding faculty who are breaking new ground in advanced manufacturing in a range of areas from clean energy, robotics, to biotechnology. Technologies that will emerge from this work will accelerate American innovation, make new products, and create jobs around the country, New York state, and in the Capital Region. We hope that National Manufacturing Day activities on our campus will excite young students about manufacturing, show them how technology can and does change the world, and inspire them to pursue careers in science and engineering."
"Manufacturing continues to play a major part in the economic revitalization of not only Troy, but the Capital Region, and our entire nation" said Mayor Patrick Madden. "Through events like National Manufacturing Day, we can connect young people to unique career opportunities in this rapidly-growing industry and encourage them to explore the possibilities that manufacturing jobs can bring to improving our local community, state and larger world. The City of Troy is proud to again partner with Rensselaer to support their efforts which celebrate local companies, manufacturers, and organizations who are leading this important program each year."
This year, nearly 250 high school students from around New York's Capital Region will visit the Rensselaer campus to attend the National Manufacturing Day program on Friday, Oct. 6, which will open at 9 a.m. in the Curtis R. Priem Experimental Media and Performing Arts Center (EMPAC) Theater. In addition to Dean Garde, program speakers include Swetha Sriram '18, an industrial and management engineering major and a representative of the 2017 ASME National Student Design and Manufacturing team; Michael Lobsinger, center director for the Center of Economic Growth Business Growth Services; Sam Chiappone, director of manufacturing innovation in the School of Engineering; and local elected officials, including city of Troy Mayor Patrick Madden, and New York State Assemblyman John T. McDonald III.
This year, Ryan Patry, a Rensselaer Class of 2000 alumnus and manager of manufacturing technology at Sikorsky Aircraft, will deliver the keynote address along with Jaime Lord '18, an aeronautical /mechanical dual engineering major.  Patry will share his experiences in manufacturing, and the importance of the innovative and versatile field in terms of the current national climate and future generations. Lord, who participated in Sikorsky manufacturing summer internships in 2016 and 2017, will share her experiences in manufacturing.
Prior to the start of the program, members of the campus and local community are invited to view the 7:30 a.m. arrival of the NYS National Guard Sikorsky UH-60 Blackhawk helicopter (weather permitting) on '86 Field. The helicopter, which will be piloted by Captain Forest Thrush '12 and Captain Thomas Brunschmid, will be on display for public viewing from 8 a.m. to 1 p.m. The Sikorsky UH-60 Black Hawk is a four-bladed, twin-engine, medium-lift utility helicopter manufactured by Sikorsky Aircraft Corporation. Sikorsky is known as a world leader in the design, manufacture, and service of military and commercial helicopters; fixed-wing aircraft; spare parts and maintenance, repair, and overhaul services for helicopters and fixed-wing aircraft; and civil helicopter operations.
A Snap-On Advanced Technology Lab Truck, New York State National Guard tent, and FSAE Motor Sport Student Car Team will also be set up at the east end of the '86 Field for attendees to learn about new technology being used in the field, educational opportunities related to manufacturing, and connect with organization representatives.
"I am truly proud to be part of a team to showcase the manufacturing programs here at RPI in support of National Manufacturing Day," said Chiappone. "The opportunity to have Rensselaer students and sponsors share their experiences with local high school students is the perfect way to make our guests aware of the career and educational opportunities available in manufacturing. This national event is a great way to inspire the next generation of leaders and innovators in manufacturing and we are pleased to once again be part of the effort." 
Following the keynote address, the high school students will visit several advanced manufacturing facilities at Rensselaer, including the Center for Automation Technologies and Systems (CATS), School of Architecture Fabrication Shop, the Biomedical Prototype Fabrication Studio, Nano-M3 Design Lab, the Micro and Nano Fabrication Clean Room, Haas Technical Center, the Additive Manufacturing Lab, and the HASS 3D prototyping Lab , among others. The students will also visit the MILL, where Rensselaer students will showcase their manufacturing projects. In addition, students will have an opportunity to meet and learn from Rensselaer student clubs and other organizations, including the Rensselaer Electric Vehicle and Rensselaer Formula SAE Motorsport.
The National Manufacturing Day activities at Rensselaer are supported by Sikorsky Aircraft, Snap-On, the Center for Economic Growth, Chief Executives Network for Manufacturing of the Capital Region, New York State Air National Guard, Manufacturing Processes and Systems Class Invisibell Team, Society of Manufacturing Engineers, as well as the MILL at Rensselaer.
Student participation and immersion in advanced manufacturing education are examples of The New Polytechnic, an emerging paradigm for teaching, learning, and research at Rensselaer. This paradigm recognizes that global challenges and opportunities are so great they cannot be adequately addressed by even the most talented person working alone. Rensselaer serves as a crossroads for collaboration—working with partners across disciplines, sectors, and geographic regions—to address complex global challenges, using the most advanced tools and technologies, many of which are developed at Rensselaer.
Note:  Join the social media conversation. Follow this year's National Manufacturing Day events at Rensselaer, and share your photos and experience through Twitter using the hashtag #RPI and #MFGDay17. Follow these social media outlets @RPInews and @RPIEng for event highlights. 
Parking: On Friday, Oct. 6, parking for media and the community will be available in the Blaw Knox Lot located off of Sage Avenue, along with the West Hall lot, also located on Sage Avenue. Street parking is available. Meter rules will apply.
About Rensselaer Polytechnic Institute
Rensselaer Polytechnic Institute, founded in 1824, is America's first technological research university. For nearly 200 years, Rensselaer has been defining the scientific and technological advances of our world. Rensselaer faculty and alumni represent 85 members of the National Academy of Engineering, 17 members of the National Academy of Sciences, 25 members of the American Academy of Arts and Sciences, 8 members of the National Academy of Medicine, 8 members of the National Academy of Inventors, and 5 members of the National Inventors Hall of Fame, as well as 6 National Medal of Technology winners, 5 National Medal of Science winners, and a Nobel Prize winner in Physics. With 7,000 students and nearly 100,000 living alumni, Rensselaer is addressing the global challenges facing the 21st century—to change lives, to advance society, and to change the world. To learn more, go to www.rpi.edu.
Written By Jessica Otitigbe
Press Contact Jessica Otitigbe