Will raise funds in support of students, faculty, and campus enhancements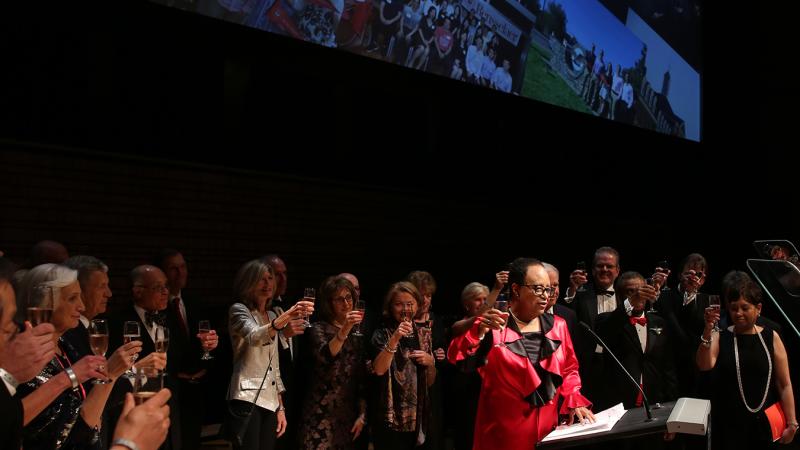 On Friday, October 13, Rensselaer Polytechnic Institute President Shirley Ann Jackson hosted alumni, guests, and campus members at the launch of a capital campaign designed to position Rensselaer for its third century of leadership in research and education. "Transformative: Campaign for Global Change" will seek to raise $1 billion for student scholarships, faculty support, and campus enhancements.
At the gala event in the Curtis R. Priem Experimental Media and Performing Arts Center, President Jackson announced that the Institute has already raised $400 million toward the goal through the support of alumni, corporations, and foundations.
"With the capital campaign we launch tonight, we are preparing Rensselaer to continue educating the most inventive young people on Earth, well into its third century," said President Jackson at the launch. "We are confident about our future, because today Rensselaer is thriving. Demand for a Rensselaer education has never been higher. Applications for admission to our freshman class numbered nearly 20,000 this year. Many of our programs are now top-ranked, including our Information Technology and Web Sciences program, the very best of its kind in the nation, and our undergraduate Physics and our Games and Simulation Arts and Sciences programs, both ranked in the top 10 nationwide."
The Transformative campaign is co-chaired by Rensselaer Board of Trustee member Paul Severino'69 and his wife, Kathleen. "My own experience at Rensselaer was a little unusual. I transferred in as a junior—and was immediately struck by how intense the curriculum was, and how hard-working and driven to succeed the students were," said Severino. "It was the Rensselaer culture that made me a good engineer.  But more significantly, it was the Rensselaer culture that gave me the confidence needed to take the risks required to start my companies—and make them successful.
"I know that all of you, too, are where you are today because of Rensselaer," Severino continued. "We are all stakeholders in this university—and have an obligation to shape its future in positive ways, in return for the many positive ways that it shaped us. The capital campaign will enable Rensselaer to continue preparing students to address the vital issues of today and the emerging needs of tomorrow."
Transformative: Campaign for Global Change has three main pillars:
IMPROVING STUDENT ACCESS, ENHANCING THE STUDENT EXPERIENCE
Rensselaer is attracting some of the nation's best and brightest students and empowering them with an interdisciplinary, experiential education that will prepare them to be the problem-solvers and innovators our country and the world need. To continue that trajectory, the Institute needs a transformative investment in both student aid and the student experience.
Campaign funding will help close the gap between student need and the financial aid Rensselaer is able to provide. The Campaign also will allow the Institute to build upon visionary programs such as The Arch, which lets students spend a junior year semester away on a research, internship, or other experience, and Clustered Learning, Advocacy, and Support for Students (CLASS), Rensselaer's signature approach to education that combines residential and time-based clustering, and novel integration of classroom technology.
EMPOWERING WORLD-CLASS TEACHING AND WORLD-CHANGING RESEARCH
Whether it is preparing Rensselaer students for the most forward-looking careers or pursuing the applied research that will solve the problems and create the opportunities of the 21st century, one factor is key: the faculty. Recent years have seen a transformational growth in the size and interdisciplinarity of the Rensselaer faculty. Their research is driving new discoveries in everything from biomanufacturing and regenerative medicine, to advanced networking, visualization, and machine learning, as well as advancing pedagogical innovations in the classroom. Campaign investment in endowed faculty chairs will enhance the Institute's ability to attract and retain the forward-thinking researchers the world needs and the dedicated professors students deserve.
BUILDING THE THIRD-CENTURY CAMPUS
The history of the Rensselaer campus is one of innovation and transformation. While nine buildings are on the National Register of Historic Places, Rensselaer is also home to one of the world's most powerful university-based supercomputers, and one of its most innovative performance spaces, as well as over 745 labs, studios, and technology spaces used for research. Attracting the best and brightest students and faculty requires an enormous amount of space— space in which to work, to live, and to be an active, engaged member of Rensselaer's vibrant community. Campaign investment will allow Rensselaer to build a new state-of-the-art Center for Science and complete the second phase of the East Campus Athletic Village, among other campus enhancements, that will increase research productivity, raise rankings and visibility, and improve the quality of students' intellectual, athletic, and personal lives.
"As we consider the world around us, the stakes are high. The opportunities are clear. The urgency is daunting," said President Jackson. "It is within your power to set in motion transformative change—not merely in your own careers and lives—but on a larger scale, by joining with Rensselaer to ensure that the most inventive, ingenious, and dedicated young men and women on Earth emanate from our classrooms, laboratories, and makerspaces for generations to come.
"Together, we amplify our efforts to improve the world," she said. "Together, we set off a cascade of virtuous effects and positive change that will have impacts around the globe. Together, we are transformative."
To learn more, visit transformative.rpi.edu.
Written By SCER Staff