Leaders of United Airlines, ExxonMobil are appointed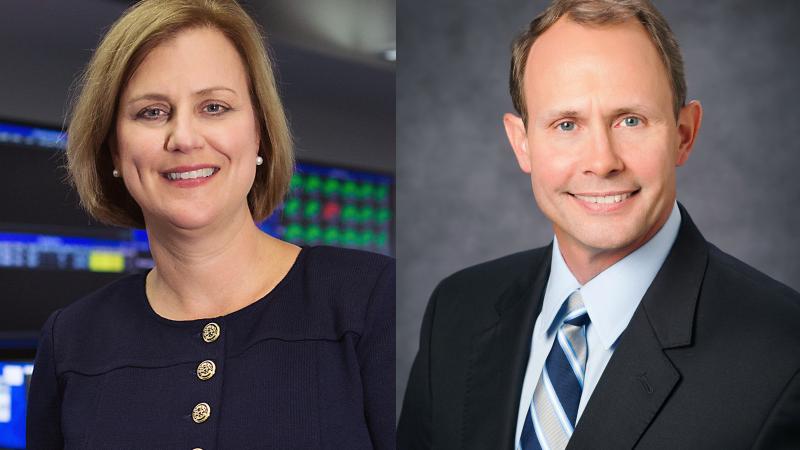 Rensselaer Polytechnic Institute has announced the addition of two new members to the Rensselaer Board of Trustees, effective January 1, 2018: Linda Pitzi Jojo '87, '92G, executive vice president, technology, and chief digital officer at United Continental Holdings, the parent company of United Airlines, and T.J. Wojnar Jr. '80, vice president of corporate strategic planning at ExxonMobil.
"We are so pleased that these two distinguished Rensselaer graduates are joining the board at this pivotal moment in the history of Rensselaer Polytechnic Institute," said President Shirley Ann Jackson. "We recently launched 'Transformative: Campaign for Global Change' to raise $1 billion in critical resources for student support, expanding the faculty, and expanding and modernizing the campus. As experienced professional technology leaders, Mrs. Jojo and Mr. Wojnar will serve the Institute well as it moves toward greater leadership in its third century."
"The Board of Trustees is proud to welcome our newest colleagues," said Arthur Golden '66, chairman of the Rensselaer Board of Trustees. "Their leadership experiences as executives in two of our nation's most respected companies will be valuable assets as they join us in leading the Institute. We are grateful for their commitment to serve, and look forward to working with them as we fulfill the promise of The New Polytechnic."
As chief digital officer at United Continental Holdings, the parent company of United Airlines, Jojo is responsible for the airline's digital and mobile presence, including United.com and mobile apps, as well as its technology systems, platforms, and infrastructure.
Prior to joining United in 2014 as its CIO, Jojo was the CIO at Rogers Communications, Canada's largest provider of wireless services, home entertainment, and media services. She was previously the CIO at Energy Future Holdings and at Flowserve Corporation, and spent nearly 15 years at GE in various technical leadership roles, including the CIO, GE Silicones in Waterford, New York.
In 2017, Jojo was named Chicago's "CIO of the Year," and she was named to Crain's "Tech 50" in 2016, both recognizing the way she and her team are leveraging mobile, analytics, and machine learning to transform the way customer service is delivered at United Airlines.
Jojo is a member of the Board of Directors at Exelon Corporation, a Fortune 100 company that operates the country's largest nuclear power fleet and serves the electricity and gas supply needs of over 10 million customers in Delaware, Illinois, Maryland, New Jersey, Pennsylvania, and Washington, D.C. She is vice chair, board of trustees, at the Adler Planetarium in Chicago, whose mission is to engage and excite young people in STEM.
Jojo is vice president and treasurer of the Rensselaer Alumni Association (RAA) Board of Trustees. She received the RAA Alumni Key Award in 2017.
She received a bachelor's degree in computer science in 1987 and a master's degree in industrial and management engineering from Rensselaer in 1992.
Wojnar was appointed vice president of corporate strategic planning at ExxonMobil in August 2017. Previously, he served as president of ExxonMobil Research and Engineering Company (EMRE). EMRE engages in the research, exploration, and production of crude oil and natural gas.
As president of EMRE, Wojnar oversaw more than 3,000 engineers and scientists. EMRE's research and engineering facilities around the world are actively engaged in long-term, breakthrough research including advanced biofuels and fuel cell carbon capture, as well as executing capital projects and engineering programs to continuously improve the safety, efficiency, and productivity of ExxonMobil's manufacturing operations.
Prior to his role as president at EMRE, Wojnar assumed the position of senior vice president of the global polymers business in ExxonMobil Chemical Company in 2010. He became senior vice president in ExxonMobil Chemical Company in 2008, managing the global basic chemicals, intermediates, and synthetics businesses. Previously, he served as global vice president of the hydrocarbon and oxygenated fluids business. In 2006, he was the manager of global logistics optimization, supply, and transportation in Fairfax, Virginia.
Wojnar has spent his entire career at ExxonMobil and its predecessor companies. He began his career in 1980 as a project engineer in Florham Park, New Jersey.
Wojnar has been actively involved with Rensselaer since he graduated in 1980. He has been an ExxonMobil Key Executive since 2000. He was recognized with the RAA Alumni Key Award in 1999. He has been a member of the School of Engineering Leadership Council since 2013.
Wojnar earned his bachelor's degree in civil engineering from Rensselaer in 1980. He received an MBA from the University of Houston.
Written By SCER Staff