Rensselaer set to host 212th Commencement Ceremony on May 19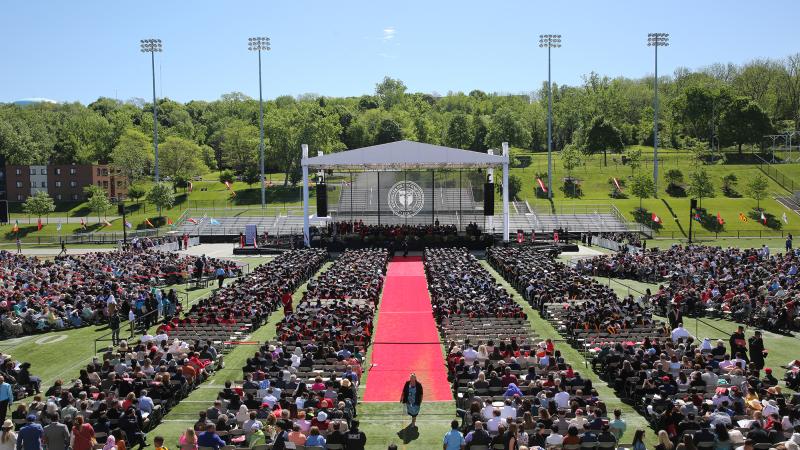 On Saturday, May 19, 1,945 students will receive degrees from Rensselaer Polytechnic Institute, the oldest technological research university in the United States, beginning at 8:15 a.m. in the East Campus Athletic Village (ECAV) stadium on campus. They represent the next generation of leaders, engineers, scientists, entrepreneurs, patent holders, game designers, architects, and innovators, in fields ranging from engineering to architecture, fine arts to science, game design to information technology, and business to active military service.
During the 212th Commencement Ceremony, Rensselaer will award a total of 2,010 degrees. They include: 161 doctoral degrees, 417 master's degrees, and 1,432 bachelor's degrees. Some graduates have earned more than one degree. This year, more than 10,000 graduates and visitors are expected to attend the ceremony.
A Global Community
In 2018, graduating students come from more than 40 states, in addition to New York. The Class of 2018 contains graduates from 35 other nations, including Brazil, China, Ecuador, India, Ireland, Spain, Switzerland, the United Kingdom, and Vietnam.
Making the—Perfect—Grade
Fourteen undergraduate students receiving bachelor's degrees earned a perfect 4.0 grade point average. They are Louis-Xavier Barrette, chemical engineering major; Erik Bergland, mathematics; George Dowhan, applied physics; Anthony Ferritto, computer science; Zachary Harris, physics; Amanda Harrold, environmental engineering; Makenzi Herbst, environmental engineering; Gurleen Kaur, biology; Adam Ney, nuclear engineering; Rachele Putnick, management; Lisheng Ren, computer science and mathematics; Qianqing Tang, mathematics; Jayson Tung, computer science and mathematics; and Zachary Wimer, computer science and mathematics.
J. Erik Jonsson Prize
Louis-Xavier Barrette will receive the J. Erik Jonsson Prize, which was established by J. Erik Jonsson '22 to honor the senior who has achieved the highest academic record in the class.
The Commencement Speaker Is…
Herbie Hancock, the legendary jazz pianist and composer, will deliver the 2018 Commencement Address. Hancock has been an integral part of every popular music movement since the 1960s. As a member of the Miles Davis Quintet that pioneered a groundbreaking sound in jazz, he also developed new approaches on his own recordings, with record-breaking albums such as Head Hunters, which combined electric jazz with funk and rock in an innovative style that continues to influence contemporary music. Hancock received an Academy Award for his 'Round Midnight film score and 14 Grammy Awards, including Album of the Year for River: The Joni Letters. He is Creative Chair for Jazz for the Los Angeles Philharmonic Association, Institute Chairman of the Thelonious Monk Institute of Jazz, and founder of the International Committee of Artists for Peace.
Taking the Podium
Rensselaer President Shirley Ann Jackson will address members of the Class of 2018. The Honorable Shirley Ann Jackson, Ph.D., is the 18th president of Rensselaer Polytechnic Institute, where she has led an extraordinary transformation since 1999. Her career encompasses senior leadership positions in academia, government, industry, and research. A recipient of the 2014 National Medal of Science, she is the former Vice Chair of the Board of Regents of the Smithsonian Institution and serves on the boards of major corporations that include IBM, Medtronics, and FedEx. In 2014, U.S. President Barack Obama appointed Dr. Jackson as Co-Chair of the President's Intelligence Advisory Board. From 2009 to 2014, she served on the President's Council of Advisors on Science and Technology. She also was a member of the U.S. Secretary of Energy's Advisory Board and the U.S. Secretary of State's International Security Advisory Board. From 1995 to 1999, Dr. Jackson was Chairman of the U.S. Nuclear Regulatory Commission. She holds an S.B. in Physics and a Ph.D. in Theoretical Elementary Particle Physics, both from MIT.
Class President Brenna Buckley will also address the graduates. An aeronautical engineering major from Hauppauge, New York, she has been the Class of 2018 president for the past three years, and also has been an active member of her sorority, Alpha Gamma Delta. She will begin her career at Electric Boat in New London, Connecticut.
Graduate student speaker will be Spencer Scott, from Endicott, New York, the 2016-17 president of the Graduate Student Council. A transfer student from SUNY Broome Community College, he earned his bachelor's degree in nuclear engineering and his doctorate in nuclear engineering and science.
Honorary Degree Recipients
Commencement speaker Herbie Hancock will receive an Honorary Doctor of Arts and Humane Letters.
The Honorable Mary Jo White will receive an Honorary Doctor of Laws. White is a litigation partner and senior chair at Debevoise & Plimpton and former chair of the U.S. Securities and Exchange Commission. Previously, as the U.S. Attorney for the Southern District of New York, she oversaw major prosecutions of white collar crime, organized crime, and international terrorism.
Eric Lander will receive an Honorary Doctor of Science. Lander is president and founding director of the Broad Institute of MIT and Harvard. A geneticist, molecular biologist, and mathematician, he has played a pioneering role in the reading, understanding, and biomedical application of the human genome, and was a principal leader of the Human Genome Project.
Alicia Boler Davis '98 will receive an Honorary Doctor of Engineering. As the executive vice president of General Motors Global Manufacturing, she leads GM's global advanced manufacturing operations, manufacturing engineering, and labor relations organizations, and is one of the most powerful women in automotive manufacturing.
Rensselaer's Own
This year, three Rensselaer employees are graduating. In addition, 15 children of Rensselaer employees are graduating.
All in the Family
The Rensselaer degree is well-known throughout the world as a symbol of technological excellence and achievement. Rensselaer alumni and alumnae are recognized leaders in their fields. This year, 83 members of the Class of 2018 are Rensselaer "legacies," students with relatives who attended the university.
Awarding Excellence in Counseling
Eddie Ade Knowles, professor of practice in the School of Humanities, Arts, and Social Sciences, has been selected as the recipient of the David M. Darrin '40 Counseling Award, which will be presented during Commencement. This award was established by David M. Darrin '40 to recognize a faculty member who has made an unusual contribution in the counseling of undergraduate students. The selection of the award recipient is made by Phalanx, Rensselaer's student leadership honorary society. Knowles was cited for his compassion and dedication to students both in and out of the classroom.
Post-Commencement Plans
Many graduates will continue their studies after graduation. Among the schools that graduates will be attending are Carnegie Mellon University, Duke University, Harvard Medical School, Massachusetts Institute of Technology, Northwestern University, Pennsylvania State University, Pratt Institute, Rensselaer Polytechnic Institute, Texas A&M, University of Chicago, and the University of New Hampshire School of Law.
Those graduates heading directly to professional positions will be joining such companies as Abbott, Amazon, Ernst & Young, GlobalFoundries, Grimshaw Architects, Johns Hopkins Applied Physics Laboratory, KeyBank, Naval Nuclear Laboratory, Velan Studios, and Western Digital.
Rensselaer graduates continue to enjoy overall higher starting salaries compared to national averages. Last year, the average starting salary for all reported undergraduate bachelor's degree candidates from the Class of 2017 was $69,220, compared to a national average of $51,022, as reported by the National Association of Colleges and Employers.
Class of 2018 Parting Gift: Supporting Future Students
Each year at Commencement, the graduating class presents the university with a unique class gift. This year, the Class of 2018 has chosen to raise funds to supplement the Student Relief Fund initiated by the Class of 2017. This fund will support undergraduate students whose financial situation abruptly changes in a manner which may impede their continued enrollment at Rensselaer. Thanks to the fundraising efforts of the class, students with unforeseen financial hardship will be able to apply for this scholarship to cover medical bills, travel expenses, or other needs. To date, through Class of 2018 fundraising efforts, the class has raised over $9,120 to support the Student Relief Fund.
Please Note: All numbers and facts include Troy and Hartford campus students and degrees issued in August and December 2017. All of the numbers cited are estimated as of May 15, 2018, and are subject to change up until Commencement.
Written By SCER Staff