Ribbon-cutting ceremony to take place on Sept. 28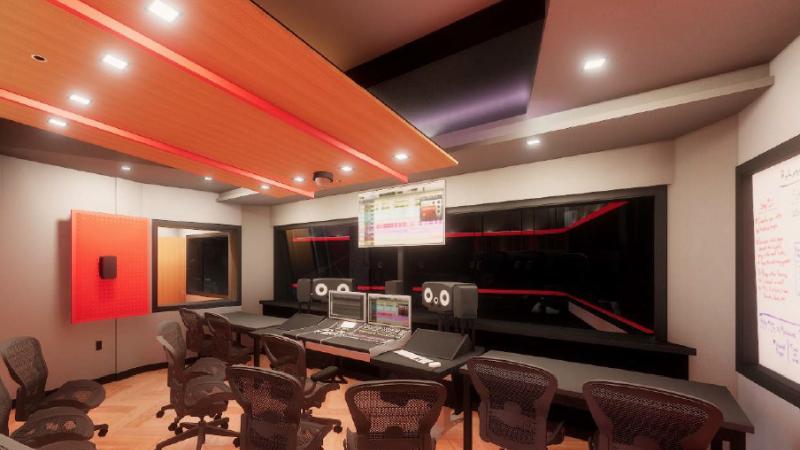 The School of Humanities, Arts, and Social Sciences (HASS) at Rensselaer Polytechnic Institute (RPI) will hold a ribbon-cutting ceremony on Friday, Sept. 28. to celebrate the grand opening of its new media studio.
The redesigned 1,700-square-foot space includes an audio control room, video control room, audio-visual lab, isolation booth, and an audio and video production studio.
The facility will be used for sound and video recording classes as well as integrated media performances. For this reason, it was built with audio and video connectivity to existing facilities on campus, such as the Curtis R. Priem Experimental Media and Performing Arts Center (EMPAC) and the Cognitive Immersive Systems Lab (CISL).
"The HASS Media Studio will provide new opportunities for collaboration across Rensselaer," said Mary Simoni, dean of HASS. "We are proud to continuously offer our students and faculty new ways to break the mold of traditional disciplines and discover connections among art, science, and technology."
The studio serves as a vital part of Art_X, a campuswide initiative designed to show students the interconnection of art, science, and technology and that interdisciplinary collaboration is essential in solving the world's greatest challenges. By providing a new experimental environment where artists, scientists, engineers, architects, and business experts came come together, the HASS Media Studio will help advance the Rensselaer signature research thrust in Media, Arts, Science, and Technology.
Rensselaer partnered with Walters-Storyk Design Group (WSDG), an internationally-recognized architectural design and consulting firm. WSDG has a history of expertise in designing media studios for colleges and universities such as New York University and the Berklee College of Music.
"Education remains one of our primary interests at WSDG," said founding partner; John Storyk. "We were honored to have been awarded the RPI studio design commission, and we are proud to add this impressive teaching complex to our project list."
The HASS Media Studio ribbon-cutting ceremony will take place on Sept. 28 from 4:30 to 5:30 p.m. in room 174 of the Darrin Communications Center (DCC). The event is open to the public.
Facilities on campus like the HASS Media Studio are an exciting aspect of The New Polytechnic, an emerging paradigm for teaching, learning, and research at Rensselaer. The foundation for this vision is the recognition that global challenges and opportunities are so great they cannot be adequately addressed by even the most talented person working alone. The New Polytechnic is transformative in the global impact of research, in its innovative pedagogy, and in the lives of students at Rensselaer.
Written By SCER Staff