Harvard University's Hutchins Center for African & African American Research to bestow honor on Oct. 11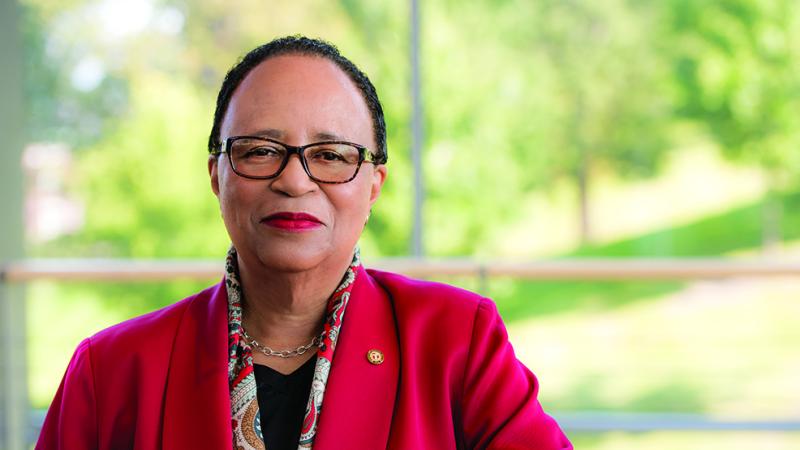 Rensselaer Polytechnic Institute President Shirley Ann Jackson, a recipient of the National Medal of Science, will be among eight recipients of the W.E.B. Du Bois Medal at the sixth annual Hutchins Center Honors presented by the Hutchins Center for African & African American Research at Harvard University. She will be joined by athlete and activist Colin Kaepernick; comedian Dave Chappelle; Kenneth I. Chenault, chairman and managing director of General Catalyst; philanthropist and founder of Avid Partners, LLC, Pamela J. Joyner; psychologist and author Florence C. Ladd; Bryan Stevenson, founder and executive director of the Equal Justice Initiative and the National Memorial for Peace and Justice; and artist Kehinde Wiley. The ceremony will take place on Thursday, Oct. 11, 2018, at 4 p.m. in Sanders Theatre, Memorial Hall, 45 Quincy St., Cambridge, Mass.
The medal honors those who have made significant contributions to African and African American history and culture, and more broadly, individuals who advocate for intercultural understanding and human rights in an increasingly global and interconnected world.
Shirley Ann Jackson is president of Rensselaer Polytechnic Institute, the first technological research university in the United States. Described by Time magazine as "perhaps the ultimate role model for women in science," Jackson has held senior leadership positions in academia, government, industry, and research. A theoretical physicist, Jackson holds an S.B. in Physics and a Ph.D. in Theoretical Elementary Particle Physics, both from Massachusetts Institute Technology. She also holds 53 honorary degrees.
In September 2014, President Barack Obama appointed Jackson co-chair of the President's Intelligence Advisory Board, where she served until January 2017, and in 2016 he awarded her the National Medal of Science. She also served on the U.S. Secretary of State International Security Advisory Board, 2011-2017, and the U.S. Secretary of Energy Advisory Board, 2013-2017. From 2009 to 2014, Jackson served on the President's Council of Advisors on Science and Technology (PCAST), and, as part of PCAST, was co-chair of the President's Innovation and Technology Advisory Committee.
Before taking the helm at Rensselaer, Jackson was chair of the U.S. Nuclear Regulatory Commission, 1995-1999. During her tenure at the NRC, she spearheaded the formation of the International Nuclear Regulators Association, and served as its chair, 1997-1999.
Comedian, actor and producer David Chappelle may be best known for his comedy show on Comedy Central (Chappelle's Show) and, more recently, for his comedy specials on Netflix, but he has also had a career in acting and producing. He has appeared in several movies, including Robin Hood: Men in Tights, The Nutty Professor, Con Air, and Undercover Brother. He can be seen now in the 2018 film A Star Is Born, with Bradley Cooper and Lady Gaga.
Kenneth I. Chenault is chairman and a managing director of the venture capital firm General Catalyst. Prior to that, he was chairman and chief executive officer of American Express Company, a position he held from 2001 to 2018. He joined American Express in 1981 as director of strategic planning and served subsequently in a number of increasingly senior positions, including vice chairman and president and chief operating officer, until his appointment as CEO.
Pamela J. Joyner has nearly 30 years of experience in the investment industry. She is the founder of Avid Partners, LLC, where her expertise has been the alternative investment arena. Currently, Joyner is focused on her philanthropic interests in the arts and education.
Joyner is a trustee of The Art Institute of Chicago and the J. Paul Getty Trust, chair of the Tate Americas Foundation, and a member of the Tate International Council and the Tate North America Acquisitions Committee.
Colin Kaepernick, an athlete and activist, is perhaps best known for his protest against racial injustice by taking a knee rather than standing during the playing of the national anthem when he was a quarterback with the San Francisco 49ers. Kaepernick has pledged to donate $1 million to "organizations working in oppressed communities." And, in a recent highly publicized endorsement deal with Nike, Believe in Something. Even if it Means Sacrificing Everything, the company has agreed to donate to Kaepernick's "Know Your Rights" nonprofit organization.
Florence C. Ladd, author, social critic, and psychologist, is a fiction writer. Her novel Sarah's Psalm (Scribner, 1996) received the 1997 Literary Award for Fiction from the American Library Association's Black Caucus. Ladd's short stories have appeared in The Golden Horn and Ragtime. She also has written several nonfiction and research works. She co-authored the book Different Strokes (Westview Press, 1979).
Bryan Stevenson is the founder and executive director of the Equal Justice Initiative (EJI) in Montgomery, Ala. Under his leadership, EJI has won major legal challenges eliminating excessive and unfair sentencing, exonerating innocent death row prisoners, confronting abuse of the incarcerated and the mentally ill and aiding children prosecuted as adults. Stevenson recently won a historic ruling in the U.S. Supreme Court banning mandatory life-without-parole sentences for all children 17 or younger.
Kehinde Wiley has firmly situated himself within art history's portrait painting tradition. He engages the signs and visual rhetoric of the heroic, powerful, majestic and the sublime in his representation of urban, black, and brown men and women found throughout the world. By applying the visual vocabulary and conventions of glorification, history, wealth, and prestige to the subject matter drawn from the urban fabric, the subjects and stylistic references for his paintings are juxtaposed inversions of each other, forcing ambiguity and provocative perplexity to pervade his imagery. 
Written By SCER Staff