Research develops synthetic materials designed for reuse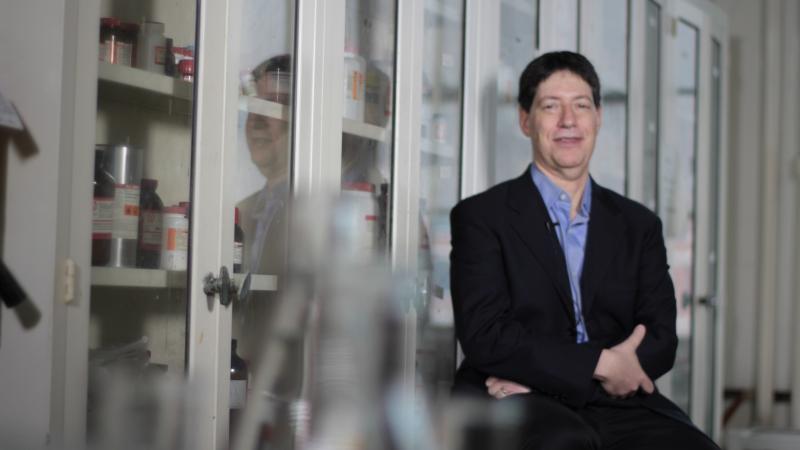 The American Chemical Society (ACS) has recognized biocatalysis expert Richard Gross with the 2019 ACS Award for Affordable Green Chemistry, bestowed for outstanding scientific discoveries or chemistries that lay the foundation for cost-competitive environmentally friendly products or manufacturing processes that are less expensive than existing alternatives.
A professor of chemistry and chemical biology and member of the Center for Biotechnology and Interdisciplinary Studies at Rensselaer Polytechnic Institute, Gross seeks to use the molecular building techniques of whole cells and enzymes – "nature's chemistry" – to create polymers, peptides, and surfactants that are useful, environmentally friendly, and economically competitive.
"Richard is building reuse into the design of polymers and other synthetic materials with a goal of zero waste. In a world that is increasingly awash in synthetic materials, his research offers sorely needed solutions," said Curt Breneman, dean of the School of Science. "We congratulate him on this recognition and are honored to have him as a colleague."
In work recently published in the journal Biochemistry, Gross improved the efficiency of a leaf and branch compost cutinase that breaks down polyethylene terephthalate (PET), the plastic used in clear and colored plastic water bottles and many other products. The modified enzyme, which can be further refined, is a promising candidate to fuel limitless recycling of PET and possibly other plastics such as cellulose acetate.
The award was established in 2007 and is supported, beginning in 2009, through an endowment by Rohm and Haas Company, now a wholly owned subsidiary of The Dow Chemical Company. A formal announcement of the names of the 2019 ACS National Award Recipients was made in the September 17 issue of Chemical & Engineering News. The award will be presented at the society's 257th ACS National Meeting on April 2, 2019.
About Rensselaer Polytechnic Institute
Rensselaer Polytechnic Institute, founded in 1824, is America's first technological research university. For nearly 200 years, Rensselaer has been defining the scientific and technological advances of our world. Rensselaer faculty and alumni represent 86 members of the National Academy of Engineering, 18 members of the National Academy of Sciences, 26 members of the American Academy of Arts and Sciences, 8 members of the National Academy of Medicine, 8 members of the National Academy of Inventors, and 5 members of the National Inventors Hall of Fame, as well as 6 National Medal of Technology winners, 5 National Medal of Science winners, and a Nobel Prize winner in Physics. With 7,000 students and nearly 100,000 living alumni, Rensselaer is addressing the global challenges facing the 21st century—to change lives, to advance society, and to change the world. To learn more, go to www.rpi.edu.
Written By Mary L. Martialay
Press Contact Mary L. Martialay