Application deadline for student design competition is Nov. 23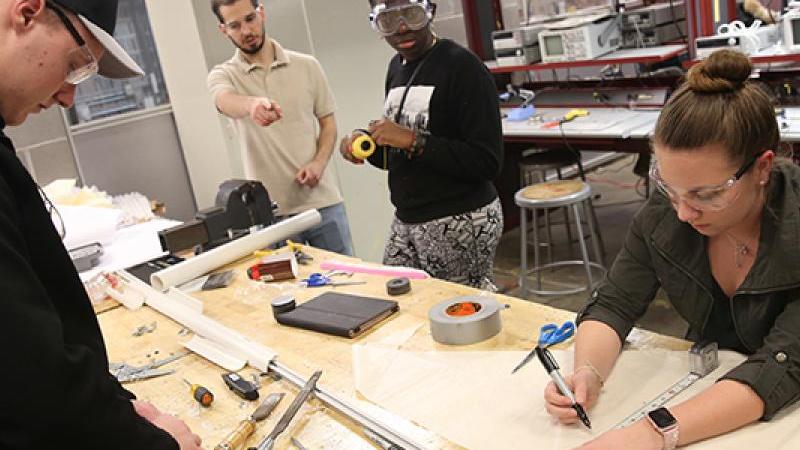 The Department of Mechanical, Aerospace, and Nuclear Engineering (MANE) at Rensselaer Polytechnic Institute will host a student design competition this January to solve real challenges faced by individuals supported by The Center for Disability Services of Albany, New York.
The Engineering Innovation for Society competition will take place Thursday, Jan. 10, to Sunday, Jan. 13, 2019, and is open to undergraduate students from any four-year college or university who are enrolled in a STEM field and are interested in identifying problems and finding innovative solutions.
Applications will be accepted until Friday, Nov. 23.  To apply for the competition, visit https://tinyurl.com/RPIDesignChallenge.
The competition, which first took place in January of 2018, will now occur annually as a way to give students the opportunity to explore how engineering is used to develop creative solutions to real-world problems. The event exemplifies the entrepreneurial and collaborative spirit of The New Polytechnic, the driving model for teaching, learning, and research at Rensselaer.
"We launched EIS as a signature event that will bring together engineering students from around the country and unleash their creativity to solve societal problems," said Suvranu De, head of the Department of Mechanical, Aerospace, and Nuclear Engineering at Rensselaer. "We live in an age of extraordinary technological changes. Events such as EIS will prepare students to remain fearless in the face of these accelerations and embrace creativity, communication, and collaboration as part of their educational experience."
Eight teams of four students will be selected for the competition during which they will develop ideas and prototypes to help individuals with disabilities supported by the Center for Disability Services. The Center for Disability Services, known as the place "where people get better at life," is one of upstate New York's largest providers of programs and services for individuals who have disabilities and their families. Based in Albany, New York, the center has more than 80 locations that offer educational opportunities, medical and skilled nursing services, job training, residential programs, and more.
"This is the second year the Center for Disability Services has been approached to provide a list of project ideas for the Engineering Innovation for Society student design competition. These recommendations come directly from the people with disabilities we support and from the center's medical and clinical staff members, and address real-world, everyday concerns and challenges," said Gregory J. Sorrentino, president of the center. "The EIS competition is important to the center and to people with disabilities because it focuses on the creation of devices which may improve lives and make tasks easier in the future. We encourage students to participate and to come up with new designs that are useful and practical."
Multiple students from the same college or university may participate in the design competition so long as they are not on the same team. All participants will receive complimentary lodging and meals, as well as a travel honorarium. 
The projects will be evaluated based on both conceptual design and prototyping. Winners of the competition will receive a cash prize, with $10,000 going to the winning team, $4,000 to the second place team, and $2,000 to the third place team.
About Rensselaer Polytechnic Institute:
Rensselaer Polytechnic Institute, founded in 1824, is America's first technological research university. For nearly 200 years, Rensselaer has been defining the scientific and technological advances of our world. Rensselaer faculty and alumni represent 86 members of the National Academy of Engineering, 18 members of the National Academy of Sciences, 26 members of the American Academy of Arts and Sciences, 8 members of the National Academy of Medicine, 8 members of the National Academy of Inventors, and 5 members of the National Inventors Hall of Fame, as well as 6 National Medal of Technology winners, 5 National Medal of Science winners, and a Nobel Prize winner in Physics. With 7,900 students and over 100,000 living alumni, Rensselaer is addressing the global challenges facing the 21st century—to change lives, to advance society, and to change the world. To learn more, go to www.rpi.edu.
Written By Regina Stracqualursi
Press Contact Regina Stracqualursi