Honor acknowledges a long-time staff member for extraordinary contributions to the Rensselaer Polytechnic Institute community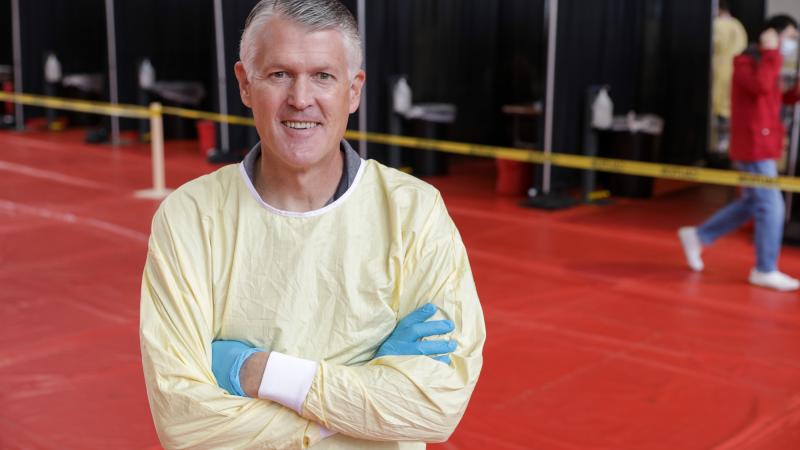 Rensselaer Polytechnic Institute President Shirley Ann Jackson announced that Dr. Leslie Lawrence, executive director for health and wellness, has been named a Pillar of Rensselaer.
The Pillar Award, the highest award bestowed by Rensselaer on a member of the staff, is presented annually to an individual who has demonstrated an understanding of the university's mission and history, has served as a role model for other employees, shows concern for students and their welfare, and adds to the human dimension of Rensselaer.
Candidates are nominated by fellow faculty and staff members, whose letters of support describe how the candidate's attributes meet the criteria for the award.
"It is difficult to think of anyone who has more directly impacted the well-being of our students than Dr. Leslie Lawrence," said President Jackson. "Dr. Lawrence has served in this role since 2004 and has been a consistently important presence in our students' lives for 17 years — helping them to take care of themselves and to make thoughtful choices, while encouraging his Student Health Services staff to be innovative in addressing student concerns of all kinds."
During the pandemic, Dr. Lawrence played a pivotal role in developing and implementing the Rensselaer health and safety protocols. The protocols include frequent testing for members of the campus community. Over 280,000 tests have been conducted since Rensselaer reopened its campus last fall, with a positive case rate of just over 0.1%.
"Working with young people helps keep my mind young," said Dr. Lawrence. "It is my pleasure to work here and I really appreciate this honor."
Dr. Lawrence is a graduate of Cornell University and received his M.D. degree from Albany Medical College. He completed his residency in family practice at St. Clare's Hospital in Schenectady and he is board certified. Dr. Lawrence was in private practice with admitting privileges to Saratoga Hospital for over 10 years, and then became medical director at the University at Albany. In January 2004, Dr. Lawrence joined Rensselaer as medical director. He has a special interest in the areas of adolescent medicine and anxiety and depressive disorders, and enjoys teaching students.
The Pillar of Rensselaer Award was established in 1993 through the support of Carl Westerdahl, former dean of students and director of alumni relations. Dr. Lawrence is the 29th recipient of the award.
Written By Tracey Leibach