Successful program inspires underrepresented students to study STEM fields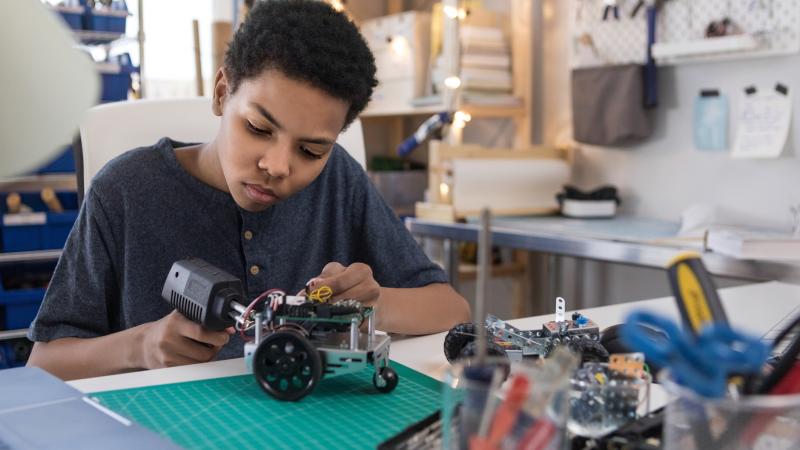 Rensselaer Polytechnic Institute will hold its annual Black Families Technology Awareness Day on Saturday, February 12. This year's theme is "Change the World with STEM."
Open to K-12 students locally, domestically, and internationally, the free virtual program is designed to introduce talented underrepresented students, their families, and educators to educational and career opportunities in what are often referred to as the STEM fields — science, technology, engineering, and mathematics — as well as the arts. 
"As leaders in education and research, we have a responsibility to nurture the creativity and innovation of our next generation, and that is one of the pillars of Black Families Technology Awareness Day," said Rensselaer President Shirley Ann Jackson. "The world's next problem solvers are among these students. Programs like this can inspire them to be a force for STEM and a force that will change the world. Through science, technology, engineering, and mathematics, they will continue to transform our future by finding substantive solutions to avert a public health crisis, or creating the next sustainable green energy source, perhaps even finding ways to harness resources from another planet. The possibilities are endless."
"Young students need a technological focus to fully participate in the future of America's economic, political, and social life," said Lee McElroy, associate vice president at Rensselaer, director of athletics, and one of the co-chairs of the event.
"Black Families Technology Awareness Day is a dynamic event that creates a pipeline of inspired minds to pursue careers that will address the critical questions of sustainable systems, national security, and renewable energy that are necessary in today's world," said fellow co-chair Jonathan Wexler, and the vice president of enrollment management at Rensselaer.
The day will begin at noon EST with a welcome from Dr. Jackson, a National Medal of Science recipient. U.S. Congressman Paul Tonko and Troy Mayor Patrick Madden will also offer introductory remarks. Activities will run through 4 p.m.
This year, grade-appropriate workshop topics include "Designing Your Dream Car" presented by the Society of Women Engineers, "Escape the Maze" by the Society of Hispanic Professional Engineers, and "The Way STEM Affects Our Lives" from the National Society of Black Engineers. Attendees will also have the opportunity to learn more about the lives of scientists and engineers, preparing for college, and STEM careers.
The event was first held in February 1999.
Registration in advance is required. All attendees will receive a complimentary T-shirt.
The presentations will be recorded and available for viewing after the live event.
Members of the media who plan to remotely attend the event should contact Rensselaer media relations in advance.
Written By Jeanne Hedden Gallagher