Book will be incorporated into academic curriculum for incoming students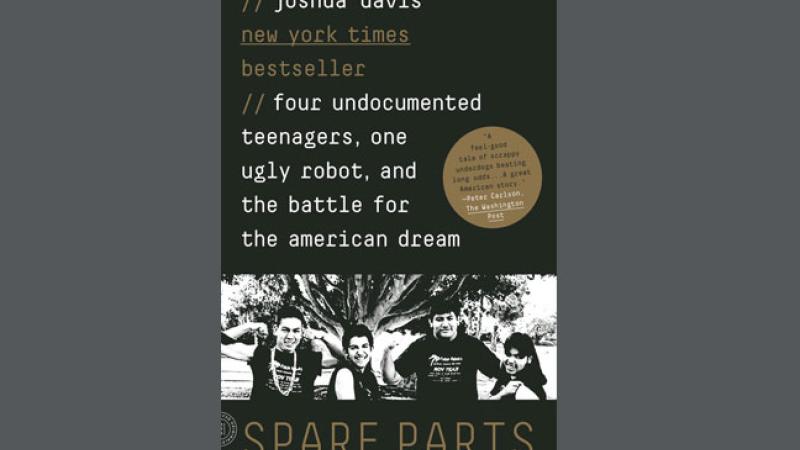 Spare Parts: Four Undocumented Teenagers, One Ugly Robot, and the Battle for the American Dream by Joshua Davis will be the Community Read for the upcoming academic year at Rensselaer Polytechnic Institute.
Spare Parts tells the story of a robotics team of four undocumented high school students – Cristian Arcega, Luis Aranda, Lorenzo Santillan, and Oscar Vazquez – and how they beat M.I.T. despite the low expectations and harsh political climate that surrounded them.
The New York Times best-seller was chosen by students in the summer Community Read Seminar designed by Dr. Skye Anicca, a lecturer in the school of Humanities, Arts, and Social Sciences (HASS) as part of the HASS Inquiry program that facilitates discussions for first-year students in all schools.
"Students felt that Spare Parts focused on values that Rensselaer students might have in common, such as teamwork and perseverance," Anicca said. "Students were eager to explore the ethical dilemmas presented by this text, such as immigration policies, DACA, and school segregation. Creating spaces to discuss current events in diverse settings is an important goal of the Community Read course."
Established in 2015, the Community Read program provides a common intellectual experience for all incoming Rensselaer students. The program brings students, faculty, and staff together throughout the year to engage in discussions centered on one common book about issues of global concern, epitomizing The New Polytechnic — the interdisciplinary model for education and research at Rensselaer.
The theme of this year's Community Read is "Intersecting Vulnerabilities and Cascading Consequences."
"Spare Parts perfectly illustrates this year's theme," wrote Fatima Kamara, a student in the Community Read Seminar. "The intersecting vulnerabilities covered stem from low-income households, race, and undocumented status. The cascading consequences are potential deportation and limited opportunities as well as low social mobility. By emphasizing their full humanity, their struggles, and their dreams, Davis supports the idea of intersectionality."
Written By Tracey Leibach