RPI to Host 2023 Season Kickoff on January 7 for FIRST Robotics Competition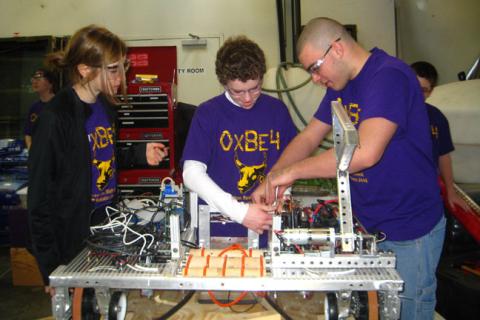 January 6, 2023
RPI to Host 2023 Season Kickoff on January 7 for FIRST Robotics Competition
Students from 14 high schools to participate
High school students from 14 schools will gather on the campus of Rensselaer Polytechnic Institute on Saturday, January 7, for the season kickoff of the 2023 FIRST ® Robotics Competition. At the event, teams will learn the details of this year's challenge — Charged UpSM, presented by Haas.
The kickoff event will take place in Room 308 of Rensselaer's Darrin Communications Center starting at 11:30 a.m. Simultaneous kickoff events will be held across the world. The celebration broadcast, which will be shown at all of them, begins at 12:00 p.m. ET.
In the FIRST ® Robotics Competition, teams of high school students must build a robot in response to a specific challenge. This year's task centers around reimagining the future of sustainable energy to keep our world running.
After the announcement, student teams will have up until their competition date to design, build, and test their robots. Teams in the region will face off at the New York Tech Valley FIRST ® Robotics Competition, which will be held March 29 through April 1 at the MVP Arena in Albany, New York.
Inventor Dean Kamen founded FIRST® (For Inspiration and Recognition of Science and Technology) in 1989 to inspire an appreciation of science and technology in young people.
"We are very proud to host this event, which engages and inspires students to explore the power of science and technology," said Paul Schoch, director of the Rensselaer Center for Initiatives in Pre-College Education.
About Rensselaer Polytechnic Institute
Founded in 1824, Rensselaer Polytechnic Institute is America's first technological research university. Rensselaer encompasses five schools, over 30 research centers, more than 140 academic programs including 25 new programs, and a dynamic community made up of over 6,800 students and 104,000 living alumni. Rensselaer faculty and alumni include upwards of 155 National Academy members, six members of the National Inventors Hall of Fame, six National Medal of Technology winners, five National Medal of Science winners, and a Nobel Prize winner in Physics. With nearly 200 years of experience advancing scientific and technological knowledge, Rensselaer remains focused on addressing global challenges with a spirit of ingenuity and collaboration. To learn more, please visit www.rpi.edu.