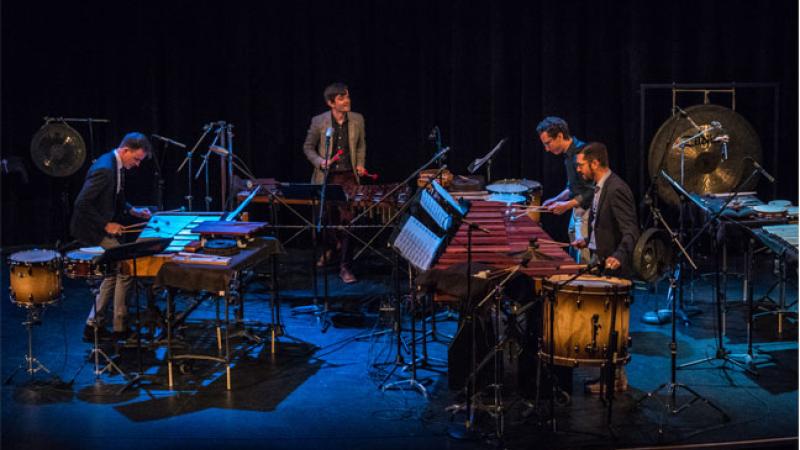 Rensselaer Polytechnic Institute will present a performance by two-time Grammy-winning ensemble Third Coast Percussion on Saturday, January 28, at 7:30 p.m. in the Concert Hall of the Curtis R. Priem Experimental Media and Performing Arts Center (EMPAC) on campus.
The event is free and open to the public. RSVPs are encouraged online here.
Chicago-based Third Coast Percussion (Sean Connors, Robert Dillon, Peter Martin, and David Skidmore) creates exciting and unexpected performances that consistently redefine the classical music experience. The quartet has been praised for their "commandingly elegant" (New York Times) performances, the "rare power" (Washington Post) of their recordings, and their "inspirational sense of fun and curiosity" (Minnesota Star-Tribune).
Through extensive workshopping and close contact with composers, Third Coast Percussion has commissioned and premiered new works by Philip Glass, Missy Mazzoli, Clarice Assad, Gemma Peacocke, Flutronix, Jlin, Tyondai Braxton, Augusta Read Thomas, Devonté Hynes, Georg Friedrich Haas, Donnacha Dennehy, Glenn Kotche, Christopher Cerrone, and David T. Little, among others.
"Third Coast Percussion is a triple threat – not only are they Grammy-award winning artists performing at the highest professional level, but they are also a visionary collective charting the future of their craft and also amazing educators," said Robert Whalen, lecturer of music and conducting at Rensselaer. "We couldn't be more fortunate to host them on campus and have them interacting directly with our students both in workshops and performance."
The program will feature a combination of original compositions and commissioned work, including "Derivative," by acclaimed footwork producer and composer Jlin, which was commissioned for Third Coast Percussion by the Boulanger Initiative, the Maxine and Stuart Frankel Foundation, Carnegie Hall, the Lester & Hope Abelson Fund for the Performing Arts at the Chicago Community Foundation, the DEW Foundation, and Third Coast Percussion's New Works Fund.
This performance is part of the spring Classical Concert Series made possible by an endowment from Sylvia and Alexander Hassan '27 and is hosted by the Rensselaer Union and the School of Humanities, Arts, and Social Sciences (HASS).
Written By SCER Staff