DeJohnette will be joined by bassist Jerome Harris and guitarist Marvin Sewell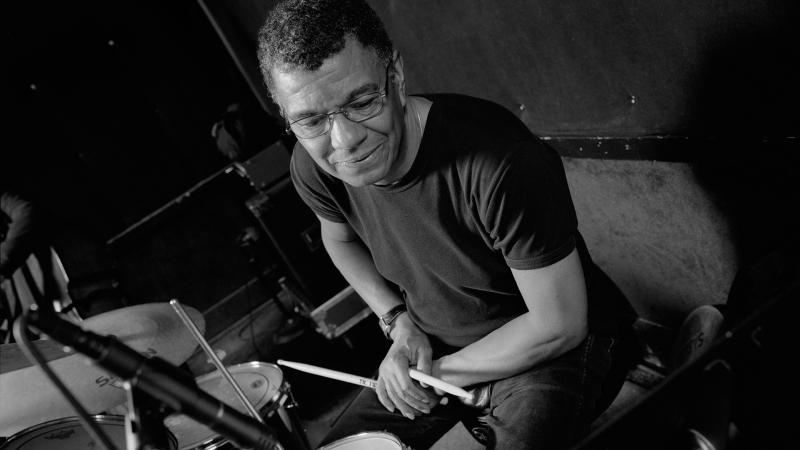 Rensselaer Polytechnic Institute will present a performance by two-time Grammy-winning percussionist Jack DeJohnette on Friday, April 7, at 7:30 p.m. in the Concert Hall of the Curtis R. Priem Experimental Media and Performing Arts Center (EMPAC) on campus.
The event is free and open to the public.
Over the course of his nearly six-decade career, Jack DeJohnette has established himself as one of the greatest drummers in the history of jazz. He has collaborated with icons including John Coltrane, Miles Davis, Ornette Coleman, Sonny Rollins, Thelonious Monk, Keith Jarrett, Herbie Hancock, and many more, in styles as varied as hard bop, rhythm and blues, world music, and avante-garde. Modern Drummer magazine has declared him one of the five greatest living jazz drummers, saying, "[H]e seems to play the music of the spheres, like a savant channeling the rhythm gods from on high."
In addition to his two Grammy awards, DeJohnette has received five Grammy nominations. In 2007 he was inducted into the Modern Drummer Hall of Fame. He was also awarded a Jazz Master Fellowship from the National Endowment of the Arts in 2012.
"Peerless as a drummer-percussionist/pianist and composer/improvisor, Mr. DeJohnette has always embodied a full musical presence in the moment in performance and recording, alongside a strong sense of looking forward, anticipating the future. His music is always full of fresh and unexpected surprises since his appearance on the NYC jazz scene in the late 60s, while still providing flowing-yet-solid rhythmic support for his musical partners who read like a Who's Who of influential jazz artists," said RPI Lecturer Ross Rice. "As the primary drummer for Miles Davis' ground-breaking Bitches Brew, he showed how popular new rhythmic forms could influence and inform jazz music, breathing new energy into the genre, and he has continued to do so ever since, influencing countless musicians to follow. His ensemble performances are master classes in composition and spontaneous musical interplay at a high level, deeply satisfying on a soul and spiritual level, and are not to be missed."
Accompanying DeJohnette at RPI will be Jerome Harris and Marvin Sewell.
Jerome Harris' first major professional experience came as bassist for Sonny Rollins, and since then he has played both bass and guitar on six continents and over 60 recordings in genres including jazz, blues, folk, and gospel. Among his many collaborators are David Karkauer, Bill Frisell, Leni Stern, Martha Redbone, Amina Claudine Myers, and Ned Rothenberg. He has taught at Hampshire College, William Paterson University, and Lehman College of the City University of New York, and has published essays on jazz and individual musicians.
Marvin Sewell is a guitarist, composer, and producer fusing jazz, blues, funk, alternative, and world music. He began his career with Chicago musicians including Von Freeman, Billy Branch, and Big Time Sarah before moving to New York to play and tour with Herbie Hancock, Chaka Khan, Amy Mann, and as bandleader and musical director for multiple Grammy-winning artist Cassandra Wilson.
This performance is part of the Eleanore N. Fischbach Classical Concert Series and is hosted by the Rensselaer Union and the School of Humanities, Arts, and Social Sciences (HASS).
For more information, please call (518) 276-6505 or email activities@rpi.edu.
Written By SCER Staff