Event to bring together 50 teams from area high schools at MVP Arena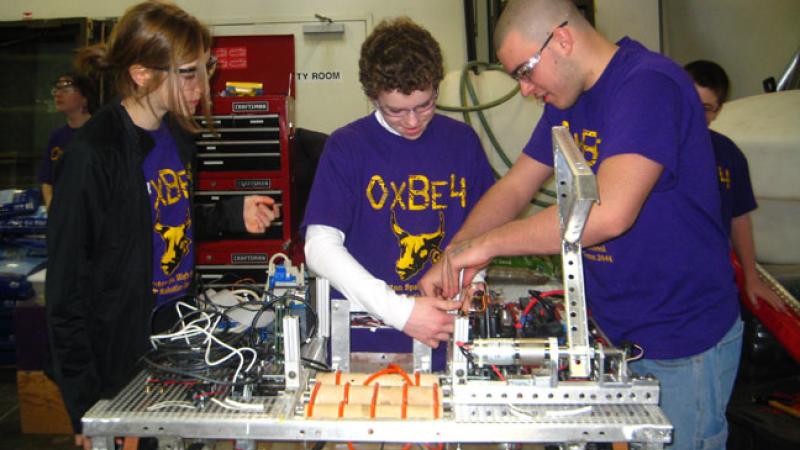 Fifty teams of students from area high schools and around the world will compete at the 2023 New York Tech Valley FIRST ® Robotics Competition at MVP Arena March 31 through April 1, 2023 from 8:30 a.m. until 6 p.m. Inventor Dean Kamen founded FIRST® (For Inspiration and Recognition of Science and Technology) in 1989 to inspire an appreciation of science and technology in young people. Rensselaer Polytechnic Institute hosted the first regional event in 2014 and has been a major sponsor ever since.
In the FIRST ® series of programs, the FIRST ® Robotics Competition is the premier engineering challenge for high school students. Teams of students, working closely with teachers and volunteer mentors, had from the January 8 kickoff until the competition to conceptualize, design, build, program, modify, and test a robot to participate in a competition that changes each year. This year's challenge is Charged UpSM, presented by Haas, which is centered around reimagining the future of sustainable energy to keep our world running.
"The FIRST ® Robotics Competition engages and inspires students to explore the power of science and technology," said Paul Schoch, Rensselaer Emeritus Associate Professor and co-chair of the event planning committee. "The participants are creative, spirited, and fun!"
"Many RPI students remember fondly the camaraderie from their FIRST ® competitions and are eager to help guide the next generation of participants," said John Wen, head of the electrical, computer, and systems engineering department at Rensselaer.  "FIRST ® Robotics is a wonderful preparation of 'Renaissance Engineers' that encompass mechanical construction, circuit design, software engineering, user interface, and human factors."
This transformative event would not be possible without the support of a generous grant received through The Innovation Fund, a partnership between Albany County and MVP Health Care. The purpose of the fund is to improve the overall health and vitality of the community. The fund also promotes MVP Arena as a marquee asset to the community by supporting healthier, inclusive, and expanded opportunities. Major sponsors of this year's competition include Rensselaer Polytechnic Institute, GlobalFoundries, GE, and National Grid, with additional support from NEXTera Energy, TEL, UAlbany Engineering, Edwards, and Wolfspeed.
The opening ceremony will be held at 8:30 a.m. on Friday, March 31 and will feature proclamations from both the New York State Assembly and Senate in support of NY Tech Valley FIRST ®, as well as a welcome from Mayor Kathy M. Sheehan and an event kickoff from Albany County Executive Daniel P. McCoy. Governor Kathy Hochul proclaimed that March 31, 2023 is NY FIRST Robotics Day in the State of New York. The event is free and open to the public. 
Written By Katie Malatino