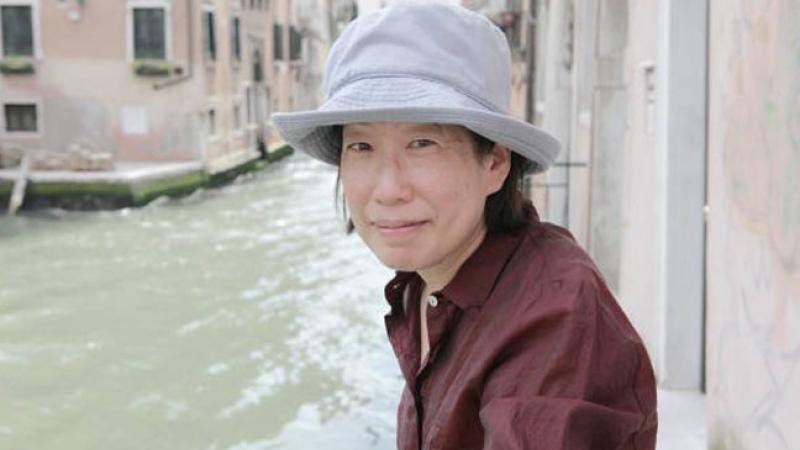 Gish Jen, award-winning author of the acclaimed short story collection Thank You, Mr. Nixon, will speak at the 82nd annual McKinney Writing Award ceremony on Wednesday, April 12 at 7 p.m. in the Concert Hall of the Curtis R. Priem Experimental Media and Performing Arts Center (EMPAC) on the campus of Rensselaer Polytechnic Institute.
The event is free and open to the public.
In addition to Thank You, Mr. Nixon, Jen is the author of five novels, a previous book of short stories, and two works of nonfiction. Her honors include fellowships from the Guggenheim Foundation, the Radcliffe Institute for Advanced Study, and the Fulbright Foundation, as well as the Lannan Literary Award for Fiction and the Mildred and Harold Strauss Living Award from the American Academy of Arts and Letters. Her stories have appeared in The Best American Short Stories four times, including The Best American Short Stories of the Century; she has also delivered the William E. Massey, Sr., Lectures in American Studies at Harvard University.
"With great humor, keen observation, and narrative dexterity, Jen's body of work addresses compelling contemporary issues relevant to the Rensselaer community, from the ethics of AI to the effects of economic globalization," said Skye Anicca, lecturer in the School of Humanities, Arts, and Social Sciences at Rensselaer and chair of the McKinney Award Committee. "Her work offers us opportunities to discuss the relevance of literature in understanding complex current affairs. This semester, students doing coursework in the Department of Communication and Media have run a book club to discuss these issues and more. As a community, we are looking forward to an engaging conversation with the author."
The McKinney Award recognizes top writers in the Rensselaer student community. An average of 230 students enter each year to compete for a total of more than $4,000. Cash prizes are awarded in both graduate and undergraduates divisions in four different categories: Creative Prose and Drama, Poetry, Academic Essay, and Electronic Mixed Media Using Language.
A special category was established last year and will be offered again for this year's competition. Language and Empowerment is a multi-genre division that reflects the Department of Communication and Media's emphasis on language as a primary vehicle for the work of democracy, social justice, and equity. This category seeks explicitly to highlight emerging writers who are working creatively, perhaps in more than one language, with words they deem urgent and essential to the discourse of diversity, equity, and inclusion.
"The thoughtful, articulate, and often profound student writing honored at the McKinney Awards demonstrates the influence of Rensselaer's emphasis on a well-rounded STEM education that includes significant work in the humanities, arts, and social sciences," Anicca said.
The event is sponsored in part by the Rensselaer Annual McKinney Writing Contest and Reading; Vollmer W. Fries Lecture; Department of Communication and Media; School of Humanities, Arts, and Social Sciences; Rensselaer Union; Friends of the Folsom Library; and the NYS Writers Institute.
Written By SCER Staff