Student entrepreneurs learn how to take their ideas to market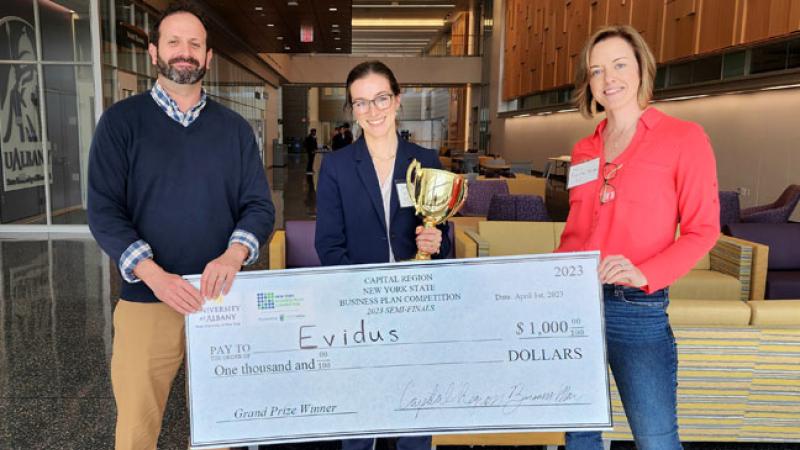 Students at Rensselaer Polytechnic Institute are challenged with the slogan, "Why not change the world?" Through the course of their education and co-curricular activities, they learn practical ways to make their innovative ideas a reality.
Every semester, students across campus are invited to take part in the Change the World Challenge. Winners take home their share of up to $10,000 in prizes, funded by Rensselaer alumnus and business and social entrepreneur Sean O'Sullivan '85.
Students form teams to turn their ideas into viable business concepts. They perform customer discovery to gain a comprehensive understanding of the problem they hope to solve and their potential customers. In doing so, teams begin to de-risk the early-stage venture idea which is traditionally surrounded in uncertainty. Top teams are awarded $1,000 each and become eligible for the Best of the Best prize of $5,000 at the end of the year.
This spring, the following teams were named winners of the Change the World Challenge:
Cellvion, led by Anuj Swaminathan '23, will address high-power lithium-ion battery fires starting with those who fight the fires, the fire departments.   
Exxont, led by Osama Rais '23 and Aitazaz Khan '23, will use artificial intelligence to help immigrants with heavy accents learn a new accent local to their new home.
Ensure Records, led by Andrea Muniz-Martinez '23 and Marlen Martinez-Gomez from Hudson Valley Community College, will streamline interagency communication between care providers and improve service and record-keeping for children with special needs and their parents.
Soundscape, led by Sheldon Jackson '23, will build on a Microsoft initiative to help the visually impaired properly navigate the world.
AduCare, led by Nathan Smith '25 and Anqesha Murray '24, will address the difficulty doctors and caretakers encounter when trying to accurately track cognitive decline in dementia patients.
Evidus, led by Sonya Heldman '24, is a novel surgical technology to resolve intracranial hypertension and avoid complications that arise on the path to recovery for patients who suffer from severe stroke or traumatic brain injury.
Following the Change the World Challenge, Cellvion, Ensure Records, Aducare, and Evidus competed in the New York Business Plan Competition: Capital Region event at the University at Albany. Two of the teams, Evidus and Cellvion, are advancing in the competition. Evidus was the top team and won the "Capital Cup" prize! Top teams in each track advance to the finals in the statewide competition on April 27 in Syracuse, where $100,000 will be awarded.
"The New York Business Plan Competition was an opportunity to celebrate students who are taking steps to bring ideas out of the classroom and research labs to make an impact on society," said Kelly Reardon-Sleicher, associate program director of the Severino Center for Technological Entrepreneurship at Rensselaer. "They are learning how much more they need, beyond the idea, to build a successful company."
Written By Katie Malatino