Annual game design showcase and competition hosted by Rensselaer returns in-person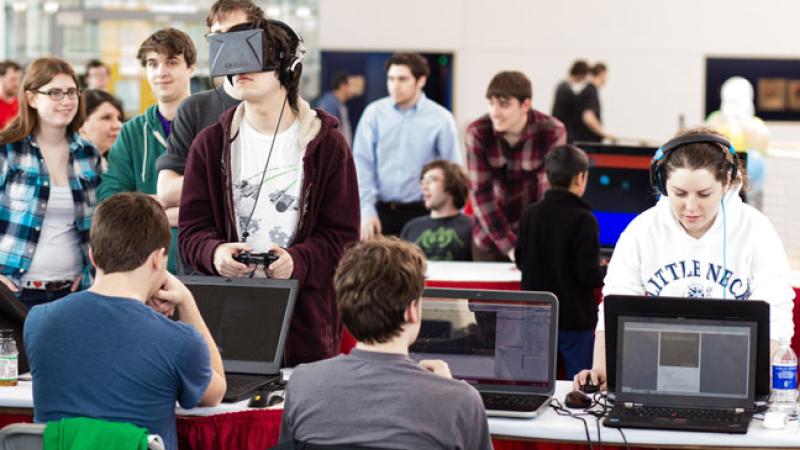 Rensselaer Polytechnic Institute will host its annual GameFest on Saturday, April 29, from 1 p.m. to 8 p.m. at the Tech Valley Center of Gravity in downtown Troy. The event, free and open to the public, includes a game expo and design competition.
What began as a small student showcase nearly 20 years ago now draws developers from across New York state and New England who are working at the cutting edge of game design. This year's showcase features 25 exhibitors selected from more than 50 submissions.
Presented annually by the Games and Simulation Arts and Sciences (GSAS) program and the School of Humanities, Arts, and Social Sciences, the event celebrates students who embody the innovative spirit of the Rensselaer model for education and research. GameFest 2023 also celebrates the growing digital gaming sector in New York.
"It's been four years since we've hosted GameFest in person and we're happy to be back!" said Darian Shump of the Center of Excellence in Digital Game Development at RPI. "This year's event is a return to form – we've been lucky to be able to continue remotely over the past few years, but we're excited to finally reconnect with university partners and friends from across the region."
Teams from Rensselaer, CUNY, New York University, Quinnipiac University, Rochester Institute of Technology, SUNY Poly, the University of Albany, and the University of Connecticut will participate in the showcase and competition. A panel of local industry experts, all of whom bring a wealth of experience from across the game development world, will award cash prizes to the winners of nine different award categories.
As in previous years, GameFest 2023 will also include a booth featuring games from Tech Valley Game Space, a local diversity-focused nonprofit organization and community for indie game developers in the Capital Region. Another booth dedicated to analog/tabletop games and zines will highlight the GSAS program's growth in that area.
"GameFest has always served as a platform for the rising and future stars of the games industry, and we look forward to once again celebrating these students and their works; it's one thing to gather remotely, but another entirely to observe their creativity and experience the energy of the event firsthand. We look forward to seeing you there, as well!" said Shump.
The event is made possible in part by a grant from New York state's Empire State Development and support from Blizzard Albany, DANG!, Land and Freedom Games, Rocket Science Corporation, Wolfjaw Studios, and Velan Studios, all of which provided judges for this year's competition. A full schedule for the day and information regarding parking can be found here.
Written By SCER Staff