Collaboration to occur at the intersection of the arts, social justice, and technology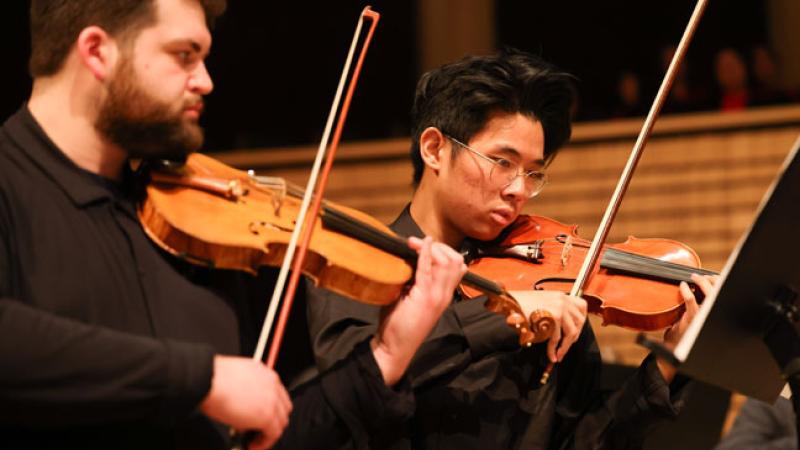 The Rensselaer Orchestra and the Empire State Youth Orchestra (ESYO) will perform together at Rensselaer Polytechnic Institute on Saturday, April 29, at 7 p.m. in the Concert Hall of the Curtis R. Priem Experimental Media and Performing Arts Center (EMPAC) on campus.
The event is free and open to the public, and seating is first come, first served.
The centerpiece of the concert will be a joint performance of Modest Mussorgsky's renowned Pictures at an Exhibition, as orchestrated by Maurice Ravel. The combined orchestras will be conducted by Robert Whalen, lecturer of music and conducting at Rensselaer.
The performance will be augmented by a further collaboration between RPI students, participants in ESYO's CHIME program, which provides access to high-level music opportunities for youth from marginalized communities, and Music:Eyes, a Switzerland-based software company. Together, they will create visualizations inspired by the music, to be projected on the big screen of EMPAC's Concert Hall, vividly illustrating Ravel's orchestration and improving accessibility for people with hearing loss.
They will also perform the world premiere of RPI assistant professor Matthew Goodheart's composition, which uses original Music:Eyes animated visualizations as the musical score. Goodheart has reverse-engineered the Music:Eyes process, leading the musicians to play based on what they see projected on the screen. Sections of the orchestra will be positioned in different locations throughout the EMPAC concert hall, making the space itself an instrument leading to an acoustic ambisonic experience. 
"Programming with this level of technical integration and interdisciplinary collaboration is only possible at Rensselaer," said Whalen. "We have spent the last year planning this collaboration and are thrilled that this project is coming to fruition. Rensselaer students have participated in workshops and additional rehearsals jointly with ESYO students, and students from both the Rensselaer Arts Department and ESYO's CHIME program have designed the animated visualizations."
In addition, Christopher Fisher-Lochhead, lecturer in the arts, has arranged a suite of works for lecturer and interim director of Jazz Ensembles Jillian Willis to sing with the Rensselaer Orchestra, including works by Erykah Badu, Joni Mitchell, and James Francies. 
The program will be rounded out by Ravel's Shéhérazade, performed by mezzo-soprano Katherine Skovira, faculty fellow and instructor of voice at Rensselaer, as well as two selections performed by the Rensselaer Concert Choir. 
"We in the Rensselaer Orchestra are all deeply grateful to the Empire State Youth Orchestra, their music director Etienne Abelin, and Music:Eyes; it has been a joy to collaborate with them," said Whalen. "And we are thrilled to perform with vocalists Jillian Willis and Katherine Skovira; they are both tremendous artists and working with them has introduced the students in Orchestra to new styles of performance and repertoire." 
Written By SCER Staff