Commissioning signifies the beginning of a student's active military service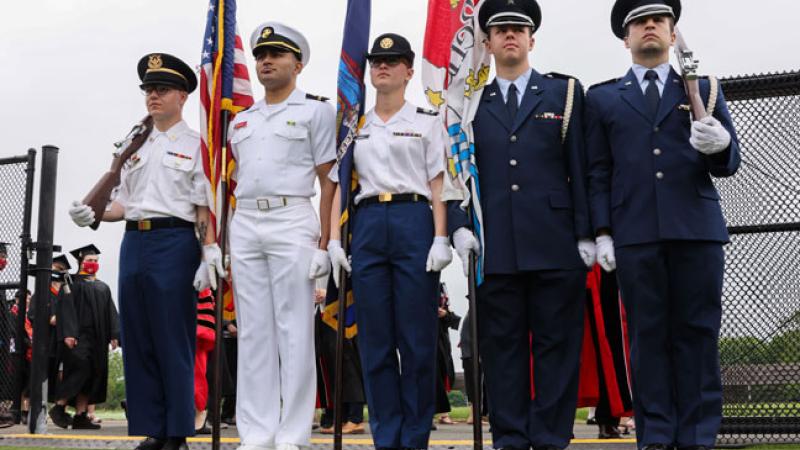 Thirty-five students from Rensselaer Polytechnic Institute will soon graduate from Reserve Officers' Training Corps (ROTC) programs and will be commissioned into our country's armed forces.
Commissioning signifies the beginning of a student's active military service. Each student will take an oath of office in his or her respective branch of service in one of three commissioning ceremonies scheduled during the months of May and June, coinciding with the 217th Commencement ceremony hosted by Rensselaer, which will begin at 9:30 a.m. on Saturday, May 20.
From Naval ROTC, 20 Rensselaer students will be commissioned as ensigns and second lieutenants into active duty in the United States Navy and Marine Corps. Future career paths for those commissioned include two surface warfare officers (conventional), two surface warfare officers (nuclear), eight submarine officers, four naval aviators, two naval flight officers, and two Marine Corps officers. The commissioning ceremony will be held at noon on May 19 at The Hangar at 743 with commissioning officer Vice Admiral Carl Chebi '87, a career naval aviator and Commander of Naval Air Systems Command (NAVAIR). One of seven Navy acquisition systems commands, NAVAIR serves as the principal provider for naval aviation. NAVAIR's mission is to provide full life-cycle support of naval aviation aircraft, weapons, and systems operated by Sailors and Marines. The Class of 2023 marks the 82nd consecutive year of the Rensselaer-U.S. Navy partnership that started in October 1941. More than 80 U.S. Navy flag officers – senior officers above captain – have earned degrees at Rensselaer.
Air Force ROTC Detachment 550 at Rensselaer Polytechnic Institute will commission seven officers, including five Rensselaer graduates, as second lieutenants in the United States Air Force. The lieutenants successfully completed four years of officer training and are entering various active duty career fields including civil engineering, combat systems, developmental engineering, intelligence, and aviation. The commissioning ceremony will take place on Friday, May 19 at Thatcher State Park. 
In the Army, the Mohawk Battalion operates as the Army's only commissioning source for colleges and universities throughout the Capital Region. At this year's commissioning ceremony, 10 graduates will be commissioned as second lieutenants. Out of the 10, seven will go into active duty, two will go into the Army Reserves, and one will go into the National Guard. The commissioning ceremony was held on May 13 at Siena College.
"These young men and women have stepped up to serve our great country in times of peace and war," said Commander Dave Latta, professor of practice of naval science.  "On behalf of Rensselaer and the Navy-Marine Corps team, I thank them for their courage, commitment and dedication." 
More info about these programs can be found at https://info.rpi.edu/rotc.
Written By Katie Malatino