Groundbreaking celebrated new educational, workforce training, and research opportunities in quantum once system is installed in January 2024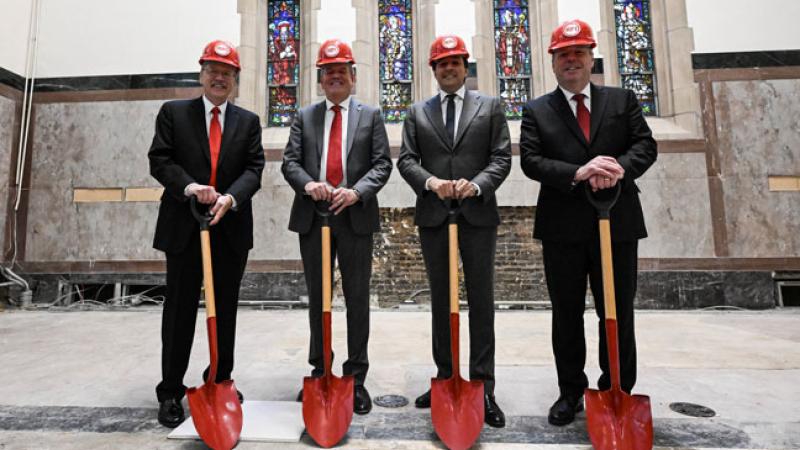 On October 13, 2023, Rensselaer Polytechnic Institute (RPI) and IBM held a ceremonial groundbreaking to celebrate the first-ever deployment of an IBM Quantum System One on a university campus. The event, held at the RPI's Curtis R. Priem Experimental Media and Performing Arts Center (EMPAC), featured a grand reveal of the IBM Quantum System One chandelier, the intricately wired golden structure containing the quantum processor chip.
"We are celebrating a new era at RPI," said RPI President Marty A. Schmidt '81, Ph.D. "Today's groundbreaking is an enormous win, not just for RPI, but for the region. It is part of a surge of regional strength in all aspects of computing. Today we are headed even deeper into the future. New York's Hudson River Valley has the potential to become Quantum Valley."
Schmidt; Curtis R. Priem '82, vice chair of RPI's Board of Trustees; Darío Gil, Ph.D., Senior Vice President and Director of IBM Research; and John E. Kelly, '78G, '80 Ph.D., D.H.L. (Hon.), Chair of the Rensselaer Board of Trustees, were all featured speakers at the event. Buck Bobbin, represented the Office of U.S. Senator Kirsten Gillibrand and Congressman Paul D. Tonko (NY-20) provided remarks via video. Students, alumni, faculty, staff, and community members crowded the theater.
Priem, who is helping to fund the $150 million total project, was presented with the Philanthropic Pioneer Award for his contributions to technological innovation and RPI students. In his comments, Priem shared how he and Kelly started the conversation about RPI housing an IBM quantum computer at a board retreat. "I've never seen a project go this fast. I've never seen a project this big come together," said Priem. "RPI and IBM are going to find all of the new applications for quantum computers. Between the two of us, we are going to be rocking and rolling on this! This is another one of those things where you get it started, and those that who more capable than you take over and go conquer the world."
The IBM Quantum System One to be deployed at RPI will be powered by the 127-qubit IBM Quantum Eagle processor, with which the company has recently demonstrated the capability to perform utility-scale calculations. IBM defines utility-scale as the point at which quantum computers could serve as scientific tools to explore a new scale of problems that remain intractable for classical methods.
"Today is a monumental day for RPI, IBM, and for the field of quantum computing," said Gil. "Housing an IBM Quantum System One at a university, especially one as rich in creativity and scientific knowledge as RPI, will serve as a cornerstone of pushing the boundaries of quantum computing to the next level. Now, with a quantum computer, RPI will be at the forefront of ushering in a completely new paradigm of computing that offers profound possibilities for the exploration of a range of previously intractable problems across areas such as materials design, sustainability, pharmaceutical development, healthcare and much more."
With an expected completion date of January 2024, the intensive project is already underway, with preparations being made at RPI's Voorhees Computing Center (VCC) so it can house the roughly five-ton machine that has stringent construction, temperature, and security requirements. The IBM Quantum System One is as futuristic in its appearance as it is in its technical capabilities. It adds to RPI's storied history in advanced technology on the cusp of its bicentennial in 2024.
"As we prepare to celebrate two hundred years at the forefront of STEM research and education, this demonstrates our commitment to leadership and innovation into our third century and beyond," said Kelly. "When this system is up and running, researchers at RPI and throughout the region will be able to model problems that address the most urgent challenges facing the world today, leading to advancements in health, sustainability, artificial intelligence, and national security."
Critical components of the RPI-IBM collaboration include quantum education, quantum workforce development, and quantum research. New curriculum in quantum is being developed, along with new educational materials, seminar offerings, a certificate program, and special events. The IBM Quantum System One will be part of RPI's new Curtis Priem Quantum Constellation, a faculty endowed center for collaborative research, which will prioritize the hiring of additional faculty leaders who will leverage the quantum computing system. IBM will provide research guidance and resources. Regional partners in academia and industry will also have access to this exceptional research tool.
The excitement is palpable on RPI's campus. A Quantum Computing Club has already formed. Some students are already accessing quantum technology through the cloud. Osama Raisudden, a doctoral student in aerospace engineering, uses the technology to simulate engineering problems that would be too time intensive and expensive on classical computers. "When I chose to pursue quantum computing as my Ph.D. research topic at RPI, I had no idea that the one-of-a-kind resource of an IBM Quantum System One on campus would one day be available to me," said Raisuddin. "Not only will it be beneficial for my research, but it will give me a leg up in my career because I will have exceptional access to quantum education, training, and research groups at RPI."
Written By Katie Malatino