Jaehoon Choi premiers new work for an international audience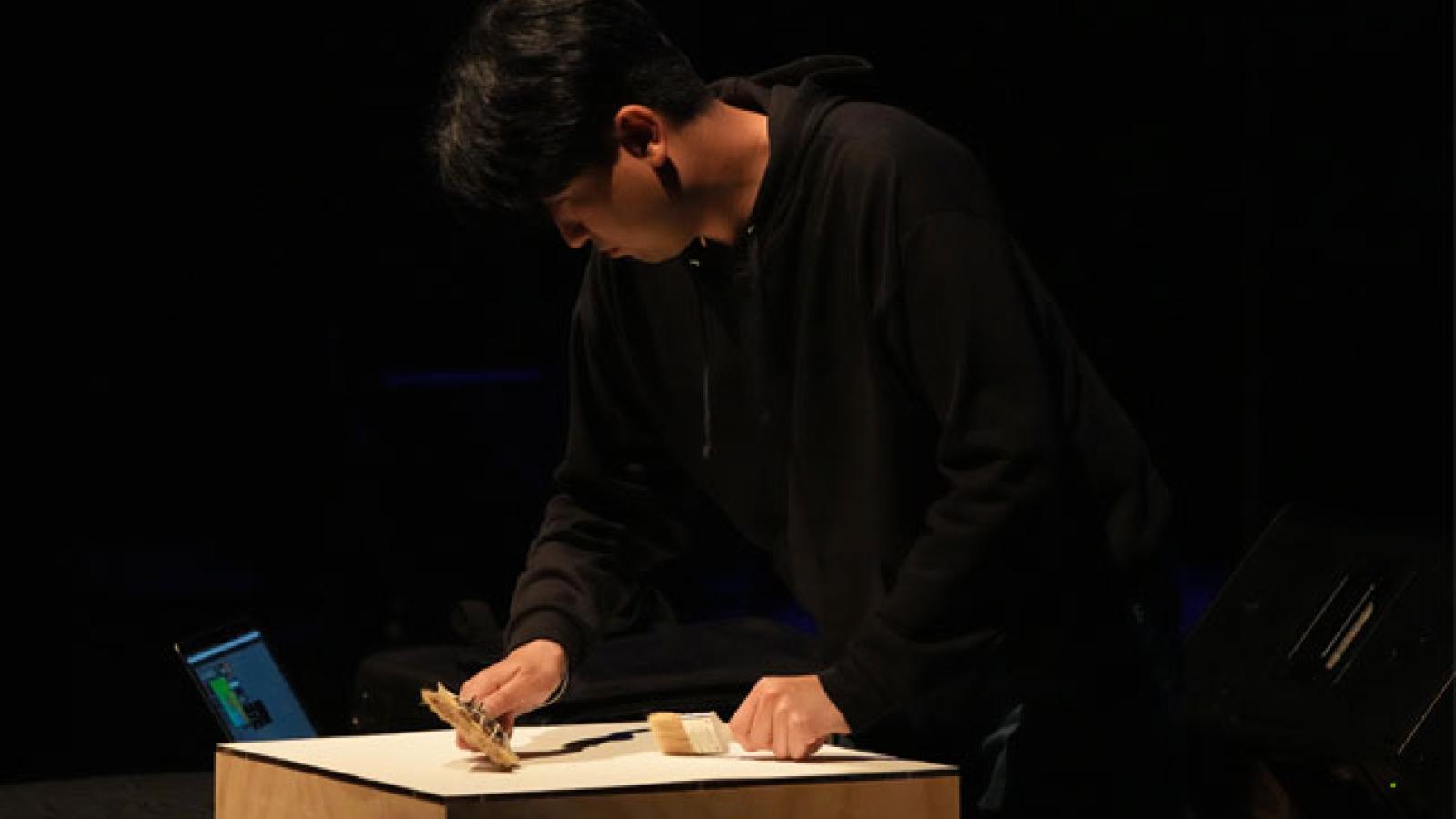 Jaehoon Choi, a Ph.D. student in the Electronic Arts Department of Rensselaer Polytechnic Institute's School of Humanities, Arts, and Social Sciences, was selected as one of 10 young composers to develop and premier work at the prestigious Venice Biennale International Music Festival.
The Venice Biennale is the world's oldest international cultural festival, and one of the most renowned. Over the course of six months, it showcases art, architecture, film, dance, music, and theater. Choi and his nine colleagues from all over the world performed in the music program as part of Digital Sound Horizons, which explored "the present and future boundaries of the interaction between science, technology, and musical creativity."
Choi was chosen for the way his work combines embodied experimentation with technology. The Biennale premier, "Brushing Improvisation – No. 2," was an extension and development of his work on pieces like "Brushing Improvisation" and "Drifting," in which he retools common paintbrushes and canvases with amplification and effects to explore textures and timbres. The results can evoke a calm breeze one moment and a thrilling storm the next.
"People often think of electronic music as being made entirely on computers, but that doesn't have to be the case," says Choi. "I don't like to make distinctions between media when I'm composing. I start with intuition and curiosity and think about how technology and the body interact and respond to each other."
In preparation for "Brushing Improvisation – No. 2," Choi participated in several developmental residencies in Venice through the Biennale's College Musica program, where he was paired with a mentor, the computer music pioneer Miller Puckette. There, he modified his instrument so that it could be suspended vertically and played from behind like a cello for extended lengths of time.
"Jaehoon has a strong and unique vision as a young artist," says Matthew Goodheart, Ph.D., assistant professor of music composition, and Choi's adviser. "He is an instrument builder and performer who interleaves a sensitivity to the physicality of sound production, a keen ear for subtlety and texture in sound design, and a deep awareness of space and location as important components of the listening experience. His work speaks to a promising future for the next generation of sonic artists."
In addition to improvised performances on self-designed instruments, Choi's work includes interactive sound installations and film scores as well as publications on electronic music theory and production. Before enrolling at RPI, he earned a B.S. in information systems from Indiana University Bloomington and an M.A. in music science and technology from Stanford University.
Written By SCER Staff