Annual Celebration of Student-Designed Games Will Benefit Children's Charity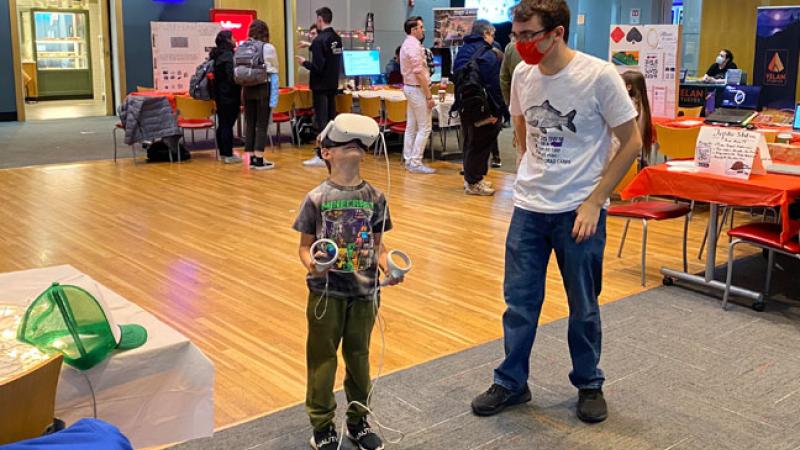 The Rensselaer Games Showcase (RGS) — a celebration of creativity and innovation in student-designed video games — will be held in the McNeil Room and lobby of the Rensselaer Student Union on Saturday, November 18, from 10 a.m. to 6 p.m. The event is free and open to the campus and local community.
The annual showcase, hosted by the RPI Game Development Club and the Center of Excellence in Digital Game Development, gives RPI students, and Capital Region developers including 1st Playable Productions, Velan Studios, and Tech Valley Game Space, the opportunity to demo everything from video games, game prototypes, board games, and other interactive programs for the local community.
"RGS is all about bringing together everyone in the local game development community and highlighting their hard work, from students presenting their first game jam games to companies showcasing their latest projects," says club president Emily McNee '24. "We were absolutely blown away by the response of the event's revival last year, where we were joined by over 60 student participants and several local organizations. The RPI Game Dev Club aims for RGS 2023 to be even bigger, and we hope to see you there!"
Refreshments and merchandise, including T-shirts with student games listed, will be available at the event. In addition, this year's event will serve as a fundraiser for Child's Play Charity, a nonprofit organization dedicated to delivering therapeutic play experiences to patients of pediatric hospitals.
"Over the summer, as we had just begun planning this year's RGS, I pitched the idea of donating a large portion of our income toward a greater cause," says Isa Remedios '24, vice president of the Game Development Club. "We felt the immense joy that RGS participants of the previous year, even those who may have stumbled into the event accidentally, felt upon interacting with our work; we wanted to send that positive energy forward somehow. As a club, we decided to support Child's Play and I couldn't imagine a better fit. As game designers, it's our goal to create experiences that resonate with our audiences through fun, and supporting Child's Play feels like an avenue to achieve that in the real world."
The Rensselaer Game Development Club was founded in 2001 to provide community and resources for game developers at RPI.
Funded by Empire State Development's Division of Science, Technology, and Innovation (NYSTAR), the Center of Excellence in Digital Game Development at Rensselaer Polytechnic Institute aims to bring together higher education, industry, and community partners in order to foster the growth of the digital gaming ecosystem in New York State's Capital Region and Tech Valley.
For more information about the Rensselaer Game Showcase, and the Center, visit https://gamehub.rpi.edu/.
Written By SCER Staff