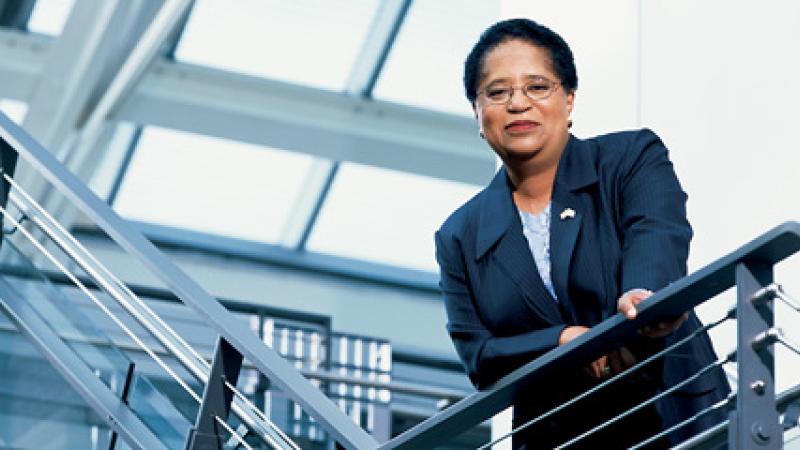 Rensselaer Polytechnic Institute President Shirley Ann Jackson has been chosen by the American Association for the Advancement of Science (AAAS), the world's largest general scientific society, to receive its prestigious 2011 Philip Hauge Abelson Award.
Dr. Jackson is being honored by AAAS for her "extraordinary leadership of and contributions to the scientific community, government, universities, industries, and future generations of science and engineering professionals."
The award will be presented on February 17, 2012 at the AAAS Annual Meeting in Vancouver, British Columbia, Canada.
According to the AAAS: The Abelson Award was inspired by Dr. Philip Hauge Abelson, long-time senior advisor to AAAS and editor of the journal Science. Abelson, who also served as president of the Carnegie Institution of Washington, died 1 August 2004, following more than 60 years of service to science and society. The Award is given annually to either a public servant, in recognition of sustained exceptional contributions to advancing science, or to a scientist whose career has been distinguished both for scientific achievement and for other notable services to the scientific community.
A theoretical physicist, Dr. Jackson has held senior leadership positions in government, industry, research, and academe. Her research and policy focus includes global energy security and the national capacity for innovation, including addressing what she has dubbed the "Quiet Crisis" of looming gaps in the science, technology, and engineering workforce and reduced support for basic research. Dr. Jackson was chairman of the U.S. Nuclear Regulatory Commission from1995 to 1999, and currently is a member of the President's Council of Advisors on Science and Technology (PCAST), co-chairs the President's Innovation and Technology Advisory Committee (PITAC), and is a member of the U.S. Department of State International Security Advisory Board (ISAB). She is a member of the National Academy of Engineering, the American Philosophical Society, and a Fellow of the American Academy of Arts and Sciences, the American Physical Society, and the American Association for the Advancement of Science (AAAS). She is a Regent of the Smithsonian Institution, and a member of the Board of the Council on Foreign Relations and The Brookings Institution. She is a vice-chair of the Council on Competitiveness and co-chaired its Energy Security, Innovation and Sustainability initiative. She also is a member of the Board of Directors of global companies including IBM and FedEx.
For more information about the Abelson Award go to: http://www.aaas.org/aboutaaas/awards/abelson/index.shtml
For information about the AAAS 2012 Annual meeting go to: http://www.aaas.org/meetings/
Press Contact Theresa Bourgeois