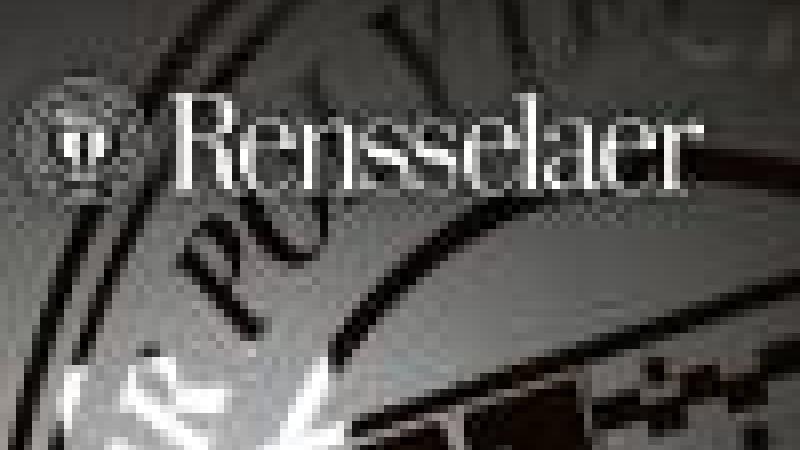 Computational mechanics expert Suvranu De has been named the new head of the Department of Mechanical, Aerospace, and Nuclear Engineering (MANE) at Rensselaer Polytechnic Institute. The appointment is effective June 1, 2012.
"Dr. De is a gifted scholar and outstanding educator. His vision for MANE is compelling and forward looking, and will help position the department to have an even greater impact in the years ahead," said David Rosowsky, dean of the School of Engineering at Rensselaer. "Suvranu's enthusiastic and ambitious leadership will help to propel this department upward, forward, and outward. He shares my deep commitment to providing a world-class engineering education to our students and to creating an environment conducive to learning and discovery throughout the School of Engineering."
De joined the Rensselaer School of Engineering and MANE as an assistant professor in 2002, became an associate professor in 2007, and a full professor in 2011. He has joint appointments in the Rensselaer Department of Biomedical Engineering and Department of Information Technology and Web Science. In 2010 he was named director of the newly formed Rensselaer Center for Modeling, Simulation and Imaging in Medicine.
"With exponential growth in research, overwhelming student interest and unprecedented recognition of its faculty and students in the national and international arena, this is indeed the most exciting time in the history of MANE, and I am both honored and deeply humbled to have the opportunity to serve as its department head," De said. "Home to three top-ranked engineering programs in the country, MANE is an unparalleled intellectual powerhouse that is uniquely positioned to solve some of the most challenging problems of our times and lead the nation and world in groundbreaking research, innovative education, and service of the highest quality to all its stakeholders."
MANE is the largest department at Rensselaer, with more than 1,100 undergraduate students, 150 graduate students, and 36 tenured or tenure-track faculty. MANE ranks in the top 20 departments of its kind nationwide.
A prolific researcher, De is known internationally for his work on computational mechanics and multiscale modeling. A major aspect of his research program is developing new touch-sensitive virtual reality tools for training surgeons and simulating experimental surgical techniques. Along with creating accurate computer models of human internal organs, De develops realistic hardware interfaces with real surgical tools that can interact with the computer models in real time. He pursues this research with more than $10 million in funding from the U.S. National Institutes of Health (NIH), Office of Naval Research, Defense Threat Reduction Agency, Army Research Office, and other agencies.
De is the recipient of a 2005 Office of Naval Research Young Investigator Award, the Rensselaer School of Engineering Excellence Award in 2008, the inaugural James M. Tien '66 Early Career Award for Faculty in 2009, and the Rensselaer School of Engineering Outstanding Team Award in 2012. He is a senior member of IEEE, and serves as chair of the Computational Bioengineering committee of the U.S. Association for Computational Mechanics and vice chair of the IEEE Technical Committee on Haptics. De has published a book and more than 200 book chapters and papers in journals and conferences. He also serves on editorial boards of national and international conferences and journals and on several peer review panels of federal funding organizations.
De received his bachelor's degree from Jadavpur University in Calcutta, India, his master's degree from the Indian Institute of Science, Bangalore, and his doctoral degree from the Massachusetts Institute of Technology, all in mechanical engineering.
For more information on De and MANE at Rensselaer, visit:
Press Contact Michael Mullaney