Lally School of Management and Technology at Rensselaer Polytechnic Institute Set to Host Inaugural Business Plan Competition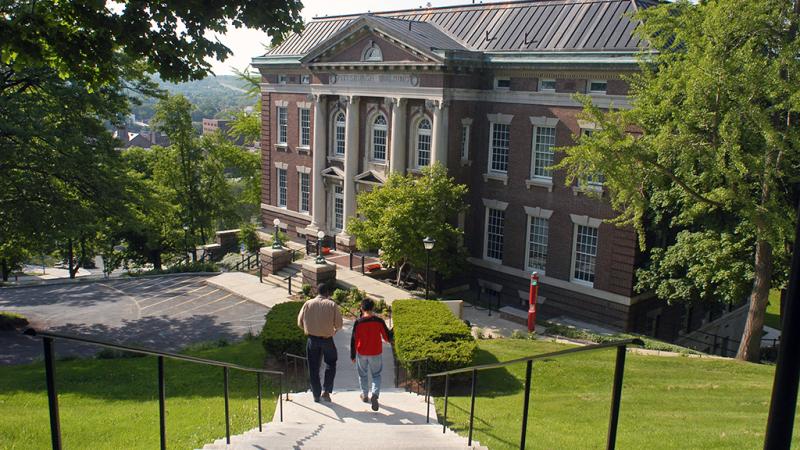 It's never too early for young students to turn an idea into a viable business, according to the Lally School of Management and Technology at Rensselaer Polytechnic Institute. To support the concept, the Lally School will host its first business plan competition for high school students. On May 30, eleven student teams will have an opportunity to pitch their budding ideas to a panel of management scholars and area business leaders.
The teams are comprised of 19 high school students from Capital Region high schools, including the Academy of the Holy Names, Mohonasen, Shaker, Tamarac, and Tech Valley High School. A team of students from the Bronx High School of Science will also participate in the competition.
"The Lally School is committed to fostering entrepreneurship, innovation, and leadership," said Thomas Begley, dean of the Lally School. "Our intent is to make this an annual event to encourage high school students interested in business, and entrepreneurship in particular, to realize the opportunities for college study and challenging careers this dynamic field offers."
Earlier in the year, students were invited to submit business plans for a student-born innovation. Additionally, students were encouraged to work together to create a multidisciplinary approach to their research and business proposals. The proposals are focused on areas related to sustainability, renewable energy, technology, services, and natural health care.
Sample business plan ideas include: an application optimized for tablets that will help any individual, from beginner to professional, recognize musical notes on any instrument; a simple and efficient way to secure trash cans; the use of green roofs for insulation and storm water retention; a new boat trailer designed to prevent the spread of invasive species; and a telescopic boat docking system that allows users to easily place the dock in and out of the water.
Additional ideas include: a new design approach to the helicopter tail system that would improve efficiency and safety; a residential wind turbine system; an all-natural mosquito repellent made from cinnamon; and an on-site waste decomposition system that combines microbial fuel cell technology with anaerobic digestion to create energy from organic waste.
The program will take place on the Rensselaer campus. Already with the first round of the presentations underway, a second round will take place at 12:45 p.m. in Russell Sage Laboratory, rooms 3101, 3510, and 5101. During the preliminary rounds, each team will deliver a ten-minute presentation to coaches and judges. Throughout the day, students will also receive feedback and suggestions for improvement. The final round will begin at 3 p.m. in the Russell Sage Laboratory, room 3510. The award ceremony will take place at 3:45 p.m. in the same space.
Thus far, the aspiring entrepreneurs have set their sights on winning part of the $5,000 cash prize being awarded to winning teams as part of the Rensselaer High School Business Plan competition. While the inaugural competition is focused on New York state based teams, planning for the next competition is already underway. The Lally School hopes to reach out to neighboring states, and the school also noted that they received inquiries from two teams in China with intent to submit business proposals for the next competition.
The competition is also sponsored by The Paul J. '69 and Kathleen M. Severino Center for Technological Entrepreneurship, which helps to foster new generations of budding and successful entrepreneurs through outreach programs, education, and support systems. Centered in the Lally School, the Severino Center lies at the core of the Lally School commitment to entrepreneurship, providing a broad-based platform for entrepreneurs to make the transition from concept to company.
"We are delighted to be involved with these young entrepreneurially minded students and their teachers," said Gina Colarelli O'Connor, professor of marketing at the Lally School and director of the Severino Center. "It's great to see so many creative people with an interest in new business venturing and teachers who are engaged in coaching them." 
For more information about the Lally School of Management and Technology, visit: http://lallyschool.rpi.edu/
For more information about the Paul J. '69 and Kathleen M. Severino Center for Technological Entrepreneurship, visit: http://scte.rpi.edu
To view the competition schedule, visit: http://www.lallyschool.rpi.edu/centers/severino/docs/hsbpcagenda.pdf
Press Contact Jessica Otitigbe