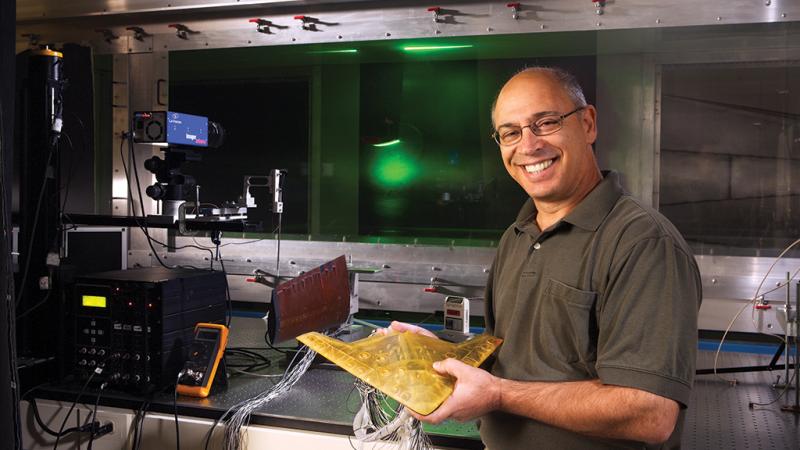 Aerospace engineering and fluid dynamics expert Michael "Miki" Amitay this week was named the James L. Decker '45 Endowed Chair in Aerospace Engineering at Rensselaer Polytechnic Institute. An endowed professorship is among the highest honors bestowed on a Rensselaer faculty member.
"Dr. Amitay is an internationally recognized expert in the fields of fluid dynamics and flow control. His research is literally shaping the field of flow control physics and is positioning Rensselaer as a leader in this important new area," said David Rosowsky, dean of the School of Engineering at Rensselaer. "Miki is also a passionate and distinguished educator and a visionary center director. We congratulate him on his appointment to the Decker Chair in Aerospace Engineering."
Amitay joined Rensselaer faculty in 2003 as an assistant professor in the Department of Mechanical, Aerospace, and Nuclear Engineering. He was named an associate professor in 2008 and full professor in 2011. Prior to Rensselaer, he served as a research engineer at the Georgia Tech Research Institute's Aerospace, Transportation and Advanced Systems Laboratory, and as an instructor in mechanical engineering at Georgia Institute of Technology.
Amitay's research focuses on the development of flow control techniques to boost the performance of aerial and underwater vehicles, as well as increase the efficiency and lifespan of wind turbines and buildings. This work often uses tiny sensor-enabled actuators to produce puffs of air that alter the flow of air around the aircraft, wind turbine blade, or building. The funding for Amitay's research is from industry sources, as well as the National Science Foundation, the Office of Naval Research, the Air Force Office of Scientific Research, New York State Energy Research and Development Authority, and other agencies. 
Last year, Amitay was named director of the newly created Center for Flow Physics and Control within the School of Engineering at Rensselaer. The interdisciplinary research center seeks to answer fundamental questions and innovate new application-driven solutions for performance enhancement of fluid systems in the rapidly emerging field of active flow control. Amitay is also a faculty member of the Center for Automation Technologies and Systems and the Center for Future Energy Systems at Rensselaer, both of which are a New York state designated Center for Advanced Technology and funded by the Empire State Development (ESD) Division for Science, Technology and Innovation (NYSTAR).
Earlier this year, leading international aerospace company Boeing honored Rensselaer with a 2011 Supplier of the Year Award. The award, in the category of Technology, was given in recognition of the sponsored research Amitay performed for Boeing in the area of active control. Amitay is also a past recipient of the Applied Aerodynamic Technical Committee best paper award from the American Institute of Aeronautics and Astronautics (AIAA); the Outstanding Technical Publications Award from the Aerospace, Transportation, and Advanced System Laboratory at Georgia Tech Research Institute; the AIAA Fluid Dynamics Technical Committee best paper award; and the Lewis F. Moody Award for best paper from the ASME International Fluid Engineering Division. Amitay is an associate fellow of AIAA and the associate editor of the International Journal of Flow Control.
Amitay received his bachelor's, master's, and doctoral degrees from the Technion–Israel Institute of Technology.
For more information on Amitay and his research at Rensselaer, visit:
Press Contact Michael Mullaney