Welcome to Campus: Rensselaer Polytechnic Institute Set to Host Family Weekend Oct. 19-21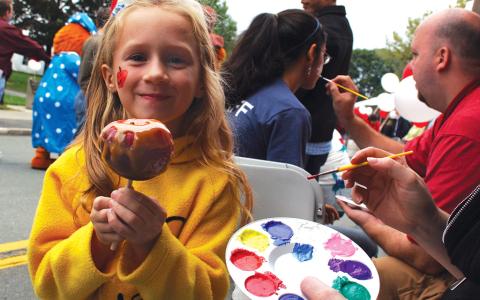 October 19, 2012
Welcome to Campus: Rensselaer Polytechnic Institute Set to Host Family Weekend Oct. 19-21
As the leaves turn color and the cool autumn weather settles in, more than 4,400 people are expected to visit campus this weekend to celebrate Family Weekend. Parents, family members, alumni, and friends will have an opportunity to get a glimpse of life and the changes taking place at Rensselaer through a variety of cultural offerings and performances, academic classroom programs, tours, dinners, film screenings, and athletic events.
"As an embodiment of the Clustered Learning, Advocacy, and Support for Students (CLASS) initiative, we have events for each class year, events in the residence halls, celebrations of student achievement with all five schools participating in some way and each is an opportunity for parents to connect with their students and for both to connect with the Rensselaer," said Louis Trzepacz, class dean for the Class of 2014, who is also serving as chair for Family Weekend.
"Most important, for our first-year families the weekend carves out a formal space for parents to recognize their students' hard work," Trzepacz added. "For our upper class parents, the weekend provides an opportunity for a celebration of the significant milestones in their students' lives, such as the class ring or impending graduation."
The annual event – hosted by the Office of the Student Experience – attracts thousands to the Troy campus to experience the season and life at Rensselaer and within the surrounding community.
President Shirley Ann Jackson will officially kick off Family Weekend with the Presidential Welcome on Saturday, Oct. 20. President Jackson will share the recent progress and accomplishments taking place at Rensselaer. The program will be held from 9 to 9:30 a.m., in the Curtis R. Priem Experimental Media & Performing Arts Center (EMPAC) Theater.
Additional highlights of this year's events include a football game vs. Hobart College, a women's hockey game vs. Union College, and numerous student performances and exhibitions.
To celebrate academic achievement, the Honors Convocation ceremony will take place on Saturday, Oct. 20, from 10 a.m. to 1 p.m. in the EMPAC concert hall. Parents, family, and friends will have an opportunity to look on as more than 330 Rensselaer Medalists, students with a 4.0 GPA, undergraduate awardees, graduate fellowship awardees, and faculty members are honored during the ceremony.
For individuals interested in getting a glimpse of the diverse cultures on campus, the annual International Festival event showcasing more than 20 different countries and cultures representing the Rensselaer Union international student organizations and individual members of the Rensselaer campus, will take place on Oct. 20 from 11 a.m. to 2 p.m. The event — to be held in the Rensselaer Union McNeil Room — features traditional food, clothing, photos, and more from countries around the world.
Also on Oct. 20, the Family Weekend Fall Fest Celebration will take place from noon to 3 p.m. in East Campus Athletic Village. The free community event is for students, faculty, and staff; families and friends of students on campus; and the surrounding community. The event brings together performers, food vendors, crafters, and children's activities. Area businesses and community organizations will also participate.
Trzepacz also noted that in planning Family Weekend, distance and prior commitments may prevent some families from making the trip to campus, several new programs were introduced so that families could connect with their student.
For example, Sodexo is providing three specialty care packages for purchase that students will pick up during Family Weekend. Package offerings include a New York state gift basket featuring local products in harvest, apple chips, seasonal candy, harvest jam, and local apples; a New York state fall apple basket; or a cider donut tray.
In addition, families had the option of sending a special message to their student via the Jumbotron in the ECAV Arena. The message would appear during the Women's Hockey game against Union College scheduled for Oct. 20.
Overall, more than 70 events have been planned for the weekend to highlight the many facets of Rensselaer. In addition to campus visitors, students, staff, and faculty are welcome and encouraged to attend any of the open programs throughout the weekend.
Finalized schedules will be available at the Welcome Desk in the Rensselaer Union on Friday, Oct. 19, from 10 a.m. to 7 p.m., and on Saturday, Oct. 20, from 8:30 a.m. to 3 p.m. For more information, and to view a preliminary schedule, visit: http://se.rpi.edu/familyweekend/
About Rensselaer Polytechnic Institute
Founded in 1824, Rensselaer Polytechnic Institute is America's first technological research university. Rensselaer encompasses five schools, 32 research centers, more than 145 academic programs, and a dynamic community made up of more than 7,600 students and more than 100,000 living alumni. Rensselaer faculty and alumni include more than 145 National Academy members, six members of the National Inventors Hall of Fame, six National Medal of Technology winners, five National Medal of Science winners, and a Nobel Prize winner in Physics. With nearly 200 years of experience advancing scientific and technological knowledge, Rensselaer remains focused on addressing global challenges with a spirit of ingenuity and collaboration.