Rensselaer is the First University to Receive a Version of the IBM Watson System; Project Focuses on Big Data Research and New Uses for Watson Technology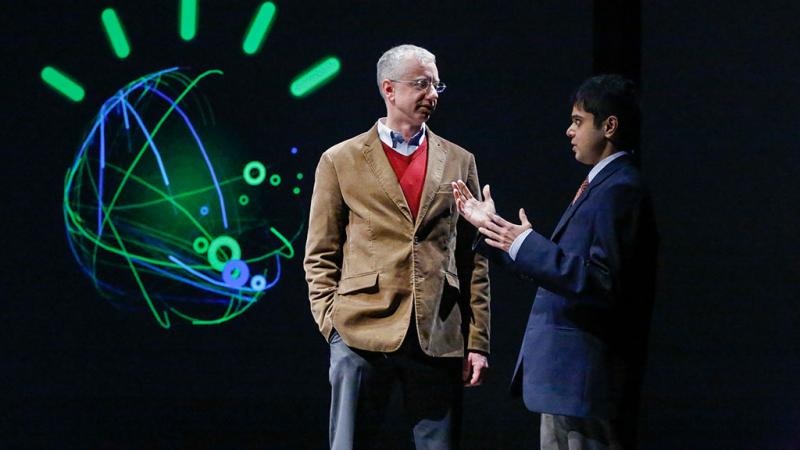 IBM (NYSE: IBM) today announced it will provide a modified version of an IBM Watson system to Rensselaer Polytechnic Institute, making it the first university to receive such a system. The arrival of the Watson system will enable new leading-edge research at Rensselaer, and afford faculty and students an opportunity to find new uses for Watson and deepen the systems' cognitive capabilities. The firsthand experience of working on the system will also better position Rensselaer students as future leaders in the areas of Big Data, analytics, and cognitive computing.
Known to many as the IBM innovation that beat Jeopardy!'s all-time champions, Watson has a unique ability to understand the subtle nuances of human language, sift through vast amounts of data, and provide evidence-based answers to its human users' questions. Currently, Watson's fact-finding prowess is being applied to crucial fields, such as healthcare, where IBM is collaborating with medical providers, hospitals and physicians to help doctors analyze a patient's history, symptoms and the latest news and medical literature to help physicians make faster, more accurate diagnoses. IBM is also working with financial institutions to help improve and simplify the banking experience.
The leadership of Rensselaer faculty in Web science, Big Data, artificial intelligence, and other research areas uniquely situates the university to help expand Watson's abilities. Rensselaer faculty and students will seek to further sharpen Watson's reasoning and cognitive abilities, while broadening the volume, types, and sources of data Watson can draw upon to answer questions. Additionally, Rensselaer researchers will look for ways to harness the power of Watson for driving new innovations in finance, information technology, business analytics, and other areas.
With 15 terabytes of hard disk storage, the Watson system at Rensselaer will store roughly the same amount of information as its Jeopardy! predecessor and will allow 20 users to access the system at once — creating an innovation hub for the institutes' New York campus. Along with faculty researchers and graduate students, undergraduate students at Rensselaer will have opportunities to work directly with the Watson system. This experience will help prepare Rensselaer students for future high-impact, high-value careers in analytics, cognitive computing, and related fields.
Underscoring the value of the partnership between IBM and Rensselaer, Gartner, Inc. estimates that 1.9 million Big Data jobs will be created in the U.S. by 2015. This workforce — which is in high demand today — will require professionals who understand how to develop and harness data-crunching technologies such as Watson, and put them to use for solving the most pressing of business and societal needs.
"The entire Rensselaer community joins me in thanking IBM for enabling us to receive and welcome Watson technology to Rensselaer. The system will be an unprecedented platform to help students and faculty meet the challenge of our university's motto, 'Why Not Change the World?'" said Rensselaer President Shirley Ann Jackson. "Access to the Watson system will enable new research in cognitive computing as it relates to a diverse range of scientific and engineering fields, and the experience of working on Watson will give our students an advantage as they compete for the best jobs in Big Data, analytics, and cognitive computing."
"The award signifies our strong partnership with Rensselaer and our commitment to ensure New York State has the skills and capabilities to lead in Big Data applications and the next era of computing," said Dr. John E. Kelly, Senior Vice President and Director of IBM Research.
As part of a Shared University Research (SUR) Award granted by IBM Research, IBM will provide Rensselaer with Watson hardware, software and training.The ability to use Watson to answer complex questions posed in natural language with speed, accuracy and confidence has enormous potential to help improve decision making across a variety of industries from health care, to retail, telecommunications and financial services.
IBM and Rensselaer: A History of Collaboration 
Originally developed at the company's Yorktown Heights, N.Y. research facility, IBM's Watson has deep connections to the Rensselaer community.  Several key members of IBM's Watson project team are graduates of Rensselaer, the oldest technological university in the United States. Leading up to Watson's victory on Jeopardy!, Rensselaer was one of eight universities that worked with IBM in 2011 on the development of open architecture that enabled researchers to collaborate on the underlying QA capabilities that help to power Watson.
Watson is the latest collaboration between IBM and Rensselaer, which have worked together for decades to advance the frontiers of high-performance computing, nanoelectronics, advanced materials, artificial intelligence, and other areas. IBM is a key partner of the Rensselaer supercomputing center, the Computational Center for Nanotechnology Innovations, where the Watson hardware will be located.
IBM Shared University Research Awards Program 
IBM's Shared University Research awards program strives to connect the research and researchers at universities with IBM Research, IBM Global Services and IBM's development and industries labs. The SUR Awards program is designed to, among other things, build partnerships and increase access and successful use of IBM technologies for research and in curriculum.
About Rensselaer
Rensselaer Polytechnic Institute, founded in 1824, is the nation's oldest technological research university. The university offers bachelor's, master's, and doctoral degrees in engineering, the sciences, information technology, architecture, management, and the humanities and social sciences. Institute programs serve undergraduates, graduate students, and working professionals around the world. Rensselaer faculty are known for pre-eminence in research conducted in a wide range of fields, with particular emphasis in biotechnology, nanotechnology, computation and information technology, the media arts and technology, and energy and the environment. The Institute is well known for its success in the transfer of technology from the laboratory to the marketplace so that new discoveries and inventions benefit human life, protect the environment, and strengthen economic development.
For more information about Rensselaer Polytechnic Institute go to: http://www.rpi.edu/
About IBM
For more information on IBM Watson, please visit www.ibmwatson.com 

To join the social discussion about Watson at Rensselaer include the hashtag #ibmrpi

Follow Watson on Facebook: www.facebook.com/ibmwatson
Video and B-Roll
Registered journalists and bloggers can download b-roll and a video about Watson at Rensselaer at The Newsmarket.
See a video on Watson at Rensselaer on YouTube.
Press Contact Michael Mullaney