Ming Ma Is One of Three Finalists for the $30,000 2013 Lemelson-Rensselaer Student Prize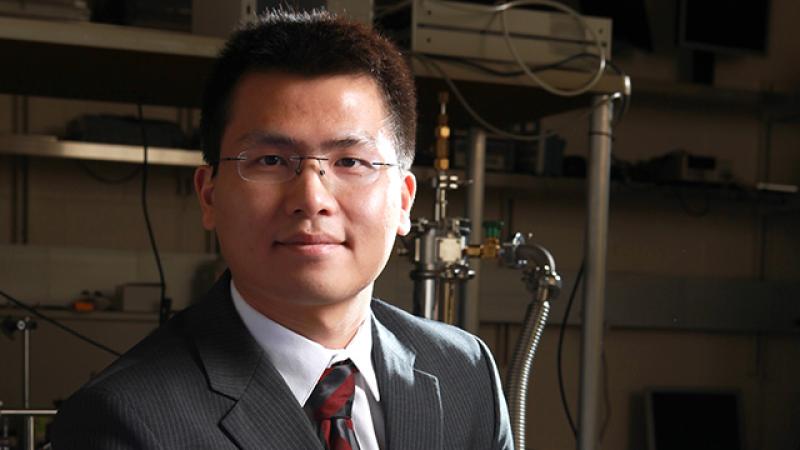 Ming Ma has developed a new method to manufacture light-emitting diodes (LEDs) that are brighter, more energy efficient, and have superior technical properties than those on the market today. His innovation holds the promise of hastening the widespread adoption of LEDs and reducing the overall cost, energy consumption, and environmental impact of illuminating our homes and businesses.
Ma, a doctoral student in the Department of Materials Science and Engineering at Rensselaer Polytechnic Institute, is one of three finalists for the 2013 $30,000 Lemelson-Rensselaer Student Prize. A public ceremony announcing this year's winner will be held at 3:30 p.m. on Tuesday, March 5, in the auditorium of the Rensselaer Center for Biotechnology and Interdisciplinary Studies. For more information on the ceremony visit: http://www.eng.rpi.edu/lemelson
Ma's project is titled "Graded-refractive-index (GRIN) Structures for Brighter and Smarter Light-Emitting Diodes." His faculty advisers are E. Fred Schubert, the Wellfleet Senior Professor in the Future Chips Constellation at Rensselaer and a faculty member of the university's Department of Electrical, Computer, and Systems Engineering and Department of Physics, Applied Physics, and Astronomy, and Linda Schadler, professor of materials science and engineering and associate dean for academic affairs in the School of Engineering. 
Over the past decade, there has been a profound shift in the way we light our homes, offices, and businesses. Conventional incandescent and fluorescent light sources are increasingly being replaced by more energy-efficient, longer-lived, and environmentally friendlier LEDs. Beyond illumination, researchers and companies are finding new uses for LEDs in areas as diverse as communication, health care, and imaging.
Improving the efficiency of LEDs and introducing new functionalities such as controllable light emission patterns are critical steps to continuing and accelerating their widespread adoption. One major challenge still needing to be solved is improving the low light-extraction efficiency of LEDs—or the percentage of produced light that actually escapes from the LED chip. Currently, most unprocessed LEDs have a light-extraction efficiency of only 25 percent, which means 75 percent of light produced gets trapped within the device itself.
One solution that has emerged is to roughen the surface of LEDs, in order to create nanoscale gaps and valleys that enable more light to escape. While surface roughening leads to brighter and more efficient light emission, the roughening process creates random features on the LED's surface that do not allow for a complete control over other critical device properties such as surface structure and refractive index.
Ma's solution to this problem was to create an LED with well-structured features on the surface to minimize the amount of light that gets reflected back into the device, and thus boost the amount of light emitted. He invented a process for creating LEDs with many tiny star-shaped pillars on the surface. Each pillar is made up of five nanolayers specifically engineered to help "carry" the light out of the LED material and into the surrounding air.
Ma's patent-pending technology, called GRIN (graded-refractive-index) LEDs, has demonstrated a light-extraction efficiency of 70 percent, meaning 70 percent of light escaped and only 30 percent was left trapped inside the device—a huge improvement over the 25 percent light-extraction efficiency of most of today's unprocessed LEDs. In addition, GRIN LEDs also have controllable emission patterns, and enable a more uniform illumination than today's LEDs.
Overall, Ma's innovation could lead to entirely new methods for manufacturing LEDs with increased light output, greater efficiency, and more controllable properties than both surface-roughened LEDs and the LEDs currently available in the marketplace.
In his time at Rensselaer, Ma has been the first author on five research papers, published in Applied Physics Letters, Journal of Applied Physics, and Optics Express, and co-author of several studies in other journals. He is also a reviewer for Optics Letters and Optics Express.
As an undergraduate student, Ma became interested in the impact of materials and advanced materials on everyday life. This interest sharpened to the area of LEDs. New innovations and inventions in LEDs, he said, hold the promise of improving light quality, efficiency, and introducing new uses for light that can benefit individuals and businesses around the world.
When not in the lab or classroom, Ma enjoys playing basketball, soccer, and table tennis. Another favorite pastime is traveling and visiting interesting destinations across the United States, from Los Angeles and Las Vegas to Miami, Boston, and New York.
Ma's family and friends are rooting for him to win the $30,000 Lemelson-Rensselaer Student Prize. His father, a newspaper editor, and his mother, a mechanical engineer at a pharmaceutical manufacturer, along with many cousins, are cheering for him in his hometown in the Jiangxi Province in southeast China.
Ma received his bachelor's degree in materials science and engineering from Fudan University in Shanghai, China, and his master's degrees in materials science and engineering from Rensselaer in 2010. Upon completing his doctoral degree from Rensselaer, Ma plans to continue researching materials and LEDs in academia or industry.
About the $30,000 Lemelson-Rensselaer Student Prize
The $30,000 Lemelson-Rensselaer Student Prize is funded through a partnership with the Lemelson-MIT Program, which has awarded the $30,000 Lemelson-MIT Student Prize to outstanding student inventors at MIT since 1995. 
About The Lemelson-MIT Program
Celebrating innovation, inspiring youth
The Lemelson-MIT Program celebrates outstanding innovators and inspires young people to pursue creative lives and careers through invention.
Jerome H. Lemelson, one of U.S. history's most prolific inventors, and his wife, Dorothy, founded the Lemelson-MIT Program at the Massachusetts Institute of Technology in 1994. It is funded by The Lemelson Foundation and administered by the School of Engineering. The Lemelson Foundation uses the power of invention to improve lives by inspiring and enabling the next generation of inventors and invention-based enterprises to promote economic growth in the United States and social and economic progress for the poor in developing countries. http://web.mit.edu/invent/
Read about past winners of the $30,000 Lemelson-Rensselaer Student Prize:
Student Innovator Uses Graphene Foam To Detect Subtle Traces of Hazardous Gases and Explosives
Fazel Yavari's graphene innovation is a new sensor to detect extremely small quantities of hazardous gases
http://news.rpi.edu/update.do?artcenterkey=3005
Student Innovator Uses Sound Waves, T-Rays for Safer Detection of Bombs and Other Dangerous Materials
Benjamin Clough's invention increases distance between first responders and potential threats
http://news.rpi.edu/update.do?artcenterkey=2840
Helping Hydrogen: Student Inventor Tackles Challenge of Hydrogen Storage
Javad Rafiee's graphene innovation could lead to more efficient hydrogen-powered vehicles
http://news.rpi.edu/update.do?artcenterkey=2690
Student Developer of Versatile "G-gels" Wins $30,000 Lemelson-Rensselaer Prize
Yuehua "Tony" Yu's innovation could lead to new medical devices, drug-delivery technologies
http://news.rpi.edu/update.do?artcenterkey=2538
Student Develops New LED, Wins $30,000 Lemelson-Rensselaer Prize
Martin Schubert's polarized LED could improve LCD displays, save energy
http://news.rpi.edu/update.do?artcenterkey=2406
Handheld "T-Ray" Device Earns New $30,000 Lemelson-Rensselaer Student Prize
Brian Schulkin's "Mini-Z" spots cracks in space shuttle foam, detects tumors in tissue
Press Contact Michael Mullaney