April 14-21 Festival Presents Sustainability Research in Arts, Sciences, and Humanities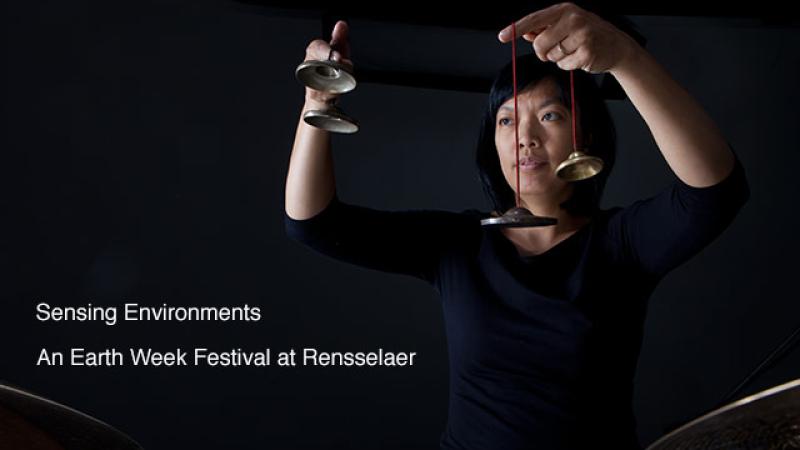 Rensselaer Polytechnic Institute will celebrate the countdown to Earth Day with a weeklong festival of performances, lectures, films, exhibits, and workshops centered on environmental sustainability. The Sensing Environments festival will present daily events from April 14 to April 21. All events are free and open to the public.
"There's a really nice energy that, in the past few years, has grown around sustainability-focused research on campus," said Kim Fortun, professor of Science and Technology Studies, and chairwoman of the Rensselaer Excellence in Interdisciplinary Sustainability Studies Task Force, which is organizing the festival in cooperation with the Rensselaer Department of the Arts. "The festival is a way for us to celebrate and build upon that energy, and it's also an opportunity to share our work with the community, offering a sample of what researchers from diverse academic backgrounds can bring to the ongoing discussion about sustainability and its challenges."  
More than 30 events are planned throughout the week, culminating on Sunday, April 21, the day prior to Earth Day, with a musical procession from Prospect Park in Troy to the concert hall of the Curtis R. Priem Experimental Media and Performing Arts Center (EMPAC) on the Rensselaer campus, for a world drumming performance, newly composed by Susie Ibarra and inspired by the theme of the festival.
The festival spotlights renowned experts from the Rensselaer faculty as well as leading figures in the arts and sciences internationally. Visiting speakers include Gavin Schmidt, climate modeler and deputy chief at the NASA Goddard Institute for Space Studies in New York City, and David Dunn, a composer, environmentalist, and director of the Art & Science Laboratory in Santa Fe. Participating Rensselaer faculty will include Igor Vamos, associate professor in the Rensselaer Arts Department, known as "Mike Bonnano" in his media arts work with "The Yes Men"; Mimi Katz, an assistant professor of Earth and Environmental Sciences whose research focuses on the history of Earth's climate; and Pauline Oliveros, a distinguished research professor, founder of the "Deep Listening" movement, and 2012 winner of the John Cage Prize.
Some highlights of the week's events:
Talk: Mimi Katz, "Lessons from Ancient Oceans & Climate Changes," Tuesday, April 16, 3-4 p.m., Center for Biotechnology and Interdisciplinary Studies (CBIS) Auditorium. Katz will discuss her efforts to use ancient, deep-sea fossils to reconstruct the history of the Earth's climate, and her research at sea through the Integrated Ocean Drilling Program.
Film & Discussion: "Garbage Warrior and the Challenge of Green Building," Thursday, April 18, 10 a.m.-noon, Rensselaer Union. A film about renegade architect Michael Reynolds and his "green disciples," advancing the art of passive, solar, off-the-grid, sustainable housing.
Talk: Gavin Schmidt, "What Are Climate Models Good For?" Friday, April 19, 4-6 p.m., EMPAC Concert Hall. Schmidt will look at current climate models, how they have performed so far, the challenges they face, and their current limitations.
Panel: "Updates on Shale Gas Research: A Systems Approach," Saturday, April 20, 10:30 a.m.-12:30 p.m., EMPAC Studio 2. This panel discussion will provide an opportunity to share and deliberate on recent research on shale gas development, and implications for New York state and national policy.
Talk: David Dunn, "Sonic Interventions Into Hidden Sound Worlds: A Composer at the Edge of Science," Saturday, April 20, 4-6 p.m., EMPAC Studio 2. Dunn will discuss his collaborations with scientists to make sonic art that moves from documentation and aesthetics, to applied environmental problem solving.
Concert: Susie Ibarra, "Circadian Rhythms," Sunday, April 21, 5-6 p.m., EMPAC Concert Hall. "Circadian Rhythms," composed and conducted by Ibarra as a tribute to Earth Day, is inspired by the built-in biological rhythms in plants, animals, birds, insects, and bacteria that oscillate, repeat, and change with patterns of movement, migration, birth, and sleep. The composition features a surround soundscape of animal and bird recordings from the Macaulay Library of Cornell.
For a full schedule of events, visit: http://sustainabilityresearch.wp.rpi.edu/earth-week-research-and-arts-festival/schedule/
"We hope the larger community will join us to learn about research and discussion under way at Rensselaer, addressing issues of enormous public concern," Fortun said. "We have, for example, a group of material scientists who are working on designing alternatives to natural resources that are scarce, or environmentally destructive to obtain. They are serious basic scientists, but they're motivated by and engaged with broad questions about the material infrastructure for a sustainable society."
Kathy High, associate professor of arts and an organizer of the event, said artists presenting during the festival have a long commitment to working with biology, environmental issues, climactic issues, and how art can help us understand and rethink how we interact with the Earth.
"This is an inspiring group of people and they can help us think about how we can create our own interventions through artistic practice," said High.
Michael Century, professor of arts and an organizer, said "the confluence of musical talents, from throughout the Capital Region and beyond, and ranging across the diversity of the world's musical styles, will create a thrilling finale for the festival."
The festival is a joint initiative of the Rensselaer Excellence in Interdisciplinary Sustainability Studies Task Force and the Department of the Arts. Sponsors of the events include the Bank of America, New York State Council of the Arts, the Rensselaer Office of the President, the Jaffe Fund for Experimental Media and Performing Arts, and the Rensselaer School of Humanities, Arts, and Social Sciences.