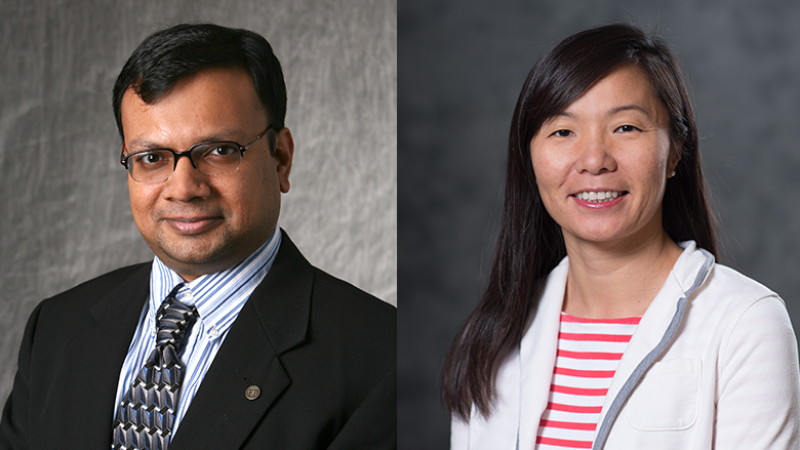 Lucy Zhang, an associate professor of mechanical, aerospace, and nuclear engineering at Rensselaer Polytechnic Institute, and Suvranu De, the J. Erik Jonsson '22 Distinguished Professor of Engineering and head of the same department, have each been elected fellows of the American Society of Mechanical Engineers (ASME).
The distinction of fellow recognizes ASME members who have significant engineering achievements. De and Zhang join a distinct group of fewer than 3,500 fellows out of nearly 90,000 ASME members.
De is the director of the Center for Modeling, Simulation, and Imaging in Medicine (CeMSIM) at Rensselaer, where he and his team develop novel computational technology to solve challenging and high-impact problems in engineering, medicine, and biology. Much of his research over the past decade has been focused on understanding how to measure and advance surgical training, in order to improve patient outcomes. 
De is also a senior member of IEEE and serves as vice chair of the IEEE Technical Committee on Haptics, chair of the Computational Bioengineering Committee of the U.S. Association for Computational Mechanics, and member of several committees of the Society of American Gastrointestinal and Endoscopic Surgeons. He is a fellow of the American Institute for Medical and Biological Engineering, the International Association for Computational Mechanics, and the U.S. Association for Computational Mechanics.
Zhang's research is on computational mechanics with an emphasis on developing numerical algorithms for challenging multiphysics and multiscale engineering systems and applications, such as biomechanics, designs of biodevices, and materials design. These algorithms are also packaged into open-source software to share with the engineering community, which promotes collaborative efforts in tackling engineering challenges. She has applied her expertise to a wide range of applications, from cardiovascular studies examining pathology in strokes, angioplasty stent implantation, and tissue damage due to in-stent restenosis, to rotorcraft aerodynamic interactions on a ship deck.
Zhang is the author and co-author of more than 150 journal articles, book chapters, and conference publications. She is the associate editor of the Journal of Fluids and Structures and Computer Methods and Engineering Sciences. She is also an elected executive committee member on the U.S. Association of Computational Mechanics (USACM) and serves on the executive committee of the Female Researchers Chapter (FRC) of the International Association for Computational Mechanics (IACM).
Written By Torie Wells