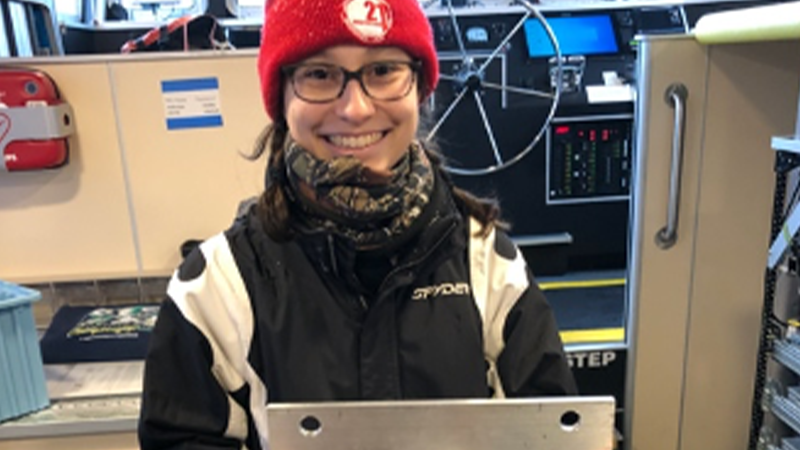 As part of the inaugural class participating in The Arch at Rensselaer Polytechnic Institute, Lisa Sulmasy '21, a mechanical engineering major, secured a fall semester away internship at the Center for Coastal and Ocean Mapping/Joint Hydrographic Center (CCOM/JHC) at the University of New Hampshire (UNH).
Founded in 1999, the CCOM/JHC is a partnership between UNH and the National Oceanic and Atmospheric Administration (NOAA). Developing tools to advance ocean mapping and hydrography and training the next generation to continue this important work are the two main goals of CCOM/JHC.
As a mechanical engineering major placed in the ocean engineering department at CCOM/JHC, Sulmasy had the opportunity to work on projects that encompassed the ocean as well as mechanical and electrical engineering, offering a multidisciplinary approach to real-world engineering projects. Working alongside and building connections with graduate students from a variety of backgrounds also gave Sulmasy the opportunity to learn more about graduate school. "This experience taught me how to be resourceful, rather than reaching out for help. Usually, I have professors, teaching assistants, and peers to ask questions. In this situation, I was able to challenge my ability to ask myself the question, and solve it," said Sulmasy. In her spare time, Sulmasy enjoyed hiking and painting with watercolors.
"I found the Center for Career and Professional Development (CCPD)-sponsored company information sessions to be very beneficial in getting my foot in the door with a company. Often, it was that face-to-face communication that helped me get an interview or a phone call. I also used the CCPD's online resources on common interview questions and tips to prepare for phone and in-person interviews."
When asked what advice she would give to students searching for Arch semester-away opportunities, Sulmasy said, "I have two pieces of advice. The first is that it is important to start looking for companies and positions that interest you early! Take the winter break before your sophomore spring semester to start creating a list of potential employers. Find information about their hiring times and sign up to receive job alerts if they offer that ability. This will make it much easier for you to apply when the time comes. The second thing I would recommend is to make sure you do not put all your eggs in the same basket. Reach out to multiple companies at once to create a variety of leads."
After graduation, Sulmasy would like to join the ocean engineering community by pursuing a full-time position in ocean robotics. She also plans to go back to school after a few years to work toward a master's degree.
Written By Monique Gleason