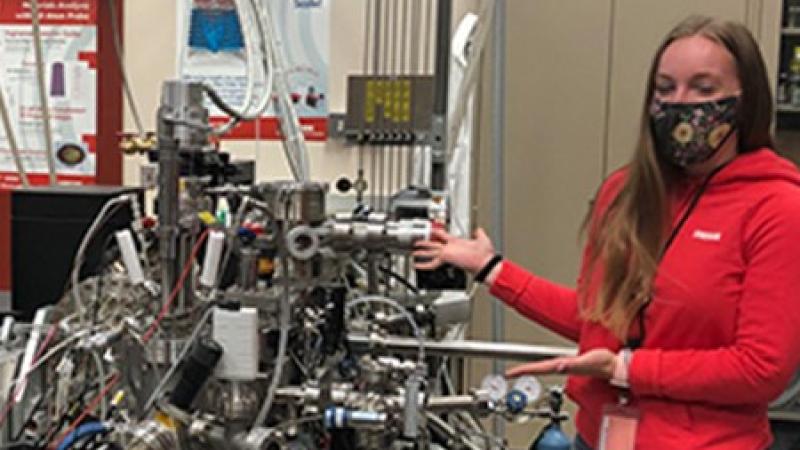 As part of the class participating in The Arch at Rensselaer Polytechnic Institute, junior Sydney Neuman '23, a materials engineering major, did a fall semester away internship at Pacific Northwest National Labs under the Chemical Dynamics Initiative in Richland, Washington.
With over 5,300 scientists, engineers, and professional staff members, Pacific Northwest National Labs (PNNL) is a leader in scientific discovery, sustainable energy, and national security. Founded in 1965, PNNL is organized into five core areas, including chemical and materials sciences; computational and mathematical sciences; earth and biological sciences; engineering; and user facilities and advanced instrumentation.
During her internship, Neuman worked in a lab that focused on the analysis of materials' microstructure characterization data using transmission electron microscopy, scanning electron microscopy, and atom probe tomography data to classify and extract features from experimental data streams using machine learning. "I ran the atom probe and analyzed the data I collected. I also modified a program in order to simulate atom probe runs, which contributed to the library used to train a machine learning model," said Neuman. 
To secure this experience, Neuman tapped into the services available at the Center for Career and Professional Development (CCPD). "The CCPD has been a huge help in preparing me for my job search, as well as navigating through the application and interview process," said Neuman. "Meeting with the career counselors allowed to me be confident in what I was doing."
The Society of Women Engineers (SWE) at Rensselaer also played an integral role in her search. Through a variety of professional development events planned by this organization, including Night of Networking, Neuman has the opportunity to personally meet employers.
 "My biggest piece of advice to students preparing for Arch is to start looking for opportunities early," she said. "I found that the more effort I put into looking for jobs and applying to them, the more I got out of the applications. Overall, have patience and don't give up!"
Participating in co-curricular activities, including student leadership opportunities, has provided Neuman with valuable experience. "I gained soft skills that most companies look for in candidates, met new people and learned about their experiences, and most importantly, made an impact on organizations I am most passionate about," she said.
After graduation, Neuman plans to pursue her Ph.D. in materials science and engineering. Following that, she would like to work in a research lab studying biomaterials and sustainable plastic alternatives.
Written By Monique Gleason