RPI Professor, Students Work Together To Detect Oscillations in Power Grids
RPI Professor, Students Work Together To Detect Oscillations in Power Grids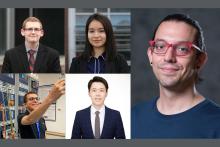 March 10, 2023
Luigi Vanfretti, professor of electrical, computer, and systems engineering at Rensselaer Polytechnic Institute, will present research conducted with the help of students at the IEEE PES Grid Edge Technologies Conference and Exposition, to be held April 10-13, 2023 in San Diego.
The papers Vanfretti will present involve research in the detection of oscillations in power grids using machine learning and edge applications and devices. Undergraduate students Shunyao Xu, Galilea Olvera, and Justin Johnson contributed to the work as part of their Undergraduate Research Projects and Arch Individual Learning Experiences. Graduate student Sergio A. Dorado-Rojas also contributed.
Vanfretti will present the research as part of a panel on "5G-Enabled Grid Edge for Immersive AI Applications" on April 12.
About Rensselaer Polytechnic Institute
Founded in 1824, Rensselaer Polytechnic Institute is America's first technological research university. Rensselaer encompasses five schools, over 30 research centers, more than 140 academic programs including 25 new programs, and a dynamic community made up of over 6,800 students and 104,000 living alumni. Rensselaer faculty and alumni include upwards of 155 National Academy members, six members of the National Inventors Hall of Fame, six National Medal of Technology winners, five National Medal of Science winners, and a Nobel Prize winner in Physics. With nearly 200 years of experience advancing scientific and technological knowledge, Rensselaer remains focused on addressing global challenges with a spirit of ingenuity and collaboration. To learn more, please visit www.rpi.edu.