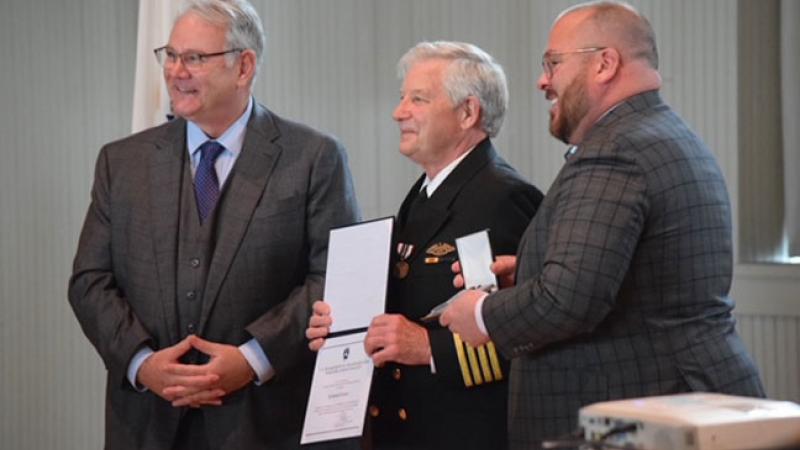 On May 22, 2023, during the National Maritime Day celebration in the port of Duluth Superior, a representative of the United States Maritime Administration presented Richard Dow Stewart with the Merchant Marine Medal for Outstanding Achievement.
The Outstanding Achievement Medal is awarded by the U.S. Maritime Administration to members of the maritime industry for an act or operation of humanitarian nature directly to an individual or groups of individuals, long and dedicated years of service or achievement, or for an extraordinary valuable contribution or work to the maritime industry.
In 1967, Stewart started his maritime career sailing in the fo'c'sle (the forward part of a ship) as a messman and ordinary seaman. In 1969, he was appointed to the U.S. Merchant Marine Academy at Kings Point, New York, and graduated in 1973. He was awarded the Merchant Marine Vietnam Service Medal sailing in the war zone in 1968, 1970, and 1971. Upon graduation, he sailed oceans and coastwise as a deck officer. Stewart earned his Master of Steam and Motor Vessels of any Tonnage upon Oceans license in May 1979. He commanded ocean-going vessels for several years before becoming a fleet manager of seven vessels for Falcon Carriers based in Houston, Texas.
He has been a port expediter, cargo surveyor, consultant, and Wisconsin small business owner. Stewart served for 30 years as a commissioned officer in the United States Naval Reserve, honorably discharged in 2003 with the rank of Captain, USNR. For 55 years, he maintained valid merchant marine credentials. In 1982, he graduated from UWGB with a Master of Science in Environmental Studies
While teaching at Kings Point, he earned his Doctor of Philosophy at Rensselaer Polytechnic Institute. He graduated with a Ph.D. in urban and environmental sciences after successfully defending his marine environmentally focused dissertation. His mentor at RPI was Professor Bruce Piasecki in the Lally School of Management.
Dow Stewart was a professor and department head at the U.S. Merchant Marine Academy. He was transportation and logistics professor at the University of Wisconsin Superior and director of their Transportation and Logistics Research Center. In 2020, he was the first professor at UW-Superior to receive the UW-System's Board of Regents Excellence in Teaching Award. In 2022, Stewart retired from UW-Superior and was honored as a professor emeritus for his teaching, publishing, and research.
Stewart taught undergraduate and graduate courses at universities for over 35 years. He has been the principal investigator for over $11 million in transportation research grants. He has extensive publications and presentations. He is active in professional organizations and a member of several boards of directors and public advisory committees.