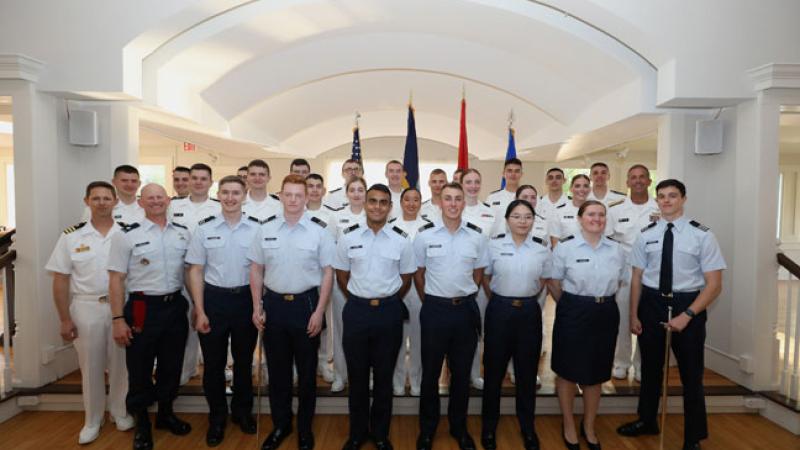 Rensselaer Polytechnic Institute (RPI) offers Reserve Officers' Training Corps (ROTC) programs in the Army, Navy, and Air Force for students interested in commissions as officers in the U.S. military following graduation. Each year, the programs collectively host the Joint Services Award Ceremony to recognize ROTC participants graduating from RPI and beginning their military careers.
This year, students and their families gathered at the Old Daley on Crooked Lake to celebrate and reflect upon their achievements. The guest of honor was Vice Admiral Carl Chebi '87, the Commander of Naval Air Systems Command (NAVAIR) in Washington, D.C. and a graduate of RPI's Naval ROTC program. He was a career fighter pilot with over 3,700 hours and 700 carrier landings. Admiral Chebi's professional accomplishments are an inspiration and his words of wisdom were greatly appreciated by students.
Student speakers also addressed the crowd. Air Force ROTC Cadet Parmar reflected on how the challenges of the program have prepared the students for service. "When we pin on those ranks, we will not only be Lieutenants and Ensigns, but we will be the leaders of tomorrow who will carry and protect those values of our nation," he said.
Midshipman Makosky remarked upon the value of the friendships formed in ROTC. "What you give to this unit depends far more on your interpersonal relationships and your empathy for the people around you than it does on your GPA. Your studies require your attention, and your unit requires your devotion," he said.
The following awards were presented to exceptional student leaders:
Rensselaer Polytechnic Institute Board of Trustees' Award: Cadet Justin Rifflard and Midshipman Annelies Bosley
Professor of Aerospace Science Leadership Award: Cadet Spencer Davidson
Chief of Naval Operations Distinguished Midshipmen Award: Midshipman Nicholas Morton
Commander James J. McGrath Memorial Award: Midshipman Isabella Reddish
Professor Of Naval Science Award: Midshipman Abigail Wilson and Midshipman Carter Wynn
Marine Corps League Award: Midshipman Hadrian Vaupel
McVey Award: Midshipman Liam Makosky
Vice President of Administration Ernie Katzwinkel, a retired Navy Captain; Lieutenant Colonel Miller, RPI Air Force ROTC commander; and Commander Latta, RPI Naval ROTC commander, also spoke at the event.
Written By Katie Malatino