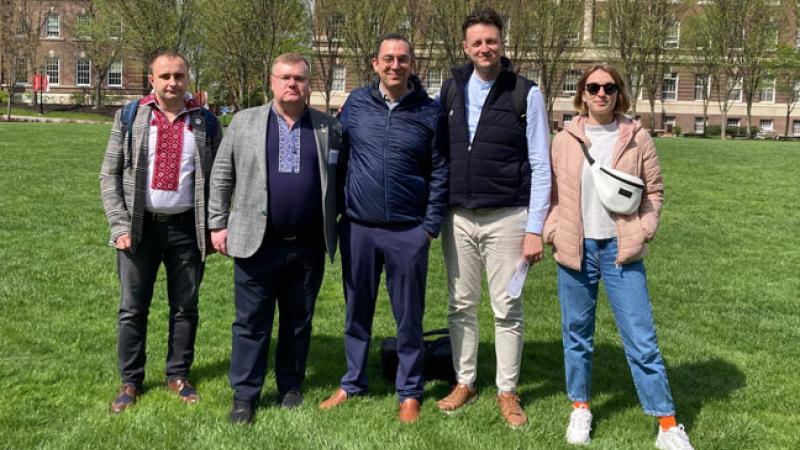 Luigi Vanfretti, professor of electrical, computer, and systems engineering, and his research scientist Tetiana Bogodorova recently hosted a delegation of high-level Ukrainian energy regulatory representatives and industry members to share their current research on electrical power systems and to establish possible collaborations.
The delegates, who visited as part of the Open World Program, work with Ukrainian governmental institutions related to the regulation of the energy system and energy markets for the power grid in the Ukraine. The delegation included the deputy director of the National Energy and Utilities Regulatory Commission and the director of a power plant developer company working with renewable energy source projects in western Ukraine.
They toured the RPI lab facilities for solar smart inverter testing and Vanfretti and Bogodorova presented work from research projects related to the electrical grid, renewables, and more.
Vanfretti leads the ALSETLab, which focuses on research in energy systems, electrical power systems, and aircraft electrification. His research includes cyber-physical system (CPS) modeling, simulation, stability, and control in energy systems, power grids, and electrified transportation. 
In addition, Vanfretti researches development and data analytics in synchrophasor technologies. He is interested in the application of software technologies, signal processing, system identification, and machine learning for design and operation analytics for CPS. He is a senior member of IEEE and a member of the Modelica Association.
The Open World Leadership Center administers the Open World program, one of the most effective U.S. exchange programs for countries of the post-Soviet era. The program has enabled more than 29,000 current and future leaders from Azerbaijan, Georgia, Kazakhstan, Kyrgyzstan, Moldova, Russia, Ukraine, Tajikistan, and Turkmenistan to meaningfully engage and interact with members of Congress, Congressional staff, and thousands of other Americans, many of whom are the delegates' direct professional counterparts.
Written By Tracey Leibach